Chocolate Haze: Experience The Sweet Life
Chocolate Haze won't disappoint. This cerebral sativa cultivar delivers flavours of chocolate with every hit. She's an ideal strain to smoke when seeking some motivation to get stuff done.
By
---
Chocolate Haze subjects the tongue to a barrage of candy and sugar-centric flavours. The terpene profile within these flowers is really something else. Get to know this delicious cultivar in greater detail below.
CHOCOLATE HAZE: GENETIC BACKGROUND
Chocolate Haze was born out of a search for sweetness. Our expert breeders are known for their innovative experiments, and this chocolatey cultivar is a prime manifestation of this tendency. We wanted to create a strain with a terpene profile like no other. Sure, there are other sweet varieties out there, but Chocolate Haze is our attempt at occupying the top of the sugary hierarchy. You'll need to smoke these flowers to judge for yourself, but we think we did a pretty good job.
To achieve these profound flavours, we needed to start with phenomenal breeding stock. We selected Cannalope Haze as one of the parent strains. The variety descends from Mexican landrace genetics crossed with Original Haze. She's a highly sativa-dominant specimen with a modest THC profile of 15%. Her alerting and motivating effects—along with tantalising tastes of candy and melon—were enough to convince us to include her in this project.
We crossed this palatable sativa with OG Chocolate Thai to add even more sweetness and an enhanced sativa kick. Chocolate Haze was the shimmering result, featuring 95% sativa genetics and 5% indica. She boasts a jolting cerebral effect, immense flavour, and impressive productivity.
EFFECTS OF CHOCOLATE HAZE
Chocolate Haze induces a purely head-orientated high. When smoked or vaped, her flowers set a motivational and creative effect into motion. The synergy between her terpenes and cannabinoids makes the mind more alert and sends a pulse of energy across the brain. She'll have you putting down the TV remote and reaching for pens and paintbrushes instead.
Chocolate Haze stimulates the creative side and kindles a desire to let it loose. This—paired with light stimulation—will have you getting lost in writing, painting, and playing music for hours. She's also an excellent social strain. Invite your fellow musicians and visionaries over and gear up for some philosophical conversations and creative collaboration.
Her flowers generate a moderate THC quantity of 20%—enough to plunge you into an altered state of consciousness for hours. However, it's not overpowering or anxiety-inducing for most users.
Chocolate Haze also harbours some therapeutic potential. Her enlivening sativa effect is capable of elevating the mood, eviscerating stress, and stimulating the appetite.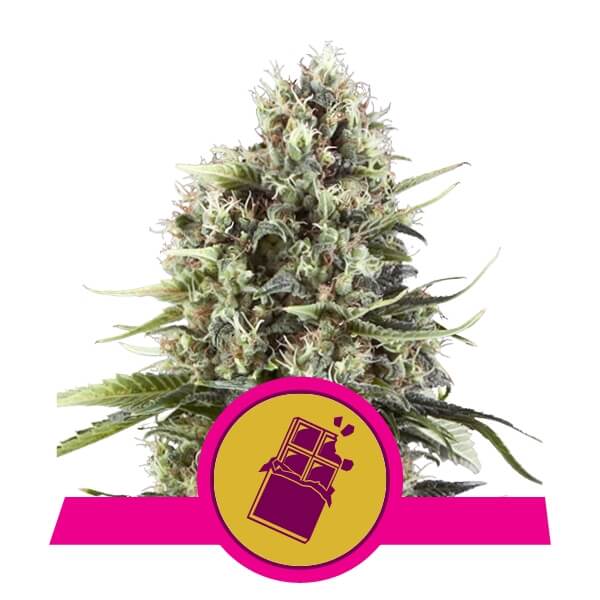 Chocolate Haze
OG Chocolate Thai x Cannalope Haze
475 - 525 gr/m2
90 - 160 cm
9 - 10 weeks
THC: 20% (aprox.) / CBD: Low
| | |
| --- | --- |
| | 95% Sativa, 05% Indica, 0% Ruderalis |
| | 450 - 500 g/per plant (dried) |
| | 150 - 200 cm |
| | Late October |
| | Chocolate, Sweet, Earthy |
| | |
| --- | --- |
| | OG Chocolate Thai x Cannalope Haze |
| | 475 - 525 gr/m2 |
| | 90 - 160 cm |
| | 9 - 10 weeks |
| | THC: 20% (aprox.) / CBD: Low |
| | |
| --- | --- |
| | 95% Sativa, 05% Indica, 0% Ruderalis |
| | 450 - 500 g/per plant (dried) |
| | 150 - 200 cm |
| | Late October |
| | Chocolate, Sweet, Earthy |
FLAVOUR AND AROMA OF CHOCOLATE HAZE
Chocolate Haze has stunned many cannabis users with her alluring flavours. Her dense buds emit aromatic waves of chocolate upon chocolate. The terpenes responsible for this mind-blowing scent exert similar pleasures when they meet the tongue. Brace yourself for powerful hits of sweetness, candy, chocolate, and earth.
These tastes are evident in the smoke, but are far more apparent when vaping. If you'd like to try your hand in the kitchen with these flowers, consider using them to bake some double chocolate brownies.
GROWING CHOCOLATE HAZE
Chocolate Haze develops large, plump flowers that taper at the tops. They're loaded with glistening trichomes and form a dense canopy. She follows a sativa growth pattern, but can be kept under control using training and pruning techniques.
Indoor plants peak at a height of 160cm and yield up to 525g/m² after a flowering time of 9–10 weeks. Outdoor plants prefer a mild climate and peak at a taller height of 200cm. They'll produce up to 500g/plant, ready to harvest in late October.