Top 5 Stress-Relieving Cannabis Strains
We all live busy lives. If we're not careful, stress can quickly build up. Yoga, meditation, and exercise all serve as great ways to keep stress at bay. But, why not include cannabis in your regimen? Getting high does a great job of mitigating stress. Plus, you don't even have to get stoned. CBD and CBDV offer a non-psychotropic pause from stress.
By
---
---
Smoking cannabis can offer a reprieve after a long, stressful day. Work deadlines, bills, and other commitments can take a toll if left unchecked. Thankfully, the cannabis plant serves as a rich source of molecules that help the body and mind to unwind.
THC helps us to sit back and relax. This psychotropic cannabinoid allows us to look at life with the bigger picture in mind. CBD, on the other hand, helps to subtly soothe the body and take the edge off—with no high. Then there are terpenes, aromatic chemicals that add an extra layer of relaxation and bliss to the cannabis experience.
For many people, smoking a joint or hitting a bowl does the trick. For others, going for a walk or engaging in yoga after consuming cannabis helps them tap into a peaceful state of mind. Interestingly, meditation and exercise innately engage the endocannabinoid system—the same network activated by weed—to produce these blissful sensations.
Check out the best weed strains to experience a well-deserved break from stress.
1. Cookies Gelato
Cookies Gelato derails stress and rumination instantly. This feminized powerhouse slams the body and mind with an exceptional THC level of 28%. A single toke from a joint will send a warm and comforting feeling over your entire body. Your mood will elevate, your appetite will increase, and you'll feel undeniably content.
The business of life usually makes us feel guilty for sitting down and doing nothing. Cookies Gelato fixes this issue. You'll feel fine doing whatever it is you want to do. Listen to music, watch a great film, or simply chill out with friends and talk about the universe.
A delicious terpene profile accompanies enormous levels of THC. These chemicals infuse every hit with pleasant tastes of citrus, earth, fruit, and mint. It goes without saying that these buds go down great in edibles and extracts for this reason.
Above all, this 50/50 sativa/indica is easy to grow. She maintains a medium height throughout her life cycle and churns out a big harvest at the end. Indoor plants grow to 90–130cm and produce up to 600g/m² after a flowering time of 8–9 weeks. Plants grown outdoors reach a taller height of 180cm. They prefer a mild climate and produce between 600–650g/plant. Prepare to harvest your crop in mid-October.

| | |
| --- | --- |
| | Girl Scout Cookie X Gelato 33 |
| | 550 - 600 gr/m2 |
| | 90 - 130 cm |
| | 8 - 9 weeks |
| | THC: 28% |
| | |
| --- | --- |
| | Sativa 50% Indica 50% |
| | 600 - 650 gr/plant |
| | 140 - 180 cm |
| | Middle of October |
| | Balanced, Calming, Physically Relaxing |
2. Wedding Crasher
Busy day at work? Get stuck in traffic on the way home? Kids being loud? Wedding Crasher helps to simmer down stress and make these problems appear exactly as they are: minor and petty. Inhale the smoke or vapor from these flowers to take a step back and look at what's causing your stress. Chances are, she'll set your head right.
Wedding Crasher harnesses a THC level of 21% to put the mind at ease and soothe the body. Her bright pink and deep purple flowers are visually stunning, and enough to bring a smile to the face before you've even smoked them.
Wedding Crasher features a balanced genetic profile of 55% sativa and 45% indica. Her terpene profile enhances an already pleasant effect by balancing out the high and adding divine flavours to the equation. Enjoy tastes of fruit and vanilla as you hit bongs and blunts loads with these buds.
Wedding Crasher grows well in almost any environment, but reaches her full potential in a mild climate. Indoor plants reach up to 180cm, but growers can tame them using LST and other training methods. Enjoy a rewarding yield of 450–500g/m² after a flowering time of 9–10 weeks. Outdoor plants grow to 200cm and form a dense and bountiful canopy. Expect to harvest up to 600g/plant during late October.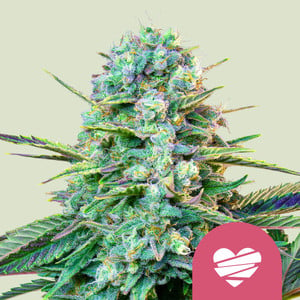 | | |
| --- | --- |
| | Wedding Cake x Purple Punch |
| | 450 - 500 gr/m2 |
| | 150 - 180 cm |
| | 9 - 10 weeks |
| | THC: 21% |
| | |
| --- | --- |
| | Sativa 55% Indica 45% |
| | 550 - 600 gr/plant |
| | 160 - 200 cm |
| | Late October |
| | Laughter, Physically Relaxing |
3. Purple Punch Automatic
Purple Punch Automatic will land a firm right hook on the noggin' of your worries and stress. Although her combative name sounds aggressive, in reality, she'll take the weight of the world off your shoulders. Her deep purple and dark green buds are the remedy to a chaotic day.
Indulge in her smoke to take your mind off of impending deadlines and high-pressure meetings. After finishing your work for the day, dig into these flowers to elevate your body, mind, and soul. The result of crossing the original Purple Punch with Old Skunk Auto, Purple Punch Automatic features 75% indica genetics, 20% sativa, and 5% ruderalis, making for a vigorous and productive specimen.
Her unusual buds harbour a THC level of 19%. It's enough to get you high, but it won't send you overboard. Smoke them in the evenings to clear your head, relax your body, and inspire creative and philosophical thoughts. This indica-dominant lady also offers delightful tastes of candy and fruit.
As a speedy autoflowering strain, she'll provide a good harvest in no time. After sowing these seeds, expect to start harvesting and drying within 9–10 weeks. Indoor plants grow to a stealthy height of 60–100cm and yield 350–400g/m². Outdoor plants grow to 60–120cm and offer a return of 80–130g/plant.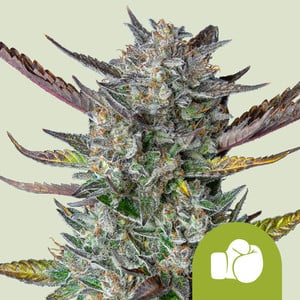 | | |
| --- | --- |
| | Purple Punch x Old Skunk Auto |
| | 350 - 400 gr/m2 |
| | 60 - 100 cm |
| | 7 - 8 weeks |
| | THC: 19% |
| | |
| --- | --- |
| | Sativa 20%, Indica 75%, Ruderalis 5% |
| | 80 - 130 gr/plant |
| | 80 - 120 cm |
| | 9 - 10 weeks after sprouting |
| | Physically Relaxing |
4. Tatanka Pure CBD
You don't have to alter your consciousness to unwind and relax. Tatanka Pure CBD offers a clear-headed alternative to getting stoned. Her buds are loaded with CBD and contain almost no THC at all. Though CBD doesn't produce a high, the cannabinoid has the potential to reduce worry, relax the body, and bring the mind into the present moment.
By crossing Medical CBD with Elixir Vitae, Tatanka Pure CBD was born, with a destiny of soothing all those who try her. You'll feel fully functional after smoking or vaping these flowers. Harness the zen of CBD to meditate, engage in a yoga session, or simply go for a walk keeping mindful breathing at the forefront. Likewise, use your clear head to read that book you've been meaning to start, or work on a creative personal project that brings you joy.
Tatanka Pure CBD may be low in THC, but she boasts a scrumptious terpene profile that manifests as aromas and tastes of pepper, candy, and fruit—a unique combo indeed!
Grow Tatanka Pure CBD indoors or outdoors, and you'll be impressed either way. Watch your indoor plants grow to 80–100cm and develop a dense canopy. Prepare to harvest up to 450g/m² after a super-brief flowering time of 6–8 weeks. Outdoor plants grow to a taller height of 160cm and pump out 400–450g/plant in late September.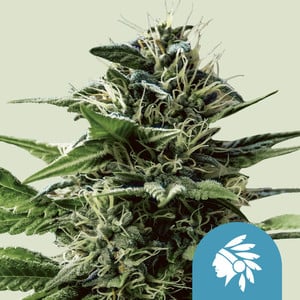 | | |
| --- | --- |
| | Elixir Vitae x Medical CBD |
| | 400 - 450 gr/m2 |
| | 80 - 100 cm |
| | 6 - 8 weeks |
| | THC: 0,15 - 0,25% |
| | |
| --- | --- |
| | Sativa 30% Indica 70% |
| | 400 - 450 gr/plant |
| | 100 - 160 cm |
| | Early October |
| | Calming, Clear |
5. Royal CBDV Automatic
We've covered THC and CBD, but what about other molecules? The cannabis plant produces over 100 cannabinoids, after all. This is where Royal CBDV Automatic comes in. At Royal Queen Seeds, we love to push the boundaries of breeding innovation. After decades of creating our own strains, we're proud to introduce a new cannabinoid into the family: CBDV.
The progeny of Solomatic CBD and Durban Poison, Royal CBDV Automatic contains 5% CBDV, 5% CBD, and almost no THC. Much like CBD, CBDV offers a host of soothing and relaxing effects.
Feel a wave of tranquillity wash over you after smoking these flowers. If you're an experienced smoker, try and pay attention to any subtle effect—you're activating your endocannabinoid system in a different way. Gear up for earthy-pine flavours with a hint of spice.
Royal CBDV Automatic boasts a rapid life cycle and a stealthy size. Indoor plants grow to only 60–80cm and yield 375–450g/m². Plants grown outdoors peak at 100cm and provide a return of 110–150g/plant. Watch your plants surge from seed to harvest in only 8–9 weeks.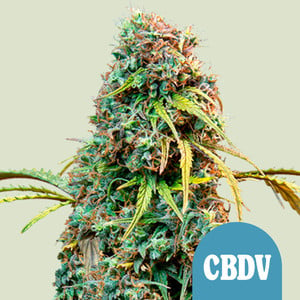 | | |
| --- | --- |
| | Solomatic x Durban Poison |
| | 375 - 450 gr/m2 |
| | 60 - 80 cm |
| | 5 - 6 Weeks |
| | THC: 0,3% |
| | |
| --- | --- |
| | Sativa 75%, Indica 20%, Ruderalis 5% |
| | 110 - 150 gr/plant |
| | 80 - 100 cm |
| | 8 - 9 weeks after sprouting |
| | Clear, Physically Relaxing |