Royal Cookies Automatic: Dessert Cannabis Smoke Report
VITAL STATISTICS

After a total of 75 days of indoor cultivation, my Royal Cookies Automatic crop was ready for harvest. Pheno 1 was an impressive specimen and the best representation of the strain; therefore, it will be the main focus of this report. Unfortunately, pheno 2 was disappointing. I've used my pollen shaker to convert her leafy buds into some tasty blonde hash.
My star Royal Cookies Automatic plant, however, delivered a healthy 2 oz of dry, sugary nugs. For the record, pheno 2 yielded the equivalent in lower-grade bud, which I've since transformed into 0.2 oz of hash. Not the heaviest yield, but possibly my highest quality autoflowering cannabis harvest to date.

TRIMMING, DRYING, AND CURING
The whole stash was trimmed wet, one branch at a time. Thick trunks would probably require a handsaw to cut through, so work smart and clip branches from trained plants. Shoots are more scissor-friendly. Bud by bud, I stripped away as much leaf material as possible—taking care not to handle the buds too much by holding a portion of stem as I trimmed, wearing latex gloves, naturally.
After manicuring the buds and removing the stems, I dried them out slowly in my wardrobe in brown paper bags and cardboard boxes. Room temp and about 50% RH ensured a nice even slow dry over a period of 12 days. Every 3–4 days, I gloved up to rotate the buds to make sure both sides and the interior were drying evenly.
Finally, while the sticky greenery was still a little spongy, I placed the stash in glass Kilner jars to cure for the next 2 weeks. I burped jars once or twice a week, giving them a quick whiff to check they were curing correctly. No acrid aromas were detected nor visual signs of mold either. Rather, a beautiful bouquet getting closer to its full fragrant potential with every opening confirmed I was on track. The following is everything you need to know about toking Royal Cookies Automatic.
ALLURING AROMAS
Perhaps the most distinguishing attribute of Royal Cookies Automatic is her most alluring aroma. A rich, sweet scent of dark chocolate with a twist of lime will delight your nostrils and let you know you're in for a real treat. Upon combustion, this bud will fill an indoor smoking parlour with a unique fog that is candy sweet and incredibly loud!
While cured buds are not so stinky, they will make a room reek of marijuana as soon as you get her burning; fragrances are unleashed with a vengeance. These are cookies you really can't enjoy discreetly in a public place. Heads will turn once a Royal Cookies Automatic spliff gets cooking.

SUGARY BAG APPEAL
Buds are mostly small to medium-sized, with a nice density and a thick coat of resin to help the medicine go down well with connoisseurs. Sugary nugs with a smattering of orange/red hairs glisten with trichs. They're not oversized nugs that grab your attention right away. However, upon closer inspection, these bite-sized cookie buds look good enough to eat.
DESSERT CANNABIS FLAVOR
You expect a sweet burst of flavor from Royal Cookies Automatic, and I can confirm this is some seriously tasty smoke. An earthy yet sweet inhale leaves you with a minty aftertaste. Simply the best autoflowering cannabis I've ever tasted. In fact, this is some of the most delicious dessert cannabis I've had the pleasure of toking. Forget about other seedbanks—even Mr. Kipling and master chocolatiers have got nothing on Royal Cookies Automatic.

DELICIOUS POTENCY
18% THC certainly felt about right. A two-stage head-body high is to be expected from Royal Cookies Automatic buds. The initial cerebral high peaks pretty early, and a creeping physical stoned sensation eventually envelopes the user. Not only is this stash mouth-watering dessert cannabis, it's also deliciously potent. A jar of Royal Cookies Auto is more tempting than many photoperiod varieties I've grown in the past.
The couchlocking potential of these sticky green cookie buds should not be underestimated. You'll be feeling the tingling onset of a happy head buzz within tokes. A couple of hours into the session and you'll either be ransacking the fridge for munchies or deep in the couch, well on the way to Dreamland.
THE LAST TOKE ON ROYAL COOKIES AUTOMATIC
Royal Cookies Automatic is ideally suited to the SOG method and a great choice for microgrowers too. Hopefully, my YouTube series Cookies In A Hurry will leave you with no doubts about applying a variety of pruning and training techniques to this strain. Although it's not the highest yielding autoflowering strain, it's still possible to get 1.8 oz+ from compact, bushy plants. The outdoor potential of Royal Cookies Automatic is already a work in progress.
That's right, I've always had a sweet tooth and my next project is to grow a great big Cookie Monster on the terrace this summer. Keep an eye on the RQS blog for more on my upcoming outdoor cannabis adventures.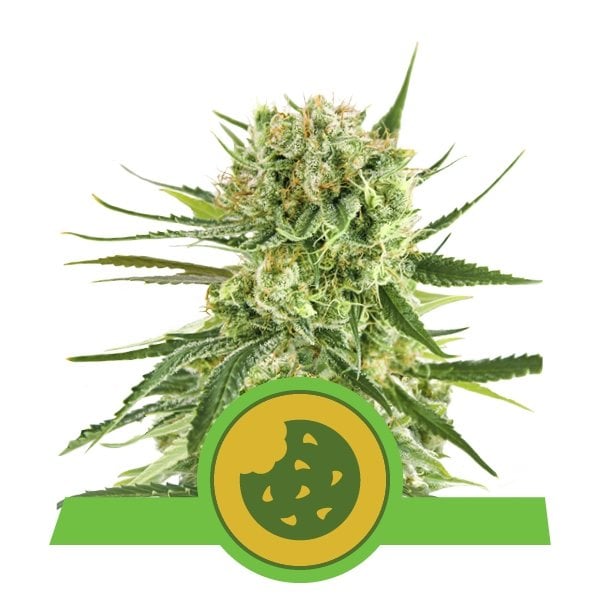 Royal Cookies Automatic gives "easy bake" a whole new meaning. By combining the gourmet Royal Cookies with ruderalis genetics, a unique new hybrid was created.
Buy Royal Cookies Automatic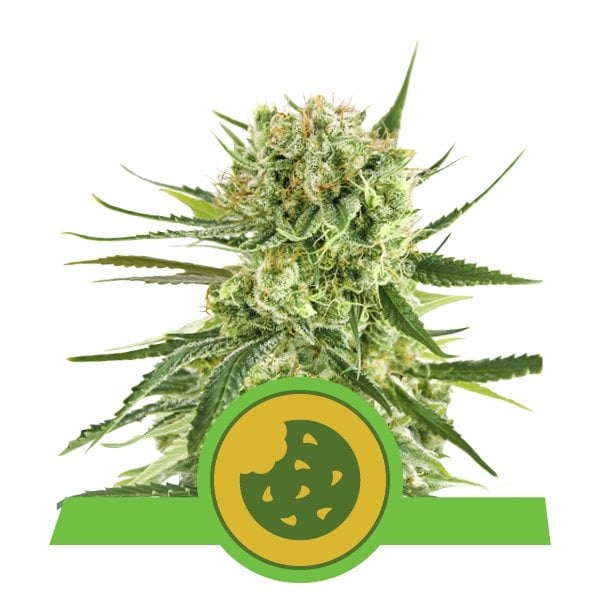 Royal Cookies Automatic gives "easy bake" a whole new meaning. By combining the gourmet Royal Cookies with ruderalis genetics, a unique new hybrid was created.
Buy Royal Cookies Automatic