Spannabis 2019: Royal Queen Seeds wins Best Seedbank!
Spannabis 2019 was a roaring success once more and RQS was awarded Best Seedbank. Check out the pics for our cool two level booth and the smiles we put on the faces of everyone who came to visit us!
By
---
RQS WINS BEST SEED BANK AT SPANNABIS 2019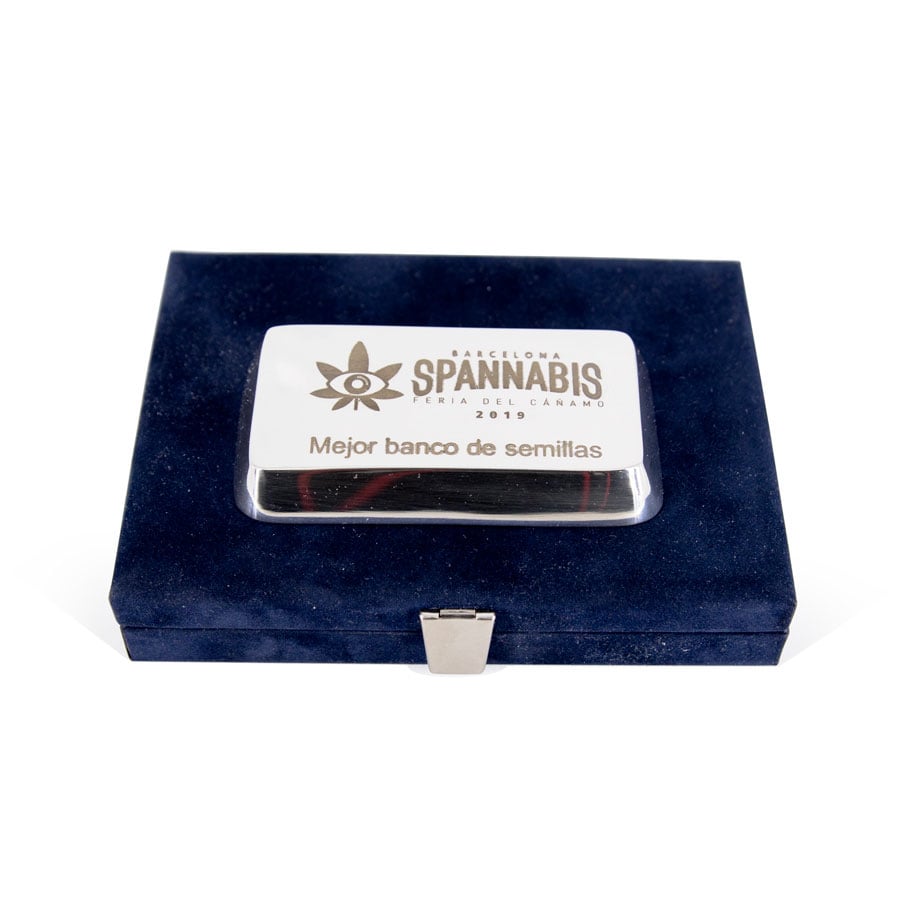 This year's Spannabis 2019, the sixteenth edition of the fair, was an exciting, fun, packed and informative weekend with a mellow vibe and a great soundtrack. Our return to Spannabis 2019 was stronger than ever as we consolidated ourselves as one of the leading seedbanks in the world. A fact reinforced by the highlight of our weekend: Royal Queen Seeds winning the "Best Seedbank" award at the show. In an extremely competitive European and global cannabis market, such an accolade has us feeling warm and fuzzy, and both humbled by, and proud of, our fans and dedicated team for making it so.
THE ROYAL QUEEN SEEDS STAND
Lots of visitors got to appreciate live tunes as they strolled in perfect weather around the presentations of 200 cannabis businesses at the Fira de Cornellá. Included was the first appearance of the RQS two floor booth, covering 75m2 per floor, where visitors could soak up the RQS vibe and get stoked in the sun. We even had a special game for fans to play: the Jackpot game. Everyone loved it, and many prizes were won—creating a lot of happy faces as they made their way around the rest of the expo.
MEETING FRIENDS, FANS, AND CANNABIS CELEBRITIES AT SPANNABIS 2019
Of course, our time at Spannabis would not be complete without getting some face time with everyone. We had some exciting meetings with customers, fans, and industry friends in a positive weed-friendly environment.
We also had the pleasure of having many cannabis celebrities stop by for a chat. Included in our celeb meet was Ed Rosenthal — who was there at the start of the fight for cannabis law reform and wrote one of the earliest marijuana grow books available. We also met Urban Remo — a modern-day grow expert who knows great weed when he sees it. Other influencers who stopped by to chill were Yoidi Ganja Zone, That Weed Couple, El Sendero de la María and 4.20cult. As you can see, we had quite a star-struck couple of days!
One big point of conversation was the future of cannabis. Exciting projects around the world, especially in the USA and Canada, are mapping the way for a well regulated global cannabis industry. This was a hot topic, as earlier in the weekend the ICBC were discussing how to reform cannabis laws in recalcitrant countries. It is a thrilling time in the cannabis industry, with every year looking greener and greener!

SEE YOU NEXT YEAR AT SPANNABIS 2020!
For the next 12 months until Spannabis 2020, we will continue to offer the great cannabis seeds, service, and information that has helped us grow RQS and its community to what it is today. But don't worry, we won't be taking it easy, and will continue to innovate with all-new strains and cutting-edge guidance. We hope to see you again next year!