Royal Highness: CBD and THC in Harmony
A stunning appearance, fruity tastes, and a THC:CBD ratio of 1:1 make Royal Highness a highly sought-after cultivar. She provides an excellent two-pronged effect ideal for the daytime and nighttime. Find out more about this descendant of Respect and Dancehall.
By
---
Find balance with Royal Highness.
---
Royal Highness offers massive amounts of CBD alongside moderate levels of THC. She descends from a legendary lineage of CBD genetics, yet still exerts a high that elevates the mind and reddens the eyes. Truly the best of both worlds, she fires up the endocannabinoid system on two fronts, making for a well-rounded experience.
As well as providing a desirable cannabinoid profile, Royal Highness boasts a unique and surprising appearance. This eye-catching variety will impress anyone lucky enough to tour your growing space, and her dried buds will wow your smoking buddies.
Overall, Royal Highness stands out as an eccentric, largely incomparable cultivar—she will definitely add something distinct to your collection. Thinking of growing this cannabidiol-loaded variety? Check out the information below to get to know her in detail.
Royal Highness Genetic Analysis: The Progeny of Respect and Dancehall
Before even beginning the process of bringing Royal Highness into existence, the breeding team at Royal Queen Seeds developed a vision of exactly what they wanted to achieve. The goal was simple: create a strain with massive CBD levels that still exerts a powerful psychoactive effect.
As experts in the field, our breeders knew exactly where they needed to start. Juanita la Lagrimosa holds the crown as the most legendary CBD cultivar. Breeders used this variety to give rise to a flurry of high-CBD strains. Instead of reaching directly for this variety, they elected to use reliable strains that stem from its lineage.
First, they opted to include Dancehall 24 into the mix. This sativa-dominant lady descends from Juanita la Lagrimosa and Kalijah, and holds awards for her cerebral and energetic high. Her earthy and fruity terpene profile also made her a hit in the cannabis space. After some consideration, our team recruited Respect 13 as the second parent strain. Her medium levels of THC and rich, complex terpene profile would bring some serious character to the table.
Following several generations of crossing, Royal Highness emerged as a stable phenotype with a closely balanced genetic profile consisting of 60% sativa genetics and 40% indica.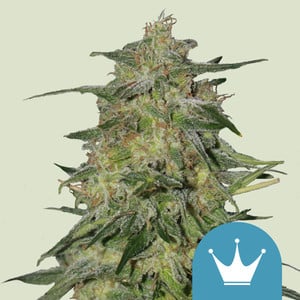 | | |
| --- | --- |
| | Respect 13 x Dancehall 24 |
| | 19 to 21 oz/m² |
| | 2 to 3 feet |
| | 9 - 10 weeks |
| | THC: 14% |
| | |
| --- | --- |
| | Sativa 60% Indica 40% |
| | 15 to 17 oz/plant |
| | 3 to 4 feet |
| | Early October |
| | Calming, Clear |
Growing Royal Highness: A Beautiful Sight in Any Garden
Royal Highness has earned a reputation as a hardy and flexible variety. Both beginner growers and seasoned veterans can enjoy the fruits that this strain provides without too much trouble. She provides optimal results in the mild climates of greenhouses and grow tents, but can also handle slightly cooler outdoor temperatures when cultivated in containers and raised beds.
These plants will quickly become the centerpiece of your grow room or garden, boasting stunning shades of dark green and dark purple—almost black. Plants grown indoors maintain a small stature and will peak at 2 – 3.3 feet depending on the size of the container used. This small stature makes the variety ideal for stealthy growers looking to keep a low profile. In more extreme cases, she'll even handle the confines of a converted cupboard or 5-litre bucket.
She'll kick out a respectable 19.4 – 21.2 oz/m² indoors. Techniques such as low-stress training will help growers push plants to the more productive end of the spectrum. Topping and main-lining also help to create a more productive canopy while keeping her total size under control. Plants will be ready for the chop after just nine weeks of flowering.
Outdoor plants grow to slightly taller heights of 2.6 – 3.6 feet. Discreet growers should utilise topping and low-stress training to keep plants closer to the ground to avoid possible detection. Sowing companion plants early on in the season will help to mask the smell during the flowering phase and defend against pest insects.
We also recommend supplementing the soil with organic compost and mycorrhizal fungi to improve root system health and prevent microbial pathogens from striking in the root zone. Outdoor plants typically produce 15 – 16.8 oz and will be ready to harvest in early October.
Royal Highness: Cannabinoid Ratio and Effects
With a closely balanced CBD:THC ratio of 1:1, Royal Highness exerts a multifaceted high that affects the body and mind almost equally, resulting in a chill, psychoactive effect that won't knock you off your feet.
The THC inside the strain produces feelings of cerebral energy and an elevated mood, whereas the CBD keeps things grounded with a lucid, clear-headed effect. This unique balance of cannabinoids makes Royal Highness a superb strain to promote bursts of inspiration without going off the deep end.
Aroma, Flavor, and Edible Applications of Royal Highness
Royal Highness' dark and handsome flowers light up the taste buds with every hit. Fruity and spicy terpenes reminiscent of high-class Haze make her extremely enjoyable and moreish to smoke. Budding cannabis chefs will have a lot of fun with this cultivar too. Her smooth flavors complement both savoury and sweet dishes well, and her cannabinoid profile lends to meals that plunge the mind into a content and highly conversational state. We recommend using this strain to make fruity bars, salad dressings, and other wholesome or refreshing snacks.

Vaping Royal Highness
Smoking and eating edibles of Royal Highness catalyses pleasant effects, but she also goes down well in a vaporizer. Here, her rich and complex terpene profile becomes much more apparent. Smoking exposes her buds to extremely high temperatures, degrading some of the volatile terpenes in the process. In contrast, vaping involves lower temperatures, which helps to keep these flavorful molecules intact. Different temperature ranges will target specific terpenes—play around with the settings on your device to find out how you best like to vape this strain.
Royal Highness: Bring Balance Back Into Your Life
With a balanced cannabinoid ratio, breathtaking aesthetics, and rewarding yields, Royal Highness continues to win the hearts of THC and CBD lovers alike. Give her a try yourself to truly experience the best of both worlds.