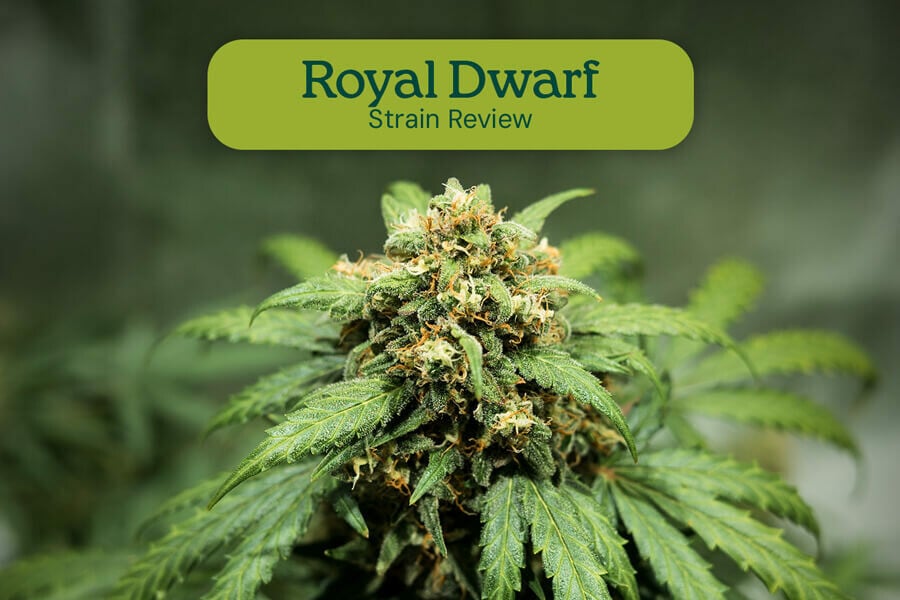 Royal Dwarf: Compact But Mighty
Small. Fast. Discreet. These words sum up Royal Dwarf to a tee. Whether you're a beginner grower or you are simply looking for a speedy growing cycle, Royal Dwarf hits the mark. She's also perfect for growers dealing with little space, and those wanting to keep things discreet.
By
---
ROYAL DWARF'S GENETIC BACKGROUND
Royal Dwarf provides all of the desirable traits of Skunk in a compact, autoflowering package. We wanted to provide growers with a quick and easy-to-grow version of the legendary cultivar. Skunk sits in the pantheon of world-renowned genetics. The international cannabis community adore her powerful indica high and therapeutic effects.
Breeders brought Skunk into the world during the late 1970s using Afghani, Acapulco Gold, and Colombian Gold genetics. She went on to take the cannabis world by storm, gaining notoriety through a series of cannabis cup victories. Since then, breeders have used Skunk genetics as the foundation for many successful hybrids. Royal Dwarf belongs to this respectable family!
RQS breeders set about combining high-performing Skunk specimens with our best cannabis ruderalis genetics. After selective breeding and a stabilisation process, they successfully created Royal Dwarf. She emerged as a indica-dominant strain, consisting of 10% sativa, 60% indica, and 30% ruderalis genetics.
UPLIFTING AND CLEAR-HEADED EFFECTS
Royal Dwarf produces a THC content of approximately 13%. She's not as potent as her powerhouse predecessor, but her effects are still thoroughly enjoyable. Her indica-dominant high provides a clear-headed and lucid effect and she will raise your spirits, elevate your mood, and increase your appetite for success. Suddenly sitting and smoking on the couch isn't very appealing anymore. You'll experience an urge to get up and get things done! Her moderate strength means these buds can be blazed throughout the day, without compromising your cognitive faculties.
Royal Dwarf—much like her legendary ancestor—also offers medicinal effects. Her pleasant high helps to alleviate stress, anxiety, and low mood. She's superb at kindling the appetite and taking the edge off chronic pain.
COMPLEX AND DELICIOUS FLAVORS AND AROMAS
Royal Dwarf's compact flowers pack a serious sensory punch. Her earthy terpene profile produces striking sweet and citrusy flavors and scents. These flavors infuse every bong hit and joint toke. Use her buds to make edibles that light up the taste buds and bring her high to another level.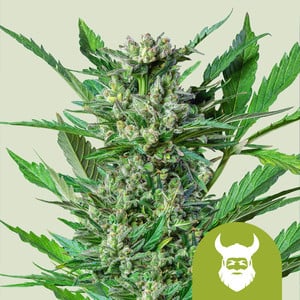 | | |
| --- | --- |
| | Skunk x Ruderalis |
| | 5 to 7 oz/m² |
| | 1 to 2 feet |
| | 6 - 7 weeks |
| | THC: 13% |
| | |
| --- | --- |
| | Sativa 10% Indica 60% Ruderalis 30% |
| | 1 to 3 oz/plant |
| | 2 to 3 feet |
| | 9 - 10 weeks after sprouting |
| | Creative, Motivating |
ROYAL DWARF'S GROWING TRAITS
Royal Dwarf produces an impressive yield, considering her small size. Plants grown indoors produce about 5.3 – 7.1 oz/m² and peak at the height of 27.3 inches. Consider using low-stress training to keep her at a smaller height of 15.6 inches if stealth is a priority. If you're growing her outdoors, expect a return of 1.1 – 2.8 oz per plant. She'll grow to a height of 1.6 – 3 feet.
Royal Dwarf has a brief growing cycle of 8–9 weeks, with a flowering time of 6–7 weeks. You won't have to wait long until you taste these buds!
ROYAL DWARF: NEAR-INSTANT GRATIFICATION
Royal Dwarf will appeal to growers when time is of the essence. She's perfect if you're seeking a yield in as little time as possible. Not got much room to grow? No worries. You can grow this speedy lady in a modified cupboard or box. Enjoy her energising high and earthy terpenes after a matter of weeks!