Royal Jack Automatic: Legendary Sativa Turned Auto
Royal Jack Automatic is a simple and forgiving cultivar to grow. Its small height enables growers to raise it indoors and outdoors without drawing unwanted attention.
By
---
Royal Jack Automatic is a sativa-dominant hybrid named after the late author and cannabis activist Jack Herer. Otherwise known as the "Emperor of Hemp", Herer penned _The Emperor Wears No Clothes: Hemp and the Marijuana Conspiracy_, a book that details the industrial and environmental uses of hemp. In his work, he describes how hemp is the only annual natural resource capable of supplying the world's textile, paper, and energy needs.
Herer was a powerful voice fighting in the corner of cannabis, and we're proud to offer a strain named after him.
ROYAL JACK AUTOMATIC: GENETIC BACKSTORY
The original Jack Herer is a sativa-dominant strain that gifts users with a clear-headed and euphoric high. Dutch breeders created the strain in the 1990s, with its uplifting effects taking the local cannabis community by storm. These flowers are capable of diffusing stress, elevating mood, and temporarily reducing pain. The cultivar was even available at Dutch pharmacies as a medical-grade variety. Since then, Jack Herer has gone on to make a permanent mark in the cannabis world. The strain has scooped up countless awards, including wins at the High Times Cannabis Cup.
The original breeders started with a cross of two of the best indica specimens available at that time: Shiva Skunk and Northern Lights #5. The offspring displayed a typical indica growth pattern and delivered a soothing and substantial body high.
In an attempt to balance out these effects, they proceeded to infuse Haze into the mix to add a fiery sativa touch. This legendary Californian cultivar was an obvious choice. It's known far and wide for its massive THC level and electrifying cognitive effects.
The breeders at RQS sought to infuse Jack Herer with autoflowering genetics to make the original easier to cultivate and faster to grow. Novices can now experience the many delights of Jack Herer, with half the hassle.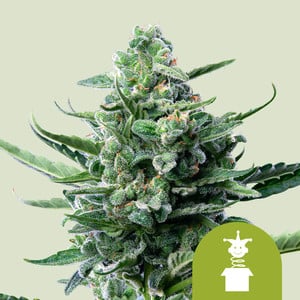 | | |
| --- | --- |
| | Jack Herer x Ruderalis |
| | 12 to 14 oz/m² |
| | 1 to 3 feet |
| | 7 - 8 weeks |
| | THC: 16% |
| | |
| --- | --- |
| | Sativa 40% Indica 30% Ruderalis 30% |
| | 2 to 4 oz/plant |
| | 2 to 3 feet |
| | 11 - 12 weeks after sprouting |
| | Creative, Motivating |
GENTLE AND MOTIVATING HIGH: EFFECTS OF ROYAL JACK AUTOMATIC
Royal Jack Automatic isn't a strain that will blast your brain into orbit. Instead, it offers a subtle, energising effect that is great for boosting productivity. Its flowers produce a THC content of 16%—more than enough to stimulate creative thoughts and a desire to crush your to-do list. However, it's not enough to spin most users out. This cannabinoid profile occupies a delicate sweet spot.
Royal Jack Automatic is an ideal strain for daytime use, whether you're looking to maximise output at work or require a mental edge during physical activity. The sativa effects increase attention span, enhance focus, and cause the cogs of the mind to turn smoothly. A medium level of CBD grounds the high and adds a relaxing element—perfect before a big event or gathering.
PARTY ON THE TONGUE: FLAVOR AND AROMA OF ROYAL JACK AUTOMATIC
Royal Jack Automatic has inherited plenty of the signature scents and tastes from its predecessor. A single toke of its flowers sends shockwaves of pepper, herbs, and spices over the taste buds. Myrcene, pinene, and caryophyllene are the dominant terpenes contributing to these flavors.
These unique and potent flavor notes make Royal Jack Automatic a favorite among cannabis chefs, complementing both sweet and savoury dishes.
COMPACT AND STEALTHY: GROWING ROYAL JACK AUTOMATIC
Royal Jack Automatic thrives in a mild climate. This plant maintains a miniature stature both indoors and out, and is ideal for growers looking to keep a low profile. Indoor plants grow to a height of 1.3 – 2.6 feet and can easily fit in modified boxes and cupboards. They'll put out a yield of up to 14.1 oz/m².
Outdoor plants grow to a similar height of 2 – 2.6 feet, and a single specimen can produce up to 4.2 oz. Royal Jack Automatic is fast to flower and will be ready to harvest only 11-12 weeks after germination.