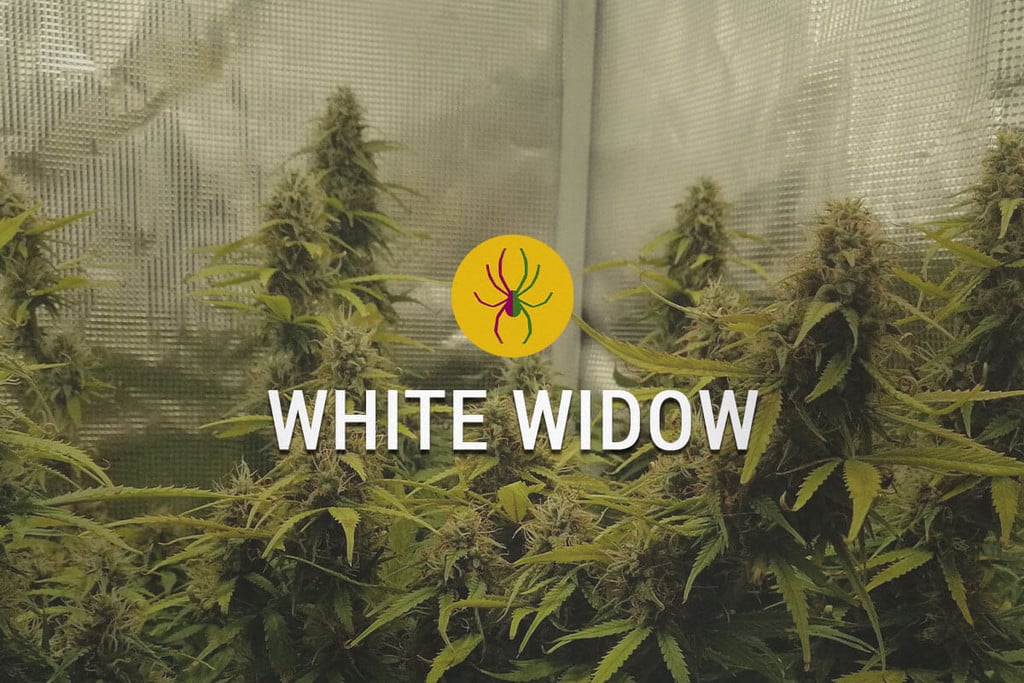 White Widow: The Potent Pride Of The Netherlands
White Widow won the High Times Cannabis Cup in 1995, and it's stuck around in the lives of weed smokers everywhere ever since. It's not just branding, either; these 19% THC nugs will slump you as well as any new strain. In a rush? Then the autoflowering version is one of the quickest ways to take your grow room and stash to the next level.
By
---
White Widow, a child of the Netherlands and Green House Seeds, first came on on the scene during the 1990s. From the very beginning, people knew it was something special. Perhaps the biggest sign of this was the High Times Cannabis Cup in 1995, which White Widow won with ease.
It was a big deal, but you might be thinking: "That was more than two decades ago! Cannabis science has been advancing quicker than ever. How does it stack up today?". We're happy to tell you that even with the exciting strains out today, it still goes toe to toe with the best of them.
WHITE WIDOW'S GENETIC HISTORY
While we don't know the exact names of the strains that came together to make White Widow, we know where they came from. Specifically, White Widow is a genetic blend of Brazilian sativa and South Indian indica landraces, with the latter known to be especially resin-heavy. From those corners of the world, they came together in the Netherlands. From there, White Widow was born.
FLAVOUR, AROMA, AND POTENCY OF WHITE WIDOW
Even though it's a high-profile strain, White Widow's flavour keeps things low-key. It's not flavourless, though. There are subtle but noticeable hints of citrus, herbs, and even pepper that'll race across the tongue. Those notes will hit the air in the same way, gracing your nose without stinking up the place.
If you're trying to judge potency by taste and smell, though, you'll be in for a surprise. These nugs hit the user with 19% THC, and even though it's an evenly balanced hybrid, it'll hit you with the sort of cerebral, lifted high that comes from sativa-dominant titans.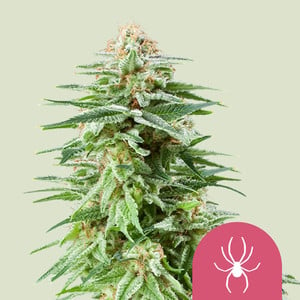 | | |
| --- | --- |
| | White Widow S1 |
| | 450 - 500 gr/m2 |
| | 60 - 100 cm |
| | 8 - 10 weeks |
| | THC: 19% |
| | |
| --- | --- |
| | Sativa 50% Indica 50% |
| | 550 - 600 gr/plant |
| | 150 - 190 cm |
| | Early October |
| | Powerful , Stoned |
GROWING WHITE WIDOW
You'd think that growing a legend would be limited to only the best. However, you'd be surprised to learn that White Widow is more manageable than most. Your main concern is making sure plants get plenty of light. Considering this strain was first popularised in the Netherlands, though, you can expect it to survive in colder climates.
It can be grown indoors or outdoors, although the difference is fairly apparent. Outdoor growers, for instance, will get plants stretching 2m tall, yielding 550–600g/plant on average. Indoor growers, however, will see their plants reach half that height, obtaining a yield measuring around 450–500g/m². Either way, though, the flowering phrase should only take about nine weeks. If you want to maximise growth, try implementing the ScrOG or SOG method.
White Widow is known for her massive resin production. By the time you get to harvesting and trimming your buds, you'll be shocked by the sheer volume of trichomes. Handle with care to make sure no resin goes to waste, and consider this specimen for making high-quality hash and concentrates!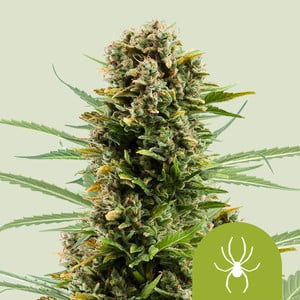 | | |
| --- | --- |
| | White Widow x ruderalis |
| | 400 - 450 gr/m2 |
| | 40 - 80 cm |
| | 7 - 8 weeks |
| | THC: 14% |
| | |
| --- | --- |
| | Sativa 40% Indica 40% Ruderalis 20% |
| | 190 - 240 gr/plant |
| | 50 - 110 cm |
| | 10 - 12 weeks after sprouting |
| | Physically Relaxing, Stoned |
WHITE WIDOW AUTOMATIC
If time is of the essence, or you don't feel like bothering with the standard growing process, you'll be excited to learn about White Widow Automatic. By breeding the classic with top-tier ruderalis, we've obtained a variety of the legend that takes 10–12 weeks to harvest after sprouting.
Measuring in at around 14%, this strain is perfect for occasional smokers who want something to get them truly lifted. Even if you're a frequent smoker, it hits right without impairing you completely. Interestingly enough, the automatic variety has effects more akin to an indica-dominant strain, leaving users with a smooth physical high. Honestly, given the different potency and effect, we'd recommend growing both varieties of this icon if you can. They hit differently, but boy do they hit right.
WHITE WIDOW SUMMARY: THE ICON LIVES ON
White Widow is one of the most distinguished cannabis hybrids in existence. In addition to its noteworthy resin production and balanced high, the strain is easy to grow and hits the sweet spot when it comes to potency. Rounding off the experience is a delicate yet complex mix of flavour notes that make this enigmatic strain truly one of a kind.