Royal Domina: A Hard-Hitting Indica Fit For Royalty
Royal Domina is an exotic indica variety that boasts a fantastic aroma and a knockout stone. Keep reading to learn all there is to know about this strain, including what to expect in the grow room.
By
---
Few strains are capable of producing such incredible bud in so little time as Royal Domina. This strain is very indica-dominant, producing dense and dank buds after just 50 days of flowering. With a fresh, herbal pine aroma and 20% THC, this strain is a real delicacy.
WHAT IS ROYAL DOMINA?
Royal Domina is a unique cannabis strain that combines Black Domina and Kalijah. Black Domina itself derives from four prime indica strains: Northern Lights, Hash Plant, Ortega, and Afghani. The result is a super potent, almost pure indica that produces extremely resinous buds in just 50 days. These buds have an amazing deep green colour that, in certain lighting, looks almost black.
Kalijah is another fast-flowering, potent indica-dominant variety. Despite its obvious indica lineage, it produces a very uplifting high that combines both cerebral and physical effects. Kalijah also boasts a THC level of 20% and a delicious aroma that merges complex notes of fresh pine with hints of citrus.
Taking the best from both strains, the breeders at Royal Queen Seeds managed to create a stable performer in Royal Domina. Get ready for a productive, quick flowering variety that produces a very relaxing, long-lasting stone.
ROYAL DOMINA IN THE GROW ROOM
Royal Domina is a very reliable, stable, and easy strain to grow. Indoors, Royal Domina usually grows to 90–130cm and responds very well to pruning, LST, SOG, and ScrOG. After around 4–6 weeks of vegetative growth, she will be ready to switch to flower. After 7–8 weeks of flowering, plants will be loaded with big, dense, and resinous buds, ready to be cut and dried. Indoor harvests clock in at 525–575g/m².
Outdoors, Royal Domina tends to get larger, especially in big pots, reaching heights of 140–180cm. She responds particularly well to warm climates with cooler evening temperatures, and will soak up as much sun as possible. Thanks to its indica genetics, Royal Domina grows bushy and responds well to pruning to expose her bud sites to as much light as possible. If you're growing in the Northern Hemisphere, expect Royal Domina to be harvest-ready by early October. In the Southern Hemisphere, harvest time will typically be around early April. Outdoor harvests with Royal Domina vary between 550–600g/plant.

Royal Domina is a fairly simple strain to grow. Nonetheless, there are a few things you can do to maximise the size and quality of its yields:
• Use big pots: Royal Domina is a short strain. Take advantage of this by giving your plants as much substrate as possible to promote a big, healthy root system.
• Veg for at least 4–6 weeks: Royal Domina flowers quickly (in just 7–8 weeks). For a bigger, better yield, let her veg a little longer so she can produce more bud sites and bigger, stronger branches to support the weight of her buds during bloom.
• Keep your grow room cool at night: Royal Domina is 85% indica, and indica strains love cool nighttime temperatures. Not only will this help protect your plants against mould and pests, but it may also promote the growth of some darker foliage for extra eye candy.
• Ventilate your grow room: Because Royal Domina tends to grow short and bushy, remember to keep your grow space well-ventilated. Stagnant air can drive up the humidity and temperature in your grow space, encouraging the growth of mould and attracting pests.
• Plant early: If you grow outdoors, plant Royal Domina early in summer to give her as much time to veg as possible.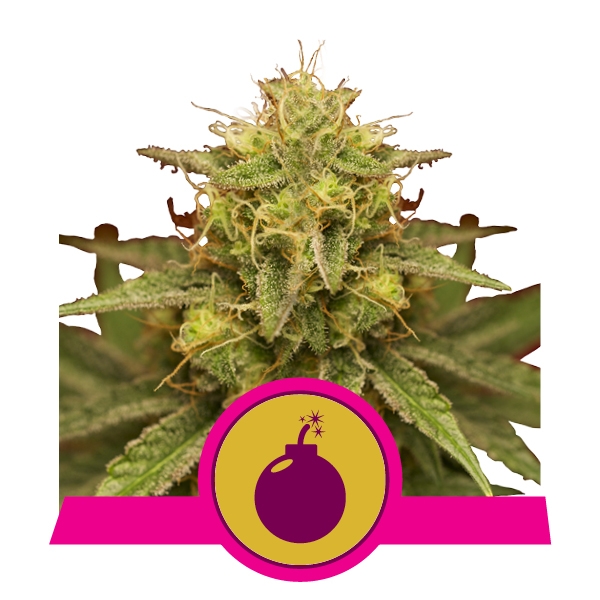 Royal Domina
Black Domina x Kalijah
525 - 575 gr/m2
90 - 130 cm
7 - 8 weeks
THC: 20% (aprox.) / CBD: Low
| | |
| --- | --- |
| | 15% Sativa, 85% Indica, 0% Ruderalis |
| | 550 - 600 g/per plant (dried) |
| | 140 - 180 |
| | Late September |
| | Stoned, relaxed |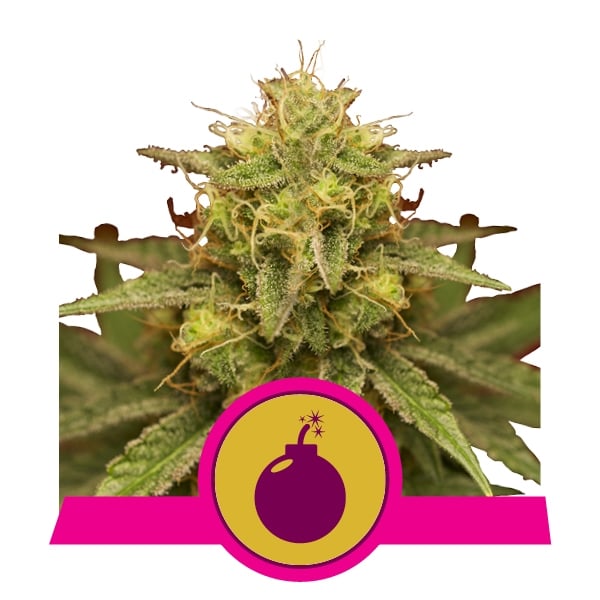 | | |
| --- | --- |
| | Black Domina x Kalijah |
| | 525 - 575 gr/m2 |
| | 90 - 130 cm |
| | 7 - 8 weeks |
| | THC: 20% (aprox.) / CBD: Low |
| | |
| --- | --- |
| | 15% Sativa, 85% Indica, 0% Ruderalis |
| | 550 - 600 g/per plant (dried) |
| | 140 - 180 cm |
| | Late September |
| | Stoned, relaxed |
THE EFFECTS OF ROYAL DOMINA
Thanks to its high concentrations of THC, Royal Domina produces a long-lasting and intense stone. In microdoses (like a single hit from a joint, for example), it will leave you relaxed and focused. However, after just a few more hits, Royal Domina will start producing a strong, heavy high that targets both the body and mind.
This is the perfect strain for when you want to kick back, relax, and enjoy your favourite record or movie. In higher doses, Royal Domina will leave you glued to the couch or bed, so it's best to avoid it if you need to stay productive.
AROMA AND FLAVOUR OF ROYAL DOMINA
Royal Domina boasts some really exotic aromas and flavours. On the nose, this strain is very fresh, combining pine and herbal notes with earthy undertones and hints of citrus. In terms of flavour, however, Royal Domina boasts hints of spice combined with some notable sweet undertones.
ROYAL DOMINA IN A NUTSHELL
Royal Domina is an indica-dominant strain bred from Black Domina and Kalijah genetics. It produces large, dense, and potent buds that'll leave you with a strong, relaxing stone—perfect for when you want to unwind. In the grow room, Royal Domina is easy to manage and can produce exceptional yields with minimal training and upkeep. If you're looking for a new indica to add to your garden, this strain is perfect.