How To Make Thai Sticks
Looking to bring a new level of craftsmanship and originality to your weed smoking? Consider exploring Thai Sticks—a method which uses four different cannabis plant products to create blunts of unprecedented power and beauty. We'll delve into the complex history of Thai Sticks, and offer detailed instructions on how to make them at home.
By
---
Tired of your run-of-the-mill spliffs? If you're looking for a new way to roll joints, why not look towards an ancient tradition—that of Thai Sticks. Thai Sticks have been around for centuries, perhaps millennia. They're an ancient way of rolling joints, that involves tying weed to a skewer, curing it, and then wrapping it in cannabis fan leaves. Thai Sticks use various parts of the marijuana plant to produce a high of tremendous potency. Before we dive into instructions on how to make Thai Sticks, let's take a look at the history of this unique product.
HISTORY OF THAI STICKS
As you may have gathered from the name, Thai Sticks originated in Thailand. No one knows how old they are, but it's certainly many centuries, likely since soon after the introduction of cannabis to Thailand. Thai Sticks were one of many cannabis innovations which came from Thailand, along with the bong.
Thai Sticks were introduced to America after the Vietnam War, when soldiers came home loaded with these potent blunts. They were a smash hit in America, lauded for their potency. Many believed that the Sticks contained opium. No one knows for sure, though it's likely that their potency came rather from the hash oil used to bind them, and the strains used to make them. These were likely more potent than the typical American weed of the day.

Thai Sticks remained popular in the US through the '70s, but by the '80s, trade had dried up. This occurred for two main reasons: one, the war in Vietnam ended in 1975, and so the main supply chain bringing Thai Sticks to the US was severed; two, the Controlled Substances Act came into effect, classifying marijuana as a Class I Narcotic alongside heroin, LSD and MDMA. This made importing cannabis products a much less appealing activity.
In the following decades, Thai Sticks remained a distant memory in America. But more recently, they've seen a comeback in the West due to a number of reasons. As the world has become more globalized, those who travelled to Southeast Asia brought back stories of these incredibly potent and uniquely constructed blunts. Also, the internet has allowed for the information on Thai Sticks to spread, along with instructions on how to make them at home. Finally, more and more Westerners grow their own plants, and consequently Thai Sticks become appealing as a way to consume weed without letting any part of the plant go to waste.
BEST STRAINS FOR MAKING THAI STICKS
When it comes to Thai Sticks, strain is everything. Here are a few that will produce Thai Sticks of a quality that will hearken back to what made them so popular in the '70s. Thai Sticks of the past were likely a combination of multiple powerful strains, so feel free to mix and match to increase the authenticity of your Thai Sticks.
FRUIT SPIRIT
With Thai Sticks, flavour is the key ingredient. You'll want to pick great tasting strains, as the long curing process will bring out every nuance of flavour. If you want a strain that will relax you in the most delicious way possible, check out Fruit Spirit. This strain comes from White Widow and Blueberry genetics, is a balanced 60% sativa hybrid, and combines a sweet, berry flavour with a heady but relaxing high. An excellent strain to figure out what Thai Sticks are all about.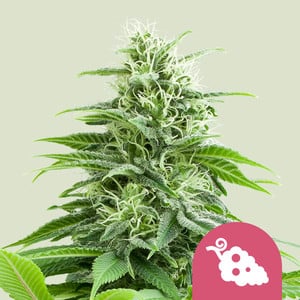 | | |
| --- | --- |
| | Blueberry x White Widow |
| | 375 - 425 gr/m2 |
| | 80 - 120 cm |
| | 9 - 10 weeks |
| | THC: 18% |
| | |
| --- | --- |
| | Sativa 30% Indica 70% |
| | 475 - 525 gr/plant |
| | 175 - 220 cm |
| | Early October |
| | Clear |
PINEAPPLE KUSH
If you're more into the indica side of things, Pineapple Kush is a great choice. This strain is a combination of Pineapple Express and OG Kush, and combines the best elements of both its parents. It's got a mesmerizing flavour, with notes of what some describe as caramel or vanilla. Turning this strain into a Thai Stick would be the perfect way to enhance these nuanced undertones. At 18% THC, this 80% indica-dominant strain packs a powerful punch, making it the perfect choice for anyone who wants their Thai Stick to come with a generous dose of chill.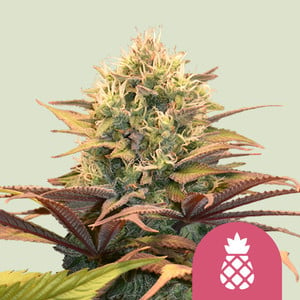 | | |
| --- | --- |
| | Pineapple x O.G. Kush |
| | 500 - 550 gr/m2 |
| | 70 - 120 cm |
| | 8 - 9 weeks |
| | THC: 18% |
| | |
| --- | --- |
| | Sativa 20% Indica 80% |
| | 500 - 550 gr/plant |
| | 120 - 180 cm |
| | Late September |
| | Calming, Laughter |
GREEN GELATO
As the name suggests, Green Gelato tastes like a smooth dessert. It's far from saccharine, however. At 27% THC, this strain will rock you to another level. It's the ideal choice for building a Thai Stick with all the incredible potency that had Vietnam soldiers writing home about, and bringing Thai Sticks home by the bucketful. Green Gelato is 45% sativa and 55% indica, producing a powerful but balanced high. Not recommended for beginners, but perfect for seasoned users looking to max out on potency.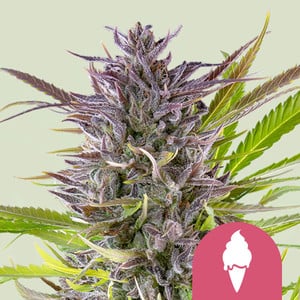 | | |
| --- | --- |
| | Sunset Sherbet x Thin Mint Girl Scout Cookies |
| | 500 - 700 gr/m² |
| | 80 - 120 cm |
| | 8 - 10 weeks |
| | THC: 27% |
| | |
| --- | --- |
| | Sativa 45% Indica 55% |
| | 800 gr/plant |
| | 150 - 200 cm |
| | Early October |
| | Clear, Physically Relaxing |
Without further ado, here are instructions on how to make Thai Sticks.
HARDWARE AND INGREDIENTS
A wooden skewer
Hemp string
Hash oil
Buds from your strain of choice
Large fan leaves from a cannabis plant
Parchment paper
Ziploc bag (optional)
INSTRUCTIONS
1. Go through your weed stash and pick out the fluffiest buds. These will condense well to produce an intense and smooth high. Set these aside.
2. Coat your skewer with a layer of hash oil. Press the buds collected in step 1 to the stick. They should cover the stick in a uniform layer around its circumference. The ends of the stick should show on either side and this should be the only place the stick is visible.
3. Wrap your weed-covered stick tightly with hemp string. Wrap and tie at both ends. The string should form a uniform covering over the stick, with a similar girth from top to bottom.
4. Wrap the tied-up stick in parchment paper. Place this whole contraption in the fridge, and leave it for a few days. This is the first of several stages of curing: a process to remove the moisture from the Thai Stick in order to prevent rot, enhance flavour, and help the stick set and harden.
5. After at least 2–3 days, remove the Thai Stick and carefully unwrap the hemp string. Note: you want the buds to remain on the stick, not to come off with the string. Once this is done, coat the tube of bud with more hemp oil, and wrap a fan leaf around it. Apply more hemp oil as necessary to get everything to stick.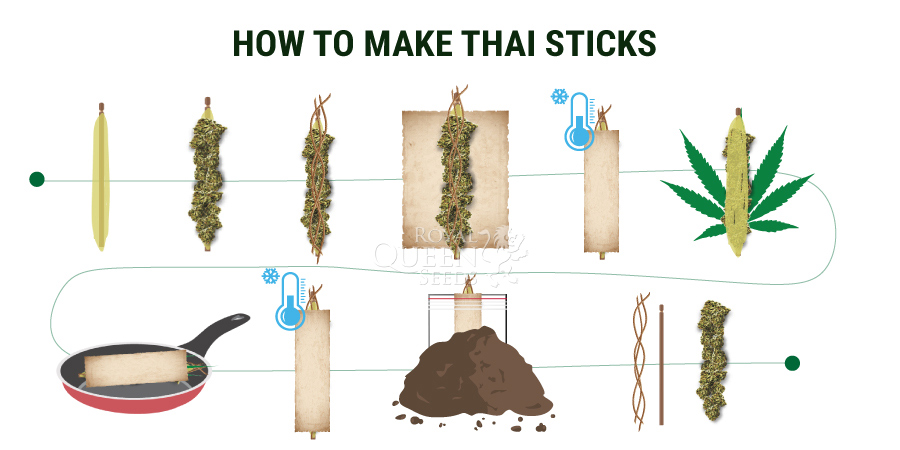 6. Traditionally, this stage would call for another three-day process of curing. However, many modern users will compress the process and instead get all the fan leaves on at once, which is what we're recommending here. Use more hash oil to coat your fan leaf-wrapped tube of bud, and apply another leaf. Repeat this process one more time, until your Thai Stick is wrapped in three leaves.
7. Wrap your Thai Stick in parchment paper and heat it on a hot plate or in a pan for a few seconds, making sure the whole thing gets heat throughout. This will cause the hash oil to melt and seep through all layers of leaves, creating a tight seal.
8. Remove your Thai Stick from the parchment paper used to heat it in, and wrap it in hemp string once again. Wrap it in a new piece of parchment paper, and leave it in your fridge for another few days.
9. Here, practices may diverge once again. Traditional Thai Stick makers bury their Thai Sticks underground for a month to improve curing. You can replicate this by putting your Thai Stick in a plastic bag and burying it in your yard. You can also do a "medium intensity" curing by vacuum-sealing your Thai Stick in a plastic bag and leaving it in the fridge for a week (an easy way to vacuum seal is to place you Thai Stick in a Ziploc bag, open it a crack, and suck all the air out with your lungs). If you feel you've waited long enough, you can smoke it without a final stage of curing.
10. Be sure to remove the hemp string and the skewer from the middle of the Thai stick before smoking.
We hope you enjoy your Thai Stick! This method of consuming weed is truly unique, and offers benefits you won't find anywhere else. Best of luck creating blunts with this traditional method!