Here Are 4 Cannabis Strains That Produce Massive Yields
Lighting, nutrients and correct watering regime all help to maximise yields. However, selecting the right strain can make the differences between mediocre and massive harvests. Explore four biggest producers of 2023.
By
---
Take your cannabis yields to another level with our four top strains for 2023.
Nothing beats harvesting sticky aromatic buds at the end of a grow. At that moment, all of your hard work and dedication manifests into picking the fruits of your labour. The more buds you snip from their branches, the higher the level of satisfaction.
Full-spectrum nutrients, powerful lights and perfect humidity all contribute towards better yields. However, the genetic potential of each plant also determines the size of the harvest. Some varieties are small, stealthy, and provide less productive canopies. In contrast, breeders have developed highly productive cultivars that can keep your stash jars full all year round.
Below, you'll discover four of the highest yielding strains of 2023. All of these cultivars boast an abundance of bud sites and respond exceptionally well to training techniques. Before we take a look, let's cover some common questions about improving cannabis yields.
Sativas or Indicas—Which Yield More?
In general, sativa-dominant cannabis strains tend to provide heavier yields. These varieties reach much taller heights—sometimes resembling small trees—and produce bigger canopies, with more bud sites.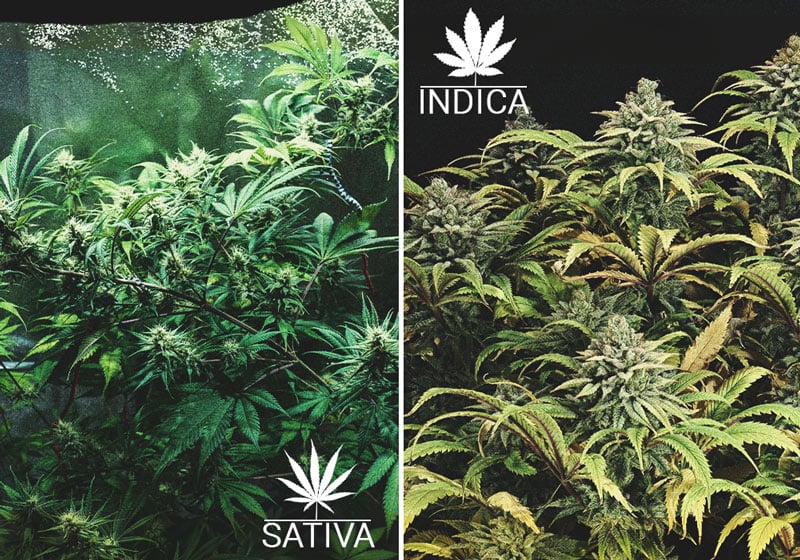 How Do Growers Achieve Large Yields?
Genetics underpin the true potential of every strain. After selecting a cultivar that promises to produce large yields, growers need to ensure they provide powerful lighting, nutrient-rich soil, and adequate amounts of water. Training techniques can also significantly improve output.
How Is Cannabis Yield Measured?
The same strain can produce dramatically different results depending on pot size, nutrient availability and the growing environment. The estimated yield of each cannabis strain derives from an average calculated from different growers.
How Does Veg Time Affect Yields?
Plants aim to grow as big as possible in their vegetative phase. Bigger plants possess more branches and bud sites, potentially meaning bigger yields. Conditions permitting, the longer your veg time, the more likely you'll have a large harvest.
The Four Biggest Yielding Cannabis Strains of 2023
Without further ado, here are our top cannabis strain selections for 2023, for those wanting high-yielding plants that maximise productivity and output.
1. Green Gelato
Green Gelato produces compact and nugget-like buds. Although her flowers are relatively small, she pumps them out in massive quantities. This highly productive strain features 55% indica and 45% sativa genetics. Despite that indica-dominance, she still produces yields that far exceed some pure sativa varieties.
Our breeders at Royal Queen Seeds developed this strain with yield in mind. After some experimentation, they settled on parent strains Sunset Sherbet and Thin Mint Girl Scout Cookies to complete the task at hand. After several generations of crosses, they landed on a stable phenotype that churned out large harvests every single time.
Green Gelato consistently delivers impressive results, both indoors and outdoors. Indoor plants reach a medium height of 80–120cm and do well even in small grow tents. Prepare to harvest a rewarding yield of up to 700g/m² after a flowering time of 8–10 weeks.
Outdoor plants can reach up to 200cm when grown in large containers and raised beds. These tall plants are capable of producing up to 800g per plant. We recommend using stakes to prevent her bountiful branches from buckling. These plants will mature just before the end of the season, during early October.
Her aesthetic flowers boast shades of dark green, deep purple, and orange. These resinous blossoms feature a massive THC content of 27% and a medley of sweet, citrusy, and earthy terpenes. Prepare for a stimulating, energetic, and long-lasting experience.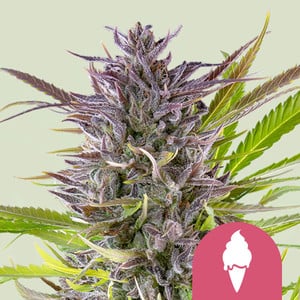 | | |
| --- | --- |
| | Sunset Sherbet x Thin Mint Girl Scout Cookies |
| | 500 - 700 gr/m² |
| | 80 - 120 cm |
| | 8 - 10 weeks |
| | THC: 27% |
| | |
| --- | --- |
| | Sativa 45% Indica 55% |
| | 800 gr/plant |
| | 150 - 200 cm |
| | Early October |
| | Clear, Physically Relaxing |
2. Amnesia Haze
Amnesia Haze: a name known all over the cannabis world. Chances are you've seen this strain displayed on the shelves in cannabis dispensaries and Dutch coffeeshops. Smokers from all generations continuously seek out this cultivar for its motivating high and delicious flavours. However, she rose to stardom also thanks to her reliable productivity.
Haze genetics came to life on the West Coast of the United States—a renown breeding hot spot. After they reached the European cannabis mecca, Holland, breeders tinkered with these legendary strains. Eventually, Amnesia Haze emerged as a promising hybrid. She features 70% sativa genetics and a tall and majestic morphology.
Indoor plants peak at 140cm, although training techniques, such as LST can keep them closer to the ground, at around 80cm. Under good quality lights and with a solid feeding regimen, plants will produce up to 650g/m² after a flowering time of 10–11 weeks. Outdoor plants can tower at the height of 210cm and produce a huge yield of 700g per plant, ready to crop during late October.
Amnesia Haze boasts tall and thick buds, decorated with protruding sugar leaves and light orange pistils. These tantalising buds exude plenty of resin with a 22% THC content and sweet and fruity terpenes. Her cerebral high makes a great wake and bake option.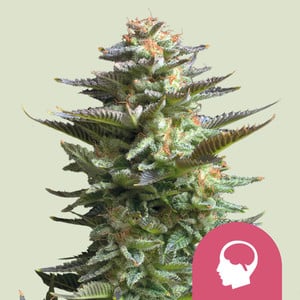 | | |
| --- | --- |
| | Original Amnesia Haze |
| | 600 - 650 gr/m2 |
| | 80 - 140 cm |
| | 10 - 11 weeks |
| | THC: 22% |
| | |
| --- | --- |
| | Sativa 70% Indica 30% |
| | 650 - 700 gr/plant |
| | 175 - 210 cm |
| | Late October |
| | Long Lasting , Physically Relaxing, Powerful |
3. Shogun
This mighty sativa will plunge you into the mindset of a shogun—crystal clear cognition, rational and philosophical thinking, and unrivalled motivation. Shogun ticks all of the boxes of a truly great cannabis variety. She boasts high THC levels, incredible taste, and a yield that will keep you very busy come harvest time.
Our expert breeders developed this cultivar using two legendary cannabis varieties: Amnesia Haze and Gorilla Glue 4. Both of these strains are prized for their powerful effects and huge output. Shogun inherited all of their sought-after traits and emerged with 70% sativa and 30% indica genetics.
She grows tall and proud, with a vast canopy loaded with glistening flowers. Indoor plants peak at 140cm and are suited to large grow tents with strong lighting. With her basic needs met, she'll easily produce 600g/m² after a flowering time of 9–11 weeks. Grown outdoors, she'll surge to a height of 190cm and pump out up to 750g per plant by the end of October.
Her dark green, frosty flowers produce 25% THC, medium levels of CBD, and earthy and piney terpenes. Enjoy her stimulating and motivating high throughout the day to accomplish all of your goals with ease.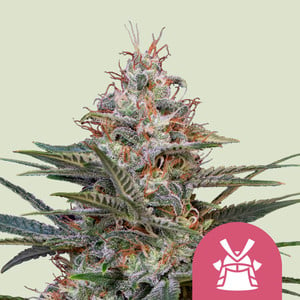 | | |
| --- | --- |
| | Amnesia Haze x Gorilla Glue 4 |
| | 550 - 600 gr/m2 |
| | 90 – 140 cm |
| | 9 - 11 weeks |
| | THC: 25% |
| | |
| --- | --- |
| | Sativa 70% Indica 30% |
| | 650 - 750 gr/plant |
| | 150 - 190 cm |
| | Late October |
| | Calming, Clear, Laughter, Uplifting |
4. Skunk XL
It doesn't take a genius to realise where Skunk XL got her name from. Simply take this strain to the end of her grow cycle to find out. This fascinating spin on Skunk genetics combines the sensations of the original strain with enhanced yields.
Skunk genetics descend from an international mix of landrace strains—Colombian, Mexican, and Afghan—and serve as building blocks to hundreds of modern cultivars. Our talented breeders crossed them with Afghan genetics to ramp up the productivity of this quintessential sativa. The progeny emerged with a perfectly even split of 50% sativa and 50% indica genetics.
Although her yields tell a different story, Skunk XL maintains a relevantly small size. Indoor plants reach 60–100cm and can be grown in small grow tents and boxes to keep things on the down-low. They'll throw out an impressive up to 650g/m² after a brief flowering time of 7–8 weeks. Outdoor specimens grow to taller heights of 160–200cm and produce up to 675g/plant, ready for harvest in October.
Skunk XL's balanced genetic profile exerts a high that relaxes the body while brightening up the mind. THC levels of 17% and medium quantities of CBD keep things mellow and easy to handle. Potent flavours of sweetness and earthiness make every hit a treat.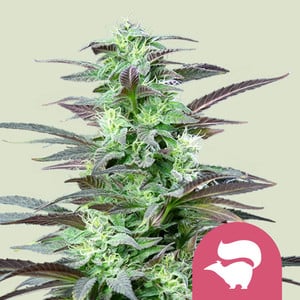 | | |
| --- | --- |
| | Skunk 1 x Afghan |
| | 600 - 650 gr/m2 |
| | 60 - 100 cm |
| | 8 - 9 weeks |
| | THC: 17% |
| | |
| --- | --- |
| | Sativa 50% Indica 50% |
| | 625 - 675 gr/plant |
| | 160 - 200 cm |
| | October |
| | Balanced, Clear, Stoned |