Blue Cheese: The Peak Of Delicious Cannabis
If you're in pursuit of flavour, stop right there! Blue Cheese has risen the bar in terms of taste. Its terpene profile adds even more pleasure to an already irresistible high.
By
---
Blue Cheese may very well be the pinnacle of taste in the world of cannabis. It took some of the most terpene-rich specimens on the planet to give rise to this cultivar, and it's been bursting taste buds ever since. Blue Cheese isn't one to be missed, especially among connoisseurs and seed collectors.
When Legends Collide: Genetic Makeup Of Blue Cheese
Cannabis breeders are continually pushing the boat out and looking to bring something new to the scene. That's the exact mindset that brought Blue Cheese into existence. Many breeders invest their efforts into chasing maximal THC levels and custom cannabinoid profiles, whereas others pursue taste. The latter is what gave rise to Blue Cheese.
Her creators were looking to birth a cultivar with an exotic terpene profile and unparalleled taste. There were only two strains they could think of that could provide these results: Blueberry and Cheese.
Blueberry is one of the most well-known strains out there. This indica-dominant titan produces a massive THC content of 25%. Its creative and sedating high and therapeutic effects have secured her a place in the pantheon of iconic cultivars. Blueberry was created during the 1970s by famous breeder DJ short, otherwise known as the "Willy Wonka of pot". This aromatic specimen went on to conquer the worldwide cannabis scene, and even scooped up the award for "Best Indica" at the High Times Cannabis Cup in 2000.
Cheese is an old-school strain derived from the United Kingdom. It is yet another delicious indica-dominant variety, and the perfect match for Blueberry. This cultivar is famed for its strong odour of cheddar, and rich, creamy taste. Cheese induces a mood-enhancing and euphoric high, and is known to cause severe cases of the munchies. This legend was born out of a cross between Afghan, Mexican, and Colombian landraces.
The combination of these two formidable cultivars resulted in one of the tastiest strains ever produced. Blue Cheese was born.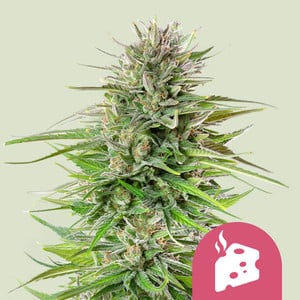 | | |
| --- | --- |
| | Original Cheese x Oregon Blueberry Blend |
| | 500 - 550 gr/m2 |
| | 100 - 160 cm |
| | 8 - 9 weeks |
| | THC: 19% |
| | |
| --- | --- |
| | Sativa 40% Indica 60% |
| | 500 - 550 gr/plant |
| | 140 - 200 cm |
| | Late September |
| | Clear, Physically Relaxing, Stoned |
An Herbal Comfort Blanket: Effects Of Blue Cheese
The effects of Blue Cheese can be equated to somebody wrapping your entire body in a warm, furry comfort blanket. Shortly after inhaling a lungful of smoke or vapor from the indica-dominant strain, a feeling of relief sweeps across the body. Tension dissolves as worries become meaningless and the mind hones in on the bigger picture. You're not your routine and job anymore; you're part of an infinite cosmic dance.
A THC level of 19% enables these effects to last for hours on end. Such a euphoric state is ideal for quiet evenings in with close friends. Or, better yet, Blue Cheese is a suitable strain for conversing around the campfire and gazing at the stars.
Blue Cheese is also associated with several therapeutic effects. The strain is said to temporarily ease pain, lift depression, and assist with loss of appetite.
A Tornado Of Terpenes: Flavour Of Blue Cheese
The terpene profile within Blue Cheese is so diverse that it can confuse the senses. There's a taste tug of war, and your tongue is the rope. Upon inhalation, hints of cheddar and earth come to the fore. Shortly after, these sensations make way for a sweet aftertaste defined by blueberry and other forest fruits.
Quick To Bloom: Growing Blue Cheese
Blue Cheese is an easy strain to grow, and could be considered a good beginner variety. It's hardy, forgiving of minor errors, and favours a mild climate. Growers can achieve rewarding results, both indoors and outdoors.
Indoor plants peak at a height of 160cm, yield up to 550g/m², and have a speedy flowering time of 7–8 weeks.
Plants cultivated outdoors grow no taller than 2m, produce 500–550g/plant, and will be ready to harvest and dry in late September.
Blue Cheese: An Exotic Strain Suitable For Beginners
Blue Cheese was destined for greatness. The solid genetic lineage of this strain guaranteed its success from the get-go. With an incredible taste, pleasant high, and short flowering time, it really does tick all the boxes. Blue Cheese is an excellent choice for beginners and veterans alike. This delicacy won't let you down.
Blue Cheese Automatic: Harvest Your Cheese in a Fraction of the Time
RQS developed an autoflowering version of Blue Cheese to make her delicious tastes and stoning high even faster and easier to access. The addition of autoflowering genetics means she grows with exceptional speed and remains much smaller. Plus, beginner growers will appreciate her impressive pest resistance and ability to handle small mistakes and neglect.
To create this variety, our breeders crossed Blueberry and Cheese with a high-performing Cannabis ruderalis specimen. Blue Cheese Automatic produces compact and resinous flowers with a moderate THC content of 16%. Her terpenes offer sweet, fruity tastes and synergise with the cannabinoid profile to generate a stoning and physical experience.
Blue Cheese Automatic maintains a stealthy height indoors, peaking at 40–70cm. Suitable for covert growing operations, she'll produce up to 375g/m²—more than enough for a personal stash. Outdoor plants grow to slightly taller heights of 60–110cm and produce between 60–110g/plant.
She'll explode from seed to harvest in as little as 9 weeks, making her ideal for guerrilla growers or those seeking a fast turnover.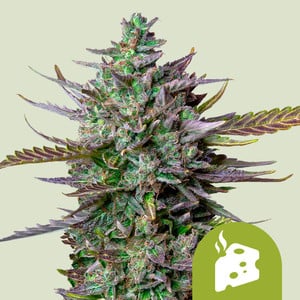 | | |
| --- | --- |
| | Blueberry x Cheese x Ruderalis |
| | 325 - 375 gr/m2 |
| | 40 - 70 cm |
| | 6 - 7 weeks |
| | THC: 16% |
| | |
| --- | --- |
| | Sativa 35% Indica 40% Ruderalis 25% |
| | 60 - 110 gr/plant |
| | 60 - 110 cm |
| | 10 – 11 weeks after sprouting |
| | Clear, Uplifting |