Fast Flowering Cannabis Strains

For some growers, time is of the essence. There's a multitude of reasons one might want to wrap up an operation as quickly as possible. Some cultivators still live in areas under prohibition; the faster they set up and shut down their project, the less likely they are to get busted and prosecuted. Alternatively, commercial growers want to achieve the fastest harvest possible to boost turnaround.
Need For Speed
Regardless of the reason, it's certainly possible to speed up the cultivation process. Autoflowering varieties are prized for this very quality. Many of them provide ripe flowers only several weeks after germination, although this speed comes at a price. Yields are usually comparatively small, and cannabinoid content is lower too. That means less THC and CBD in each flower.
By comparison, photoperiod varieties offer larger yields and higher levels of cannabinoids. However, they usually take much longer to reach harvest when grown conventionally. Growers typically keep indoor plants on a light cycle of 18 hours on and 6 hours off during the vegetative stage. The photoperiod is then switched to 12 hours on and 12 hours off to initiate the flowering stage.
However, it's possible to grow any photoperiod variety at a pace that rivals autoflowering cultivars. The very word "photoperiod" implies that these plants require a shift in the light cycle to begin flowering; an acquired evolutionary trait. A decrease in light signals that autumn is approaching, and thus it's time to produce flowers and seeds to reproduce.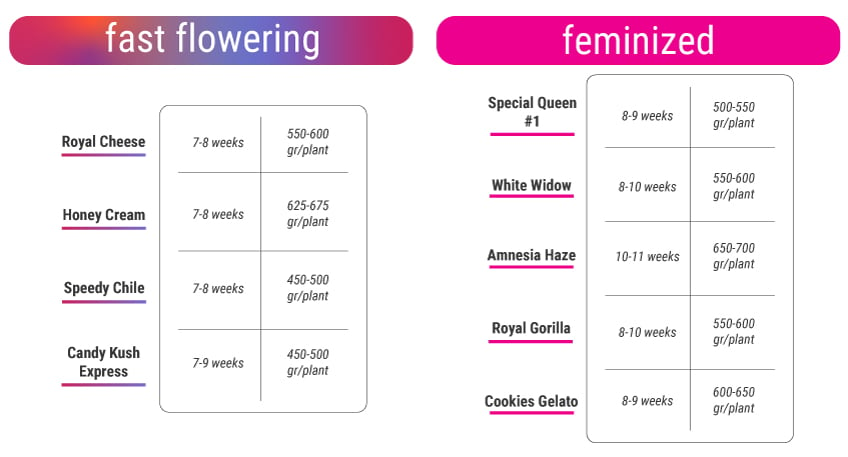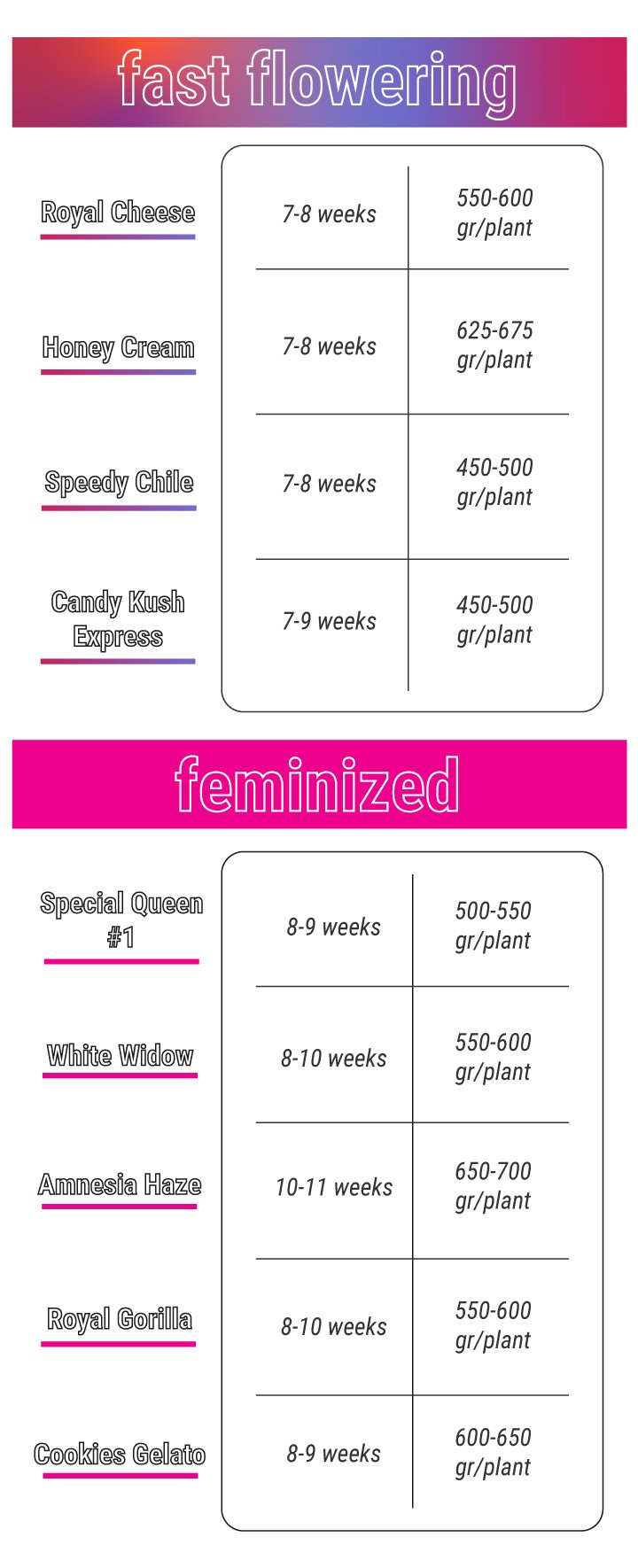 Indoor growers have free rein over the length of the vegetative phase in photoperiod varieties. As long as plants receive more than 12 hours of light per day, they will stay in veg. Growers can thus trigger flowering whenever they please. This trait means the photoperiod can be used to force plants to flower very early on in the growing cycle. Applying a 12/12 light cycle from germination will cause photoperiod strains to flower just as fast as most autos. Starting with clones will produce even faster results.
Although this level of speed is practical for some growers, there is a trade-off. The lack of a vegetative phase means plants only reach a small size, which results in reduced yields. However, this deficit can be negated by starting many seeds or clones together and cultivating them using the sea of green (SOG) method.
Our fastest feminized photoperiod cannabis strains
If this method appeals to you, check out our fastest feminized photoperiod strains to grow under a 12/12 cycle from seed to harvest. If you desire larger yields, you can veg these plants for a regular period of time under 18/6, and still benefit from an ultra-fast flowering phase!
1. Royal Cheese (Fast Flowering)
As her name suggests, Royal Cheese is quick off the mark when it comes to producing high-quality flowers. The indica-dominant strain was created to resemble the legendary UK strain Cheese. RQS breeders harnessed Old School Skunk and Afghani to get the job done. She boasts a THC level of 17%, which fuels a relaxing and stoning body high. Her flowers possess tastes of sweetness and earth. Grown conventionally, she produces an impressive yield of 450–550g/m² after a flowering period as brief as six weeks. She makes an excellent candidate for a 12/12 light cycle from veg.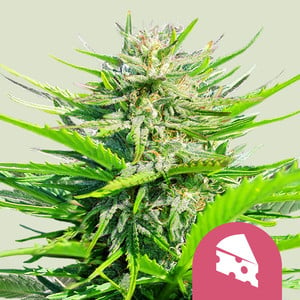 | | |
| --- | --- |
| | Old School Skunk x Afghani |
| | 450 - 500 gr/m2 |
| | 60 - 100 cm |
| | 7 - 8 weeks |
| | THC: 17% |
| | |
| --- | --- |
| | Sativa 40% Indica 60% |
| | 550 - 600 gr/plant |
| | 130 - 200 cm |
| | Early October |
| | Balanced, Clear, Stoned |
Buy Royal Cheese (Fast Flowering)
2. Honey Cream (Fast Flowering)
Honey Cream is a speedy specimen indeed. This fast female develops bulbous, trichome-covered flowers in as little as six weeks. She's an indica-dominant variety that exerts a muscle-melting body high with a psychedelic edge. Her sweet and sugary tastes tease the tongue with every toke. A THC level of 16% limits the overwhelming potential of the high, and a medium level of CBD contributes serious amounts of chill. RQS breeders achieved these effects by crossing parent strains BlueBlack, Maple Leaf Indica, and White Rhino. She'll maintain a small height and put out a reasonable yield after a 12/12 veg and flowering cycle.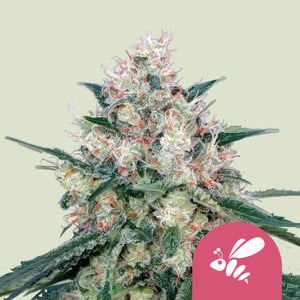 | | |
| --- | --- |
| | BlueBlack x Maple Leaf Indica x White Rhino |
| | 500 - 550 gr/m2 |
| | 100 - 160 cm |
| | 7 - 8 weeks |
| | THC: 16% |
| | |
| --- | --- |
| | Sativa 35% Indica 65% |
| | 625 - 675 gr/plant |
| | 180 - 250 cm |
| | Early October |
| | Psychedelic |
Buy Honey Cream (Fast Flowering)
3. Speedy Chile (Fast Flowering)
Speedy Chile combines pace, taste, and unbelievably soothing effects. She's the progeny of parent strains Early Skunk, Skunk, and Chile Indica. Speedy Chile inherited the best traits of each parent, including their fast growth and heavy indica dominance. Her frosty colas generate a THC level of 16%, making her a relaxing and subtle variety suitable for any time of day. Her tantalising tastes of fruit, pine, and spice make her an excellent addition to edibles. Under normal conditions, Speedy Chile can churn out up to 525g/m² in as little as six weeks of bloom. Prepare for almost instantaneous buds when using 12/12.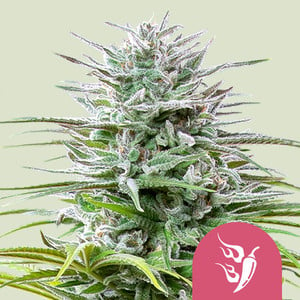 | | |
| --- | --- |
| | Early Skunk x Skunk x Chile Indica |
| | 475 - 525 gr/m2 |
| | 60 - 100 cm |
| | 7 - 8 weeks |
| | THC: 16% |
| | |
| --- | --- |
| | Sativa 30% Indica 70% |
| | 450 - 500 gr/plant |
| | 100 - 170 cm |
| | Early September |
| | Calming, Laughter |
Buy Speedy Chile (Fast Flowering)
4. Candy Kush Express (Fast Flowering)
Candy Kush Express is a hasty cultivar loaded with tasty terpenes. Her small yet dense buds radiate intense aromas of sweetness and citrus. These notes also make themselves evident on the tongue when the strain is smoked or vaped. RQS breeders crafted the slightly indica-dominant variety by crossing Sweet Special with OG Kush. The high begins as a stimulating head-rush, then swiftly tapers into a warm body high. Candy Kush Express is capable of putting out a yield of 525g/m² under normal conditions. Expect to harvest these buds after seven weeks of flowering.

| | |
| --- | --- |
| | Sweet Special x O.G. Kush |
| | 475 - 525 gr/m2 |
| | 60 - 100 cm |
| | 7 - 9 weeks |
| | THC: 18% |
| | |
| --- | --- |
| | Sativa 40% Indica 60% |
| | 450 - 500 gr/plant |
| | 100 - 170 cm |
| | Early September |
| | Physically Relaxing, Stoned |
Buy Candy Kush Express (Fast Flowering)