Purple Queen: Majestic Purple Cannabis

ORIGINS: THE QUEST FOR THE PURPLE QUEEN
Somewhere in the Hindu Kush grows a mysterious mountain marijuana. For centuries, the region has been home to the most exquisite indica-landrace cannabis strains. To this day, it is still the source of the finest hashish. Adventurous strain hunters have braved armed conflicts, harsh conditions, and perilous terrain in search of wild growing cannabis and prized, locally-refined cultivars.
Purple has always been associated with royalty. The ancient Chinese were perhaps the first to recognize the supposed magical properties of the color purple. Entrance to the Forbidden Purple City was reserved exclusively for the Emperor.
Purple Queen is a heavy indica hybrid created by the master breeders at Royal Queen Seeds. This superb cultivar combines the most resinous and deep purple phenotypes of Afghan Kush and Pakistan Kush specimens. Now, every cannabis garden can become a sticky, purple palace for the ordinary decent home grower.
GROWTH CHARACTERISTICS: PURPLE STICKY PLANTS
In the grow-op or outdoors in temperate to warm climates, Purple Queen is a bud rock star. Squat, bushy plants with short internodal spacing will develop gooey, rock-hard buds and colas. We are talking jupiter-like density. In just 8 weeks of flowering, Purple Queen will be ready for the chop. Outdoor growers should plan for a mid-September harvest.
As plants transition from vegetative growth to bloom, they will gradually take on lavender hues. Oversized fan leaves can be removed to allow for more light penetration. Cooler nighttime temperatures during late bloom will enhance rich, royal purple flowers and foliage to delight growers. True to her pedigree Kush lineage, pungent earthy, lemon-pine, and hash fragrances emanate from these frosty purple buds.
PURPLE QUEEN EFFECTS: STONED SENSATIONS AND MAJOR MUNCHIES
Purple Queen is a full-bodied nighttime smoke for indica connoisseurs. Intense Kush flavor and a subtle citrus aftertaste will have you savouring every toke; that's if you can stop yourself from ogling over the enchanting nugs long enough to get a spliff cooking. Purple Queen reigns with a heavy hand. A happy wave of euphoria is the first thing you feel. Then stoned. However, the journey is relaxing. Sedative effects creep in. And sooner or later, you will be rendered couch-locked and hungry. Medicinal users will appreciate Purple Queen for her calming physical effects and appetite stimulation.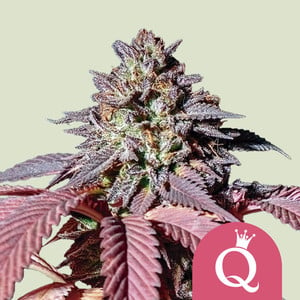 | | |
| --- | --- |
| | Hindu Kush x Purple Afghani |
| | 16 to 19 oz/m² |
| | 3 to 4 feet |
| | 8 - 9 weeks |
| | THC: 22% |
| | |
| --- | --- |
| | Sativa 25% Indica 75% |
| | 23 to 25 oz/plant |
| | 6 to 7 feet |
| | October |
| | Calming, Euphoric |
PURPLE QUEEN AUTOMATIC: LUSCIOUS BUDS WITHOUT THE WAIT
Purple Queen produces stunning and rewarding results. However, beginners are often intimidated by the world of photoperiod genetics. Even experienced growers sometimes prefer the speed and stealth that autoflowering strains offer. Our master breeders successfully crossed Purple Queen with Critical Auto to boost the former's speed and accessibility to beginners. As a result, Purple Queen Automatic was born.
With a genetic profile of 80% indica, 15% sativa, and 5% ruderalis, Purple Queen Automatic still packs that indica charm. Interestingly, indoor plants peak at a slightly taller height than the original Purple Queen—50.7 inches—although low-stress training will keep her closer to the ground. Expect an impressive yield of up to 14.1 oz/m² only 8–9 weeks after germination.
Plants grown outdoors peak at 54.6 inches, but can remain at 35.1 inches if trained accordingly. Surround these purple beauties with companion plants like chamomile to conceal their odour and keep them out of view. Expect a yield of 3.5 – 5.3 oz when cultivating this strain outdoors.
Purple Queen Automatic puts out gorgeous, aromatic flowers. These compact, dark purple buds boast a shimmering layer of trichomes bursting with a THC content of 16% and earthy, citrusy terpenes. Users can expect a soothing, comforting high that melts away worries and pulls the mind into the present.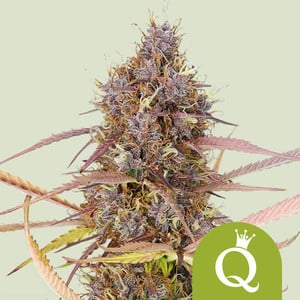 | | |
| --- | --- |
| | Purple Queen x Critical Auto |
| | 12 to 14 oz/m² |
| | 3 to 4 feet |
| | 6 - 7 weeks |
| | THC: 16% |
| | |
| --- | --- |
| | Sativa 15% Indica 80% Ruderalis 5% |
| | 3 to 5 oz/plant |
| | 3 to 5 feet |
| | 8 - 9 weeks after sprouting |
| | Calming, Euphoric |
By