Royal Medic: Enjoy THC and CBD Side by Side
This is not your standard sativa; Royal Medic is a 1:1 THC:CBD hybrid that not only offers a cerebral high with added relaxation, but also a complex flavour and aroma that has to be tried. But what else is there to this strain? We take a look at all of the features of the medic you'll want to call on.
By
---
A review of Royal Medic, a sativa-dominant strain with a balanced CBD:THC ratio.
Those looking for an uplifting buzz, but also the benefits of CBD, are flocking to Royal Medic. Offering a 1:1 ratio of THC:CBD, she may provide a mild high, but that's exactly her appeal. Derived from two strains that are popular in their own right, let's take a look at what they can do together, in Royal Medic.
Genetic Background of Royal Medic: Critical and Juanita la Lagrimosa Come Together
Royal Medic is the result of crossbreeding Juanita la Lagrimosa with Critical: two strains from opposite ends of the cannabinoid spectrum. The culmination is a hybrid that boasts 75% sativa and 25% indica genetics. But this is no ordinary sativa powerhouse.
Juanita la Lagrimosa is a hugely popular strain that has long been used to endow novel strains with high levels of CBD. With a cannabinoid profile of 22% CBD and 0.7% THC, it's easy to see why.
Critical is a fast-growing, high-yielding strain that offers up a modest 18% THC level, making it the perfect partner for Juanita la Lagrimosa. This super robust strain brings some necessary potency to Royal Medic, making her an all-rounder.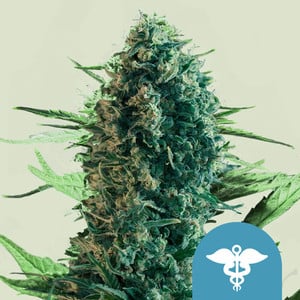 | | |
| --- | --- |
| | Critical x Juanita |
| | 500 - 550 gr/m2 |
| | 80 - 120 cm |
| | 9 - 10 weeks |
| | THC: 10% |
| | |
| --- | --- |
| | Sativa 75% Indica 25% |
| | 475 - 525 gr/plant |
| | 120 - 150 cm |
| | Early October |
| | Clear, Fast Thinking |
Growing Royal Medic
Thanks to her parentage (Critical in particular), Royal Medic is also a very easy and fast strain to grow. She is robust and resilient, flourishing in both indoor and outdoor settings. Her easygoing nature gives you the freedom to suit your growing preferences and available space. She really comes into her own in a slightly colder climate, but can manage in any setting.
Regardless of environment or climate, Royal Medic provides a hassle-free growing experience to novices and seasoned growers alike. Although she grows to be quite bushy, she's overall quite low-maintenance and requires minimal topping during the vegetative stage. You can also look to give her some additional nutrients for an added boost as she grows.
Cultivated indoors, Royal Medic will reach heights of anywhere between 80–120cm. In comparison, plants grown outside will be a little taller at 120–150cm. Thanks to the Critical genetics that make up Royal Medic, she provides a hearty yield at the end of her reasonably short flowering phase of 9 weeks. Indoors, you can expect returns of 500–550g/m², while outdoor plants will churn out 475–525g/plant in October.
Effects of Royal Medic
Royal Medic has a notable psychoactive effect, but it's far milder than your average THC-rich strain. This is thanks to the 1:1 ratio of THC to CBD, with both cannabinoids hovering around the 10% mark.
While she will provide soothing relaxation and encourage a positive state of mind, the CBD will ensure you remain clear-headed and able to go about your day. So no couch-lock or stoney sensations to worry about. This makes Royal Medic great for taking the edge off at any time of day.
"Cerebral" is one way to describe the high that Royal Medic produces. This is a strain favoured by many artistic people due to the feelings of clarity and creativity that Royal Medic can provide. The high provided by Royal Medic may not be long-lasting, but it really hits the spot.
Flavour and Aroma of Royal Medic
Royal Medic has a complex but satisfying profile when it comes to her flavour and aroma. Rich citrus, fruity flavours provide the backbone of her taste. Whether smoked or vaped, notes of berries and mint can also be picked up, making for a flavour that is pleasing and moreish.
Royal Medic's aroma follows suit. After being dried and cured, her buds showcase a fruity aroma with hints of herbs and earthy tones. All combine for a strain that even the most staunch of cannabis enthusiasts will enjoy.
Royal Medic: Great Yields and Balanced Effects
Overall, Royal Medic is a strain that offers some highly sought-after features. From her easy and fast growth to her plentiful yields, she's ideal for those looking to make the most of their grow-op, even if space and resources are limited. However, the real pay-off is in those flavourful and aromatic buds.
The equal THC and CBD content is a hugely popular draw amongst the cannabis community. Those seeking to substitute long-lasting and couch-locking highs for a shorter-lived but more alert smoking experience will find everything they need in Royal Medic. Regardless of the scenario, these buds are sure to put you in the right state of mind—and she'll fill your stash jar for a long time to come if you pick her up!