How To Grow Cannabis In Drought Conditions
Growing cannabis in hot and dry climates isn't impossible, but it can be a challenge. To ensure your plant gets everything it needs, we've put together a guide on how to increase your chances of success when growing in drought conditions.
By
---
---
Cannabis is an impressively versatile and hardy plant that can be grown virtually anywhere. While it is theorised that cannabis originated in Mongolia and Siberia, by 2000 BCE it was happily growing in India and the Middle East, so it's no stranger to extreme weather conditions.
CAN YOU GROW QUALITY CANNABIS IN EXTREME CLIMATES?
In short: yes! Many cannabis growers find that a hot and dry environment is the perfect climate to grow marijuana outside. The heat is excellent for ensuring that mould doesn't strike the roots, and the plants benefit from sunlight, guaranteeing optimal bud production.
5 STEPS TO GROWING CANNABIS IN HOT AND DRY CLIMATES
Not every cannabis plant will grow happily in extreme heat. Depending on the plant you're hoping to raise, you may have to invest more significantly in keeping particular strains healthy.
PICK SUITABLE CANNABIS SEEDS
Perhaps the most important factor when it comes to growing cannabis in hot and dry climates is your choice of strain. With their airy bud structure, sativas thrive in warmer and more humid environments. These seeds originated in places with extreme heat, and thus tolerate it well. However, excessive heat can produce arid soil that frazzles the plant's sensitive roots, so correct watering measures need to be in place for success.
What to look for in a hot-weather strain:
• Sativa-dominant genetics
• Shorter flowering phase
• Strains with a track record of success in hot, dry climates
• Consider autoflowering seeds
Below are a couple of our favourite, red-hot hybrids to consider growing.
CRITICAL
Critical is a robust indica-sativa hybrid with a proven track record amongst outdoor ganja farmers across the Mediterranean. Moreover, this strain has gained an international reputation as a major league producer. But she is also very tolerant of high temperatures and dry weather conditions. Critical is a low-maintenance hybrid that you can depend on. Dense nugs with a spicy, old-school Skunk flavour can be successfully brought to harvest by October, even through a sizzling summer. Just ask the outdoor Spanish growers. Bumper Critical harvests are keeping the cannabis clubs well-stocked this winter.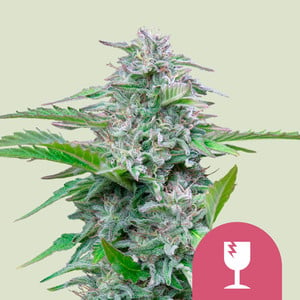 | | |
| --- | --- |
| | Afghani x Skunk |
| | 550 - 600 gr/m2 |
| | 80 - 140 cm |
| | 7 - 9 weeks |
| | THC: 18% |
| | |
| --- | --- |
| | Sativa 40% Indica 60% |
| | 600 - 650 gr/plant |
| | 180 - 220 cm |
| | Late September |
| | Heavy, Physically Relaxing, Stoned |
BUBBLE KUSH AUTOMATIC
Bubble Kush Automatic is a next-gen autoflowering hybrid with the vigour and resistance to survive drought conditions. If you're growing in conditions outside of the optimal parameters for cannabis cultivation, it's advantageous for growers, especially beginners, to stick with autoflowering varieties. Bubble Kush Automatic is short, branchy, and ready for harvest in just 8 weeks total crop time. Apart from having comparable yield and potency with photoperiodic strains, this tough auto is notable for her tolerance of high temperatures.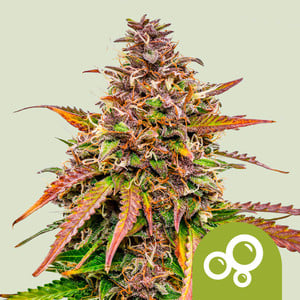 | | |
| --- | --- |
| | Bubble Gum x O.G. Kush x Critical Automatic |
| | 350 - 400 gr/m2 |
| | 70 - 100 cm |
| | 6 - 8 weeks |
| | THC: 16% |
| | |
| --- | --- |
| | Sativa 10% Indica 60% Ruderalis 30% |
| | 120 - 170 gr/plant |
| | 100 - 140 cm |
| | 10 – 11 weeks after sprouting |
| | Sleepy, Stoned |
PLAN WHERE YOU'RE GOING TO GROW
While for some, growing outdoors is going to seem like the only option, it's also possible to grow cannabis successfully indoors—particularly if you're looking to raise indica-dominant or autoflowering strains.
GROWING INDOORS
The benefits of growing cannabis indoors include being able to control the environment, and increased privacy. However, it will take investing in the right equipment and seeds to set you up for success.
• Ensure you have a room where you can control the climate, or invest in a grow tent.
• Ensure there is decent airflow in the room.
• Pick strains that thrive indoors.
GROWING OUTDOORS
Typically, cannabis plants thrive in Mediterranean climates—they love places with hot days followed by warm nights. With adequate preparation, you can ensure success. You'll want to provide a little artificial shade for your plants while keeping the soil well-watered and protected.
• Create shade with bamboo and netting.
• Protect soil with straw bedding.
CHOOSE THE RIGHT GROWING MEDIUM AND SUPPLEMENTS
However you decide to grow your cannabis plants, it's essential to make sure you provide them with the best soil and nutrients.
SUBSTRATE MATTERS
If you're growing outside, you can plant in soil mixed with coco coir. Coco coir is a substrate made from the fibres of coconut husks. Thanks to its loose structure, it is excellent in hot climates as it can soothe the roots and help the plants fight heat stress. You can use it as a solo potting mix, but most combine it with soil. However, be aware that coco coir contains no nutrients on its own, so you will need to supplement with additional nutrients.
POLYMERS
Polymers are highly water-absorbent plastics that can keep plants alive and hydrated when blended with the substrate. Polymers effectively create a massive reservoir of water or nutrient solution. They sit, ready and waiting, for the roots to tap into them during the worst drought conditions.
• Food-safe polymers, or polyacrylamides, are the best choice for photoperiod strains.
• Polyacrylates can hold even more than polyacrylamides but break down into ammonia salts and nitrogen after about 16 weeks. Because most autos have a total harvest time of less than 12 weeks, they can benefit from these polymers without their flavour of development being affected.

NUTRIENTS AND SUPPLEMENTS
In drought conditions, it's fair to say that cannabis plants will be under heat stress. They handle these situations a lot better when they are stronger and more robust, which is where nutrients and supplements come in.
• Humic acid supplements protect the roots from water stress.
• Silica supplements help strengthen cell walls and stems.
• Kelp extract helps with heat stress and can boost yield and growth; kelp seaweed augments the effects of humic acid supplements.
WATER IS PARAMOUNT
As you may have anticipated by now, access to water is crucial to ensuring your marijuana plants grow well in drought conditions.
• Use polymers to ensure your plant has ideal access to water as it grows.
• Try to water your plant early in the day, and ensure that it enjoys regular watering if it starts to dry out.
• Avoid wetting the leaves, as water droplets can act like magnifying glasses and increase the sun's intensity, burning the plant.
CHOOSE THE RIGHT GROWING CONTAINER
If you've chosen to grow your plants in a container, there are ways you can prevent heat stress from affecting your grow. Fundamentally, you want to keep the roots as fresh and well-watered as possible.
• Dig a hole in the ground for your pot so the soil is protected from the sun.
• Avoid black plastic pots at all costs as these store much more heat than white pots.
• Choose a pot size you can easily move around so you can place plants in the shade when needed.
• Use a larger container than necessary to buffer the roots; you can also place your pot in a larger one to help retain water.
• Air pots or fabric pots are excellent as they allow oxygen in from all sides. But remember to water, as these pots can cause the soil to dry out much faster than plastic pots.
TAKE YOUR TIME WHEN GROWING IN HOT AND DRY CLIMATES
Growing in conditions of extreme heat and dryness takes a lot of patience and planning, so be sure to read up before you get started. Following the advice here will give you a great head start and help you increase your chances of success. Best of luck!