The biggest baddest banana Kush: Fat Banana

Altered cannabis
In the near future, cannabis culture will be transformed by a new, all-powerful hybrid. Fat Banana is that glimmer of a utopian era. To accomplish this feat, the master breeders at RQS sought out the finest genetics and invested the time to engineer Royal dankness. Beginning with a rigorous selection program to identify the most potent and heaviest-yielding Banana OG specimens, the challenge was then to blend all of the most desirable characteristics and eliminate the few shortcomings inherent to the Banana OG line. Carefully crossing, enhancing, and stabilising the progeny in a maniacal quest for sticky green perfection, Fat Banana is a superior sinsemilla sleeve; your grow-op shouldn't wear lesser organics.
High-performance cultivation
In the grow-op or outdoors in warmer climates, swollen, succulent buds shimmering with resin are to be expected. Untrained plants can grow a little taller than the average indica bush, but her bulbous trophy cola is truly a sight to behold. On the other hand, Fat Banana is versatile and also responds well to pruning and training techniques.
Flowering indoors will be pretty fast and furious with just 8 weeks of standard 12-12 required. Outdoor ganja farmers should prepare to stake oversized colas and bud-laden side branches for support. By late-September, an impressive harvest could be tipping the scales.
Organic cultivation is highly recommended. Aside from timely doses of bloom boosters, Fat Banana has no special feeding requirements. Most plants respond best to frequent light/medium-strength nutrient solutions. However, outstanding yields can be achieved with hydroponics too, just take care to flush.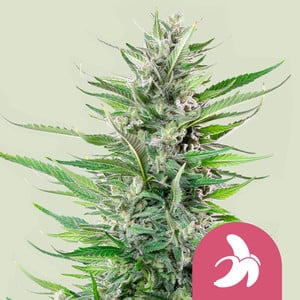 | | |
| --- | --- |
| | Banana x OG Kush |
| | 350 - 400 gr/m2 |
| | 80 - 140 cm |
| | 8 - 10 weeks |
| | THC: 25% |
| | |
| --- | --- |
| | Sativa 30% Indica 70% |
| | 450 - 500 gr/plant |
| | 170 - 200 cm |
| | Late September |
| | Calming |
Couch-locking effects
Humans and chimpanzees share 95–98% of the same DNA, according to geneticists. Similarly, Fat Banana has made a huge evolutionary leap forward to leave garden variety Banana OG behind. THC levels can exceed 25%. Loud forest fruit and classic kush aromas jump right out of the bag. Glistening gooey nugs look like they are oozing trichomes.
A few tokes will be enough to take the occasional user directly to dreamland, while connoisseurs with a higher tolerance will have a brief opportunity to enjoy the banana flavour burst, before a heavy physical couchlock takes hold. An insatiable hunger will follow if you can remain conscious long enough. Low appetite and insomnia won't be problems anymore. Resistance is futile. Fill up the fridge, find a show to binge-watch, and get comfy on the sofa. Fat Banana is the new sinsemilla super-power.
Fat Banana Automatic: No Less Impressive
Improving upon Fat Banana is practically impossible. The combination of a deep body high and delicious tastes of tropical fruit hits the sweet spot every time. To make this hard-hitting strain accessible to beginners, our breeders took her pristine genetics and created one of the most powerful and productive autoflowering strains on Earth.
By crossing the sturdy specimen with the equally scrumptious Cookies Auto, our breeders produced a progeny with 70% indica genetics, 20% sativa, and 10% ruderalis.
Fat Banana Automatic churns out dense, tapered buds that almost drip with resin. Look close enough, and you'll see this viscous substance lathered over the flowers. Indoor plants peak at an easily manageable height of 100cm and produce up to 450g/m², while their outdoor counterparts reach 120cm tall and pump out between 90 and 175g/plant. This small strain can easily go undetected in the right circumstances, making it an ideal candidate for clandestine indoor grows and outdoor guerrilla operations.
Though its flowers may appear small and innocent, they possess a hard-hitting phytochemical secret. It only takes one hit to feel her 22% THC content course through the bloodstream and start lighting up CB1 receptors. Save these flowers for the evening to truly enjoy their soothing embrace.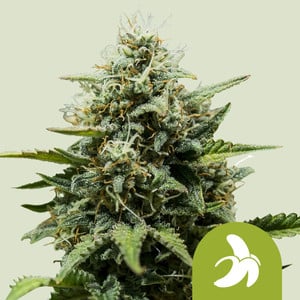 | | |
| --- | --- |
| | Fat Banana x Cookies Auto |
| | 375 - 450 gr/m2 |
| | 70 - 100 cm |
| | 7 - 8 weeks |
| | THC: 22% |
| | |
| --- | --- |
| | Sativa 20% Indica 70% Ruderalis 10% |
| | 90 - 175 gr/plant |
| | 80 - 120 cm |
| | 9 - 10 weeks after sprouting |
| | Calming, Clear |
By