ZZ Punch By RQS x Zamnesia: A Match Made In Cannabis Heaven
Keep reading to find out how the most prominent players in the cannabis seed industry created a strain guaranteed to melt away your worries.
By
---
ZZ Punch is the result of a knockout collaboration between two of the industry's most revered seed banks—Royal Queen Seeds and Zamnesia. With decades of combined breeding experience, what these two giants don't know about creating killer strains isn't worth knowing.
So, as you'd expect, ZZ Punch is an intensely strong, flavoursome, and high-yielding indica strain that is perfectly at home growing indoors or out.
GENETIC HISTORY OF ZZ PUNCH
The key to any great cannabis strain is a strong genetic foundation. Without a solid foundation, even the best growers will have a hard time coaxing out the flavours, aromas, and effects needed to make a strain incredible to smoke.
That's why, for this collaboration, both seed banks put forth their best offerings.
• Genetics: Indica-dominant
• Parents: Purple Punch x Sweet ZZ
At RQS, our Sweet ZZ strain was an obvious choice. Every part of Sweet ZZ exudes happiness, from her intense fruity flavour to her profoundly euphoric high. Combined with an impressive central cola and remarkable yields, we knew this strain would augment the properties of any other cultivar, without losing its essence.
Next up, Zamnesia selected their hard-hitting indica (90%) Purple Punch as the second parent strain. She's the living embodiment of the phrase "good things come in small packages".
Despite only reaching a little over a metre tall, what she lacks in size she delivers with godly levels of THC. Upwards of 21% is enough to knock any seasoned stoner into a blissful state of couch-lock.
Together, we worked tirelessly to perfect the pairing of Purple Punch and Sweet ZZ over several generations. Today, we're pleased to say that the results speak for themselves.
Allow us to introduce you to ZZ Punch.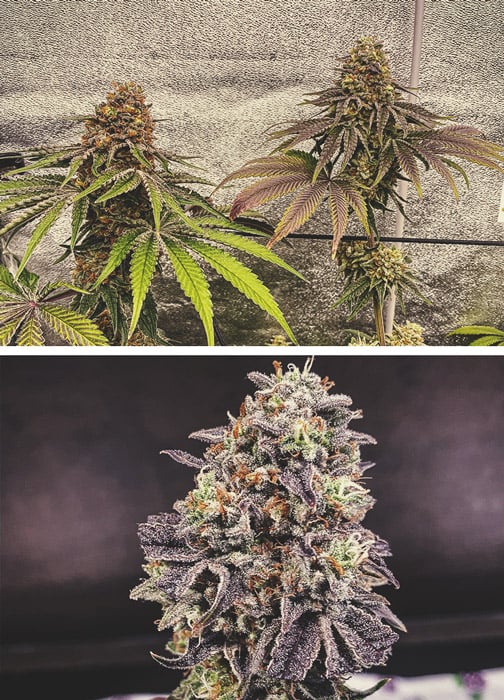 GROWING ZZ PUNCH INDOORS & OUTDOORS
It's one thing to deliver good stats on paper, but numbers are meaningless unless the strain performs in the grow room.
Fortunately, ZZ Punch is no slouch, and adapts easily to indoor and outdoor settings. During the vegetative stage, plants take on the stature of their Purple Punch mother—small, yet compact.
Growers can expect a characteristic indica structure with this one—bushy leaves and a dense canopy. And, just like Sweet ZZ, ZZ Punch develops that impressive central cola. However, she's also highly receptive to various training techniques, so growers can easily encourage multiple bud sites.
Indoors, growers are rewarded with up to 500g/m² of compact, THC laden buds (22%) after 65 days of bloom. In an outdoor scenario, yields are just as impressive. Although, you will have to wait a little longer than usual to harvest this indica-heavy specimen.
• Yield (Indoor): 450–500g/m²
• Yield (Outdoor): Medium
• Flowering Time: 9–10 weeks
• Harvest Month: Early/Mid-October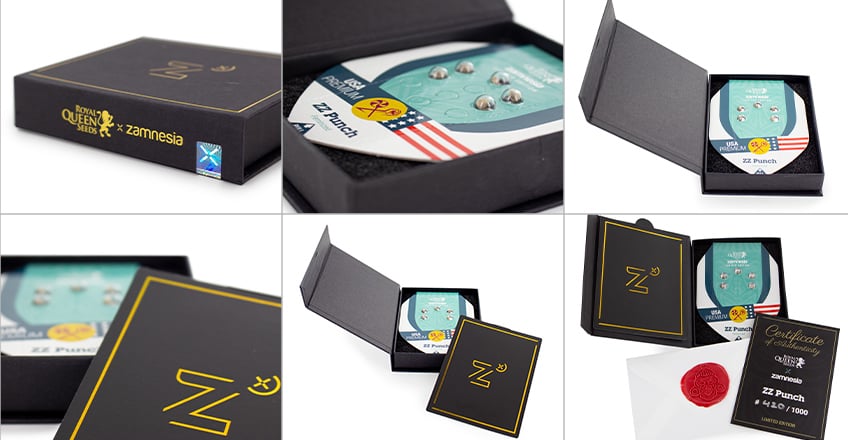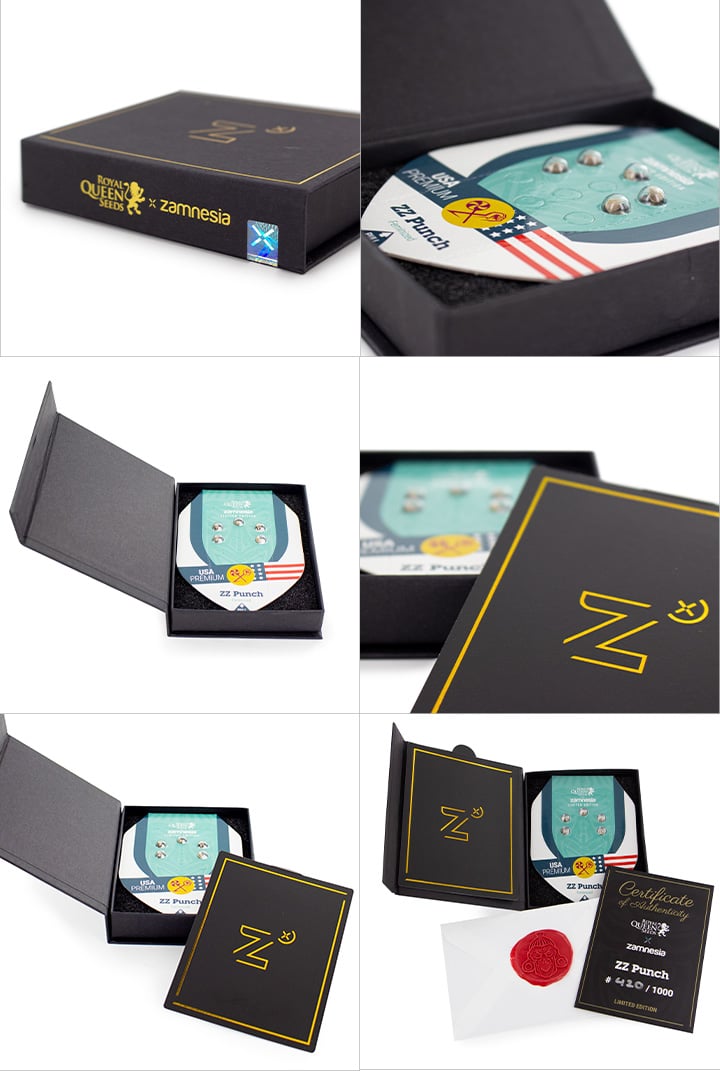 AROMA, TASTE, AND EFFECT OF ZZ PUNCH
The wait to harvest ZZ Punch is more than made up for with the aroma, taste, and body-melting effect of this strain.
The flavour is one you'll want to savour every second of. A fruity melody of berries and grapes hits the palate like an explosion, leaving behind an exquisitely sweet aftertaste. We highly recommend enjoying her buds in a blunt, or better yet, a vaporiser so you can capture her entire terpene profile.
And, of course, the jewel in her crown—the high—is nothing short of stunning. If you'd like to watch the world melt away as your body rests on a gentle cloud of relaxation, then ZZ Punch is the variety for you.
She takes the indica dominance of her parent strains to new heights, relaxing the body and locking you into a state of blissful paralysis for hours on end. We highly recommend enjoying her alongside a Netflix binge and a ton of snacks.
ZZ PUNCH: TWO SEED BANKS ARE BETTER THAN ONE
As you can see, ZZ Punch delivers on all fronts with a body-centric high, fruity flavours, and simple requirements in the grow room. She represents a meeting of two of the cannabis seed industry's brightest minds, and is a shining example of what combined expertise can achieve. So, all that remains now is to sit back, relax, and wait for those gorgeous buds to grow!
Are you ready to give ZZ Punch a go in the grow room? This unprecedented strain is now available at Zamnesia as feminised seeds. Don't miss out on this season's hottest new cultivar!