Top 5 Low-THC Strains by Royal Queen Seeds
THC isn't for everyone, given its powerfully intoxicating effects. If you want to enjoy cannabis without the high, or without as strong of a high, check out our top 5 low-THC strains below, and enjoy clear-headed, balanced effects that'll leave you functional and focused.
By
---
---
Many cannabis users love the intense effects of THC, but others prefer a more mellow experience. If you're among the latter camp, keep reading; below we'll shine a light on the best low-THC cannabis varieties from our catalogue, including F1 hybrids, feminised strains, autos, and high-CBD strains.
Low-THC F1 Hybrids
Our world-first line of F1 hybrids is revolutionising the way people grow and enjoy cannabis. Combining genetics from unique inbred lines, our F1 varieties boast unbeatable vigour and uniformity, as well as improved yields and potency.
Cosmos F1
Cosmos F1 is our flagship CBD-rich F1 hybrid, created from a strong inbred line of a high CBD variety originary from Oregon, and autoflowering varieties specially selected for their high CBD content and dense flowers. The result is an extremely tall plant (the tallest of all our F1 hybrids) with a typical Christmas tree structure and bright green foliage. Her hybrid vigour means that Cosmos F1 hybrid seeds produce extremely uniform plants that grow quickly and are highly resistant to pests and stress.
Like all our F1 hybrids, Cosmos F1 is autoflowering and produces dense, long flowers with aromatic resin. Thanks to her high CBD ratio and unique concentration of terpenes (myrcene, farnesene, limonene, pinene, and caryophyllene), Cosmos F1 produces a well-balanced, meditative effect without the intoxicating effects of THC.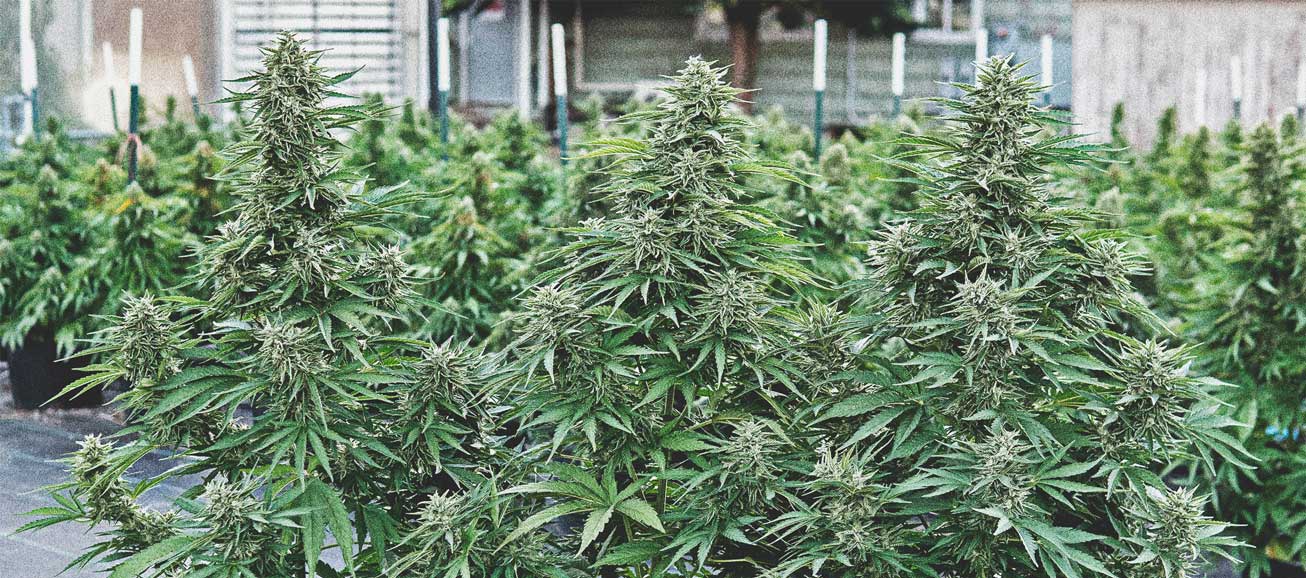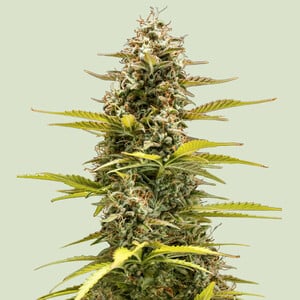 | | |
| --- | --- |
| | CBD Oregon |
| | 45 - 55 days |
| | THC: 0,5% |
| | Clear, Focus , Meditative |
| | 75 - 85 days after sprouting |
Feminised Low-THC Strains
Our feminised low-THC seeds produce female plants 99% of the time. These specimens churn out resinous flowers with unique cannabinoid profiles and plenty of aromatic terpenes. These photoperiod strains are ideal for growers with limited experience, and perform particularly well outdoors.
Speedy Chile
This fast-flowering strain pairs moderate levels of THC with quick and easy harvests. Her dense and frosty flowers produce a THC level of 16% alongside an array of fruity, peppery, and piney terpenes. You'll certainly feel the effects of THC after smoking or vaping these buds, but the high is comfortable and controlled. Enjoy hours of motivation and focus, without any sensations of sleepiness or lethargy. Opt for these flowers during the day to stay engaged and productive.
Our breeders created this variety from parent strains Early Skunk, Skunk, and Chile Indica. She features an indica-dominant genetic profile and provides a canopy full of buds after a brief flowering time of 7–8 weeks. Indoor plants produce up to 525g/m² and peak at 100cm in height, whereas outdoor plants grow to 100–170cm and offer a return of 450–500g/plant.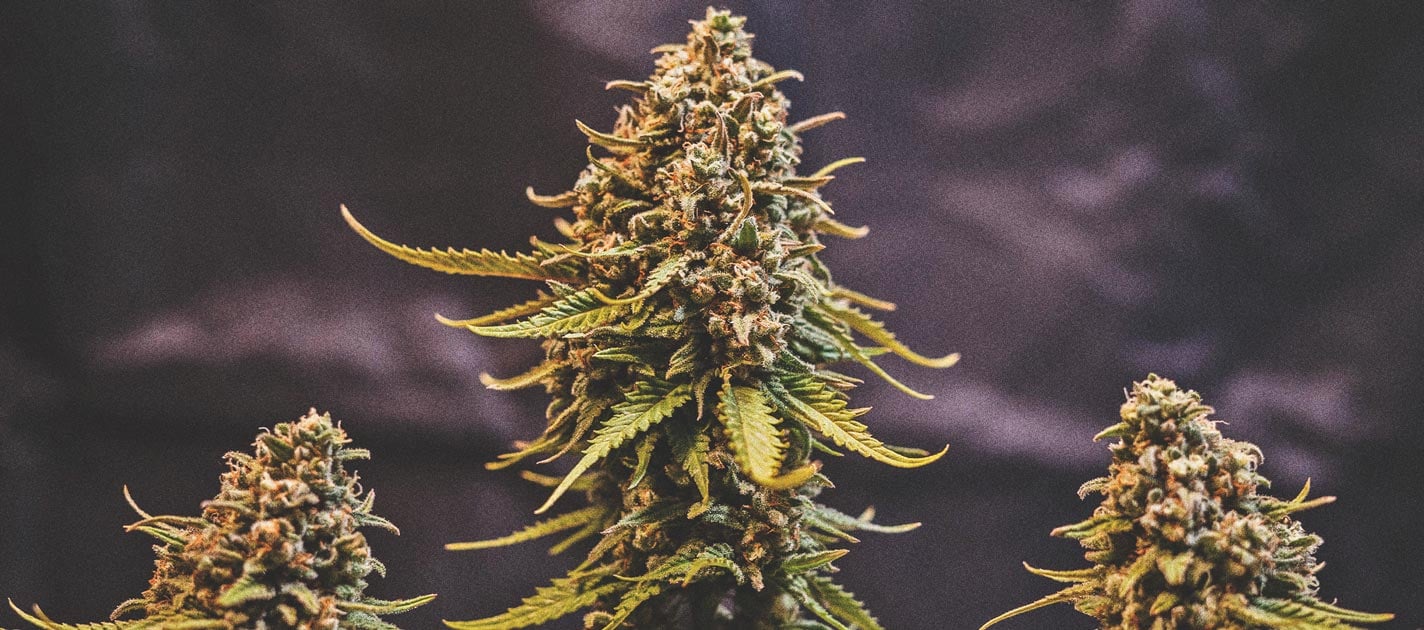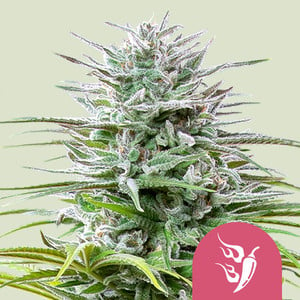 | | |
| --- | --- |
| | Early Skunk x Skunk x Chile Indica |
| | 475 - 525 gr/m2 |
| | 60 - 100 cm |
| | 7 - 8 weeks |
| | THC: 16% |
| | |
| --- | --- |
| | Sativa 30% Indica 70% |
| | 450 - 500 gr/plant |
| | 100 - 170 cm |
| | Early September |
| | Calming, Laughter |
Buy Speedy Chile (Fast Flowering)
Autoflowering Low-THC Strains
Autoflowering strains are easy to grow, productive, and perfect for beginners. They don't require a change in the light cycle to flower, and they tolerate pests, disease, and adverse conditions well. The autoflowering strains below possess varying levels of THC. Some offer a subtle high, whereas others produce no psychoactive effect at all.
Easy Bud
Easy Bud produces a THC level of 12% and low quantities of CBD. She still induces a noticeable high, but the experience is free from incessant hunger and beaming red eyes. This level of THC hits the sweet spot between being sober and completely stoned, casting a euphoric blanket over the user that makes everything seem a little bit brighter. Even mundane tasks are more entertaining. Easy Bud is a perfect wake-and-bake smoke to help you start your day off right and stay in the zone all day long.
Easy Bud maintains a short stature throughout the entire growing cycle, yet still manages to produce an impressive yield of citrus-scented buds. Indoor plants grow to 50–60cm and produce up to 325g/m². Those grown outdoors reach 110cm and produce anywhere from 30–80g/plant. Prepare to harvest these buds 9–10 weeks after germination.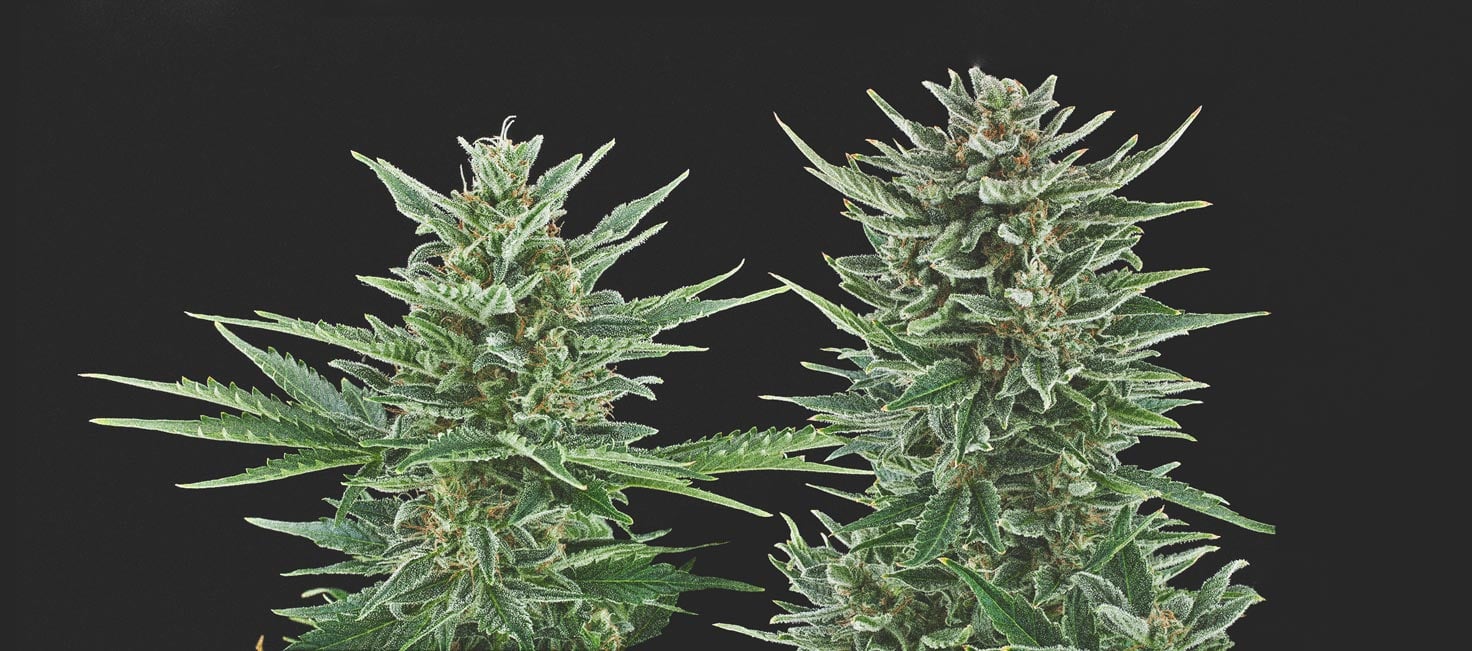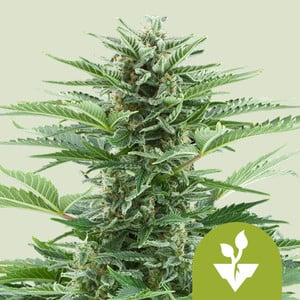 | | |
| --- | --- |
| | White Indica x Ruderalis |
| | 275 - 325 gr/m2 |
| | 50 - 60 cm |
| | 5 - 7 weeks |
| | THC: 12% |
| | |
| --- | --- |
| | Sativa 15% Indica 55% Ruderalis 30% |
| | 30 - 80 gr/plant |
| | 60 - 110 cm |
| | 9 - 10 weeks after sprouting |
| | Physically Relaxing |
CBD-Rich Cannabis Strains
Our CBD range of cannabis seeds, focused on the production of CBD, might be the best option if you're looking for low-THC strains. Although some of our seeds feature a beneficial 1:1 CBD:THC ratio, the strains below only contain negligible traces of THC. The perfect choice if you're avoiding the THC-induced high.
Royal CBG Automatic
Not only does Royal CBG Automatic contain the lowest THC level in our entire archive, but she also produces cannabinoids rarely found elsewhere. With a THC content of 0.09%, she produces no psychotropic effect whatsoever. Instead, large quantities of CBD and CBG exert a clear-headed and soothing sensation. These molecules synergise to relax the muscles and centre the mind. You can smoke these vanilla-flavoured buds all day long without getting stoned.
Royal CBG Automatic stems from an ambitious breeding project involving a high-CBG strain and Holiat Auto. Eventually, our skilled breeders developed a stable phenotype that meets the legal THC requirements for hemp in many countries. This speedy strain is ready to harvest only 9–10 weeks after sprouting. Prepare to rake in up to 450g/m² from indoor plants, and between 30–50g/plant from those cultivated outdoors.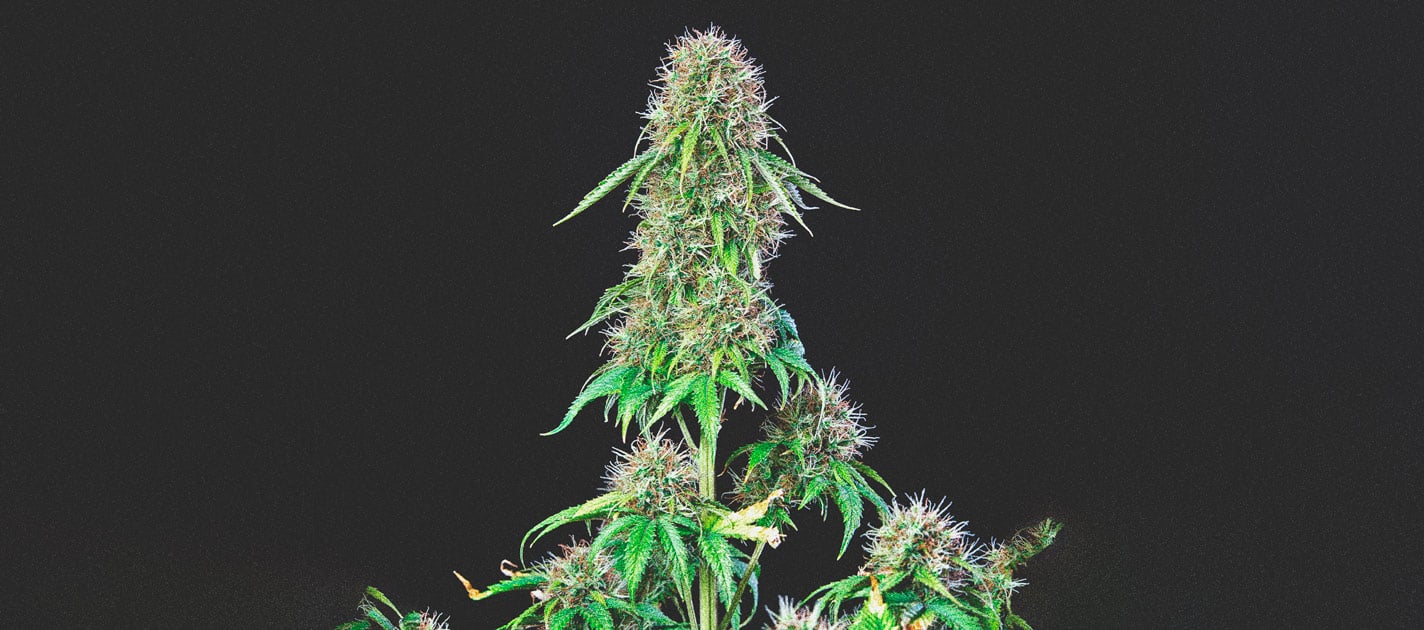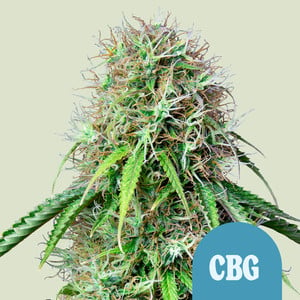 | | |
| --- | --- |
| | Goliat Auto x high CBG Strain |
| | 350 - 450 gr/m2 |
| | 80 - 90 cm |
| | 7 weeks |
| | THC: 0,09% |
| | |
| --- | --- |
| | Sativa 75%, Indica 20%, Ruderalis 5% |
| | 30 - 50 g/plant |
| | 80 - 100 cm |
| | 9 - 10 weeks after sprouting |
| | Clear |
Royal CBDV Automatic
Royal CBDV Automatic serves as another source of novel cannabinoids, and demonstrates the innovative spirit of the team at RQS. CBDV is a non-psychotropic cannabinoid that works in a unique way with the endocannabinoid system. Royal CBDV Automatic offers high levels of both CBDV and CBD alongside a THC level of 0.3%. Smoke or vape these earthy flowers whenever you require some good vibes without a high.
Royal CBDV Automatic grows well both indoors and outdoors, especially when treated to a cooler climate, and races from seed to harvest in just 8–9 weeks from germination. Expect indoor plants to top out at a height of 80cm and produce 375–450g/m². Plants grown outdoors in beds and containers reach a taller height of 100cm and produce 110–150g/plant.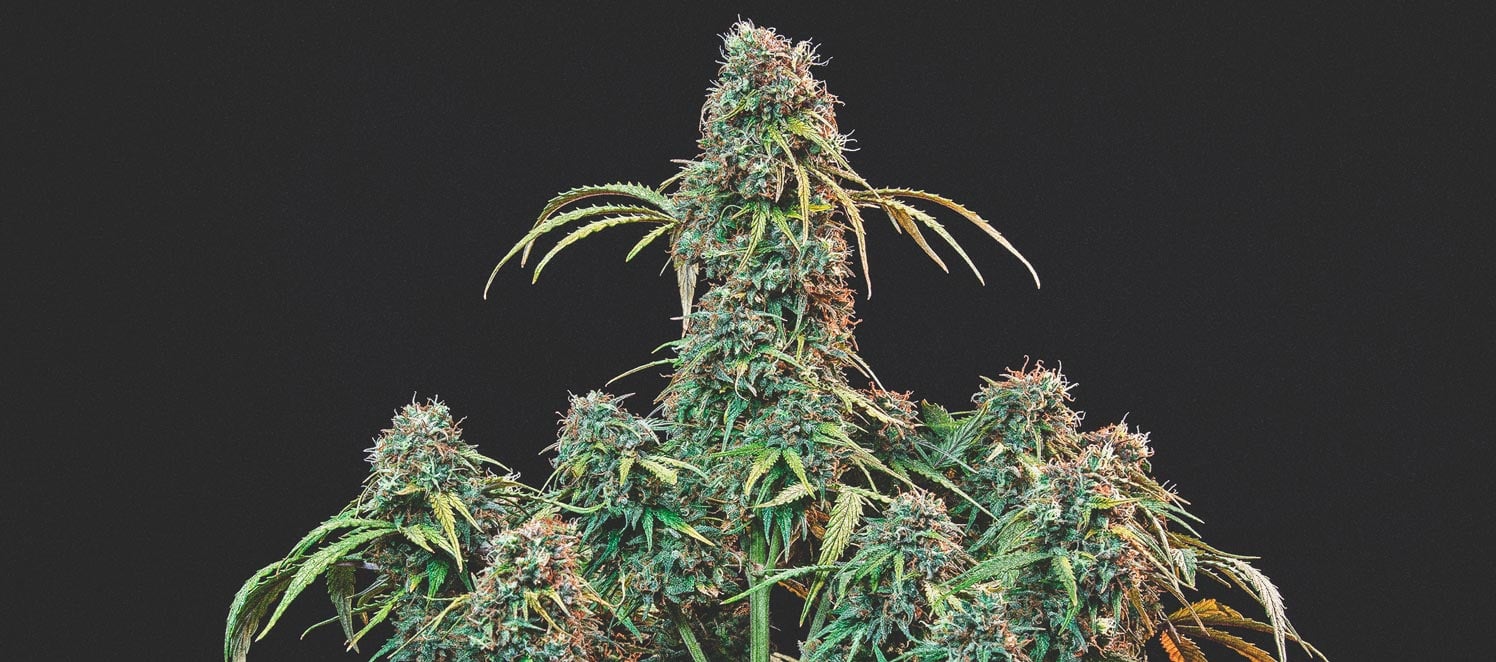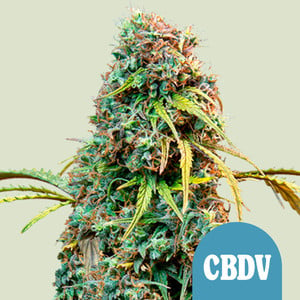 | | |
| --- | --- |
| | Solomatic x Durban Poison |
| | 375 - 450 gr/m2 |
| | 60 - 80 cm |
| | 5 - 6 Weeks |
| | THC: 0,3% |
| | |
| --- | --- |
| | Sativa 75%, Indica 20%, Ruderalis 5% |
| | 110 - 150 gr/plant |
| | 80 - 100 cm |
| | 8 - 9 weeks after sprouting |
| | Clear, Physically Relaxing |