How to Become a Weed Influencer
Weed influencers are all over social media. They come in the form of chefs, wellness specialists, entrepreneurs, models, and activists. Despite their diverse fields, they all achieved success by following a similar formula. To help you join their ranks, we've developed an informational guide. It takes hard work, but the reward makes it worthwhile.
By
---
---
Have you ever thought about becoming a cannabis influencer? It sounds tempting, right? Imagine making money as your own boss, deciding who you work with, and travelling far and wide to collaborate with like-minded entrepreneurs.
Embracing the influencer lifestyle sounds like a dream, but it comes with its own unique set of challenges that make it just less than perfect. It involves a lot of hard graft, the downsides of regular social media use, plenty of doubters, and temperamental social media platforms, such as Instagram, that frequently disable accounts over cannabis content. In regard to this, many accounts do just fine posting on the platform, but educational and "lowkey" content is more likely to survive than constant selfies in your grow room, joint in hand.
What's a Weed Influencer?
A decade ago, the idea that you could make money as a social media influencer seemed almost laughable, and indeed only a handful of successful people achieved it. Nowadays, many thousands of social media users have made full-time jobs as influencers in an array of fields, from food and sports to makeup and cannabis. Some of these personalities had a head start as celebrities, but most started from the ground up, meaning you can achieve the same if you commit yourself to the endeavour.
The industry of social media influencers has its roots in blogs of the early 2000s, where foodies and mommy bloggers started raking in cash for their tips, tricks, stories, and recipes. However, the advent of social media made online communication much more quick and even intimate. The rise of Facebook, Instagram, and Twitter gave creators direct and constant access to their followers, and helped them to build huge followings in a short window of time.
What Does It Take to Become a Weed Influencer?
If you want to become a cannabis influencer and dedicate your daily activities to the herb, you need to come up with a solid plan. The guide below will help you build your foundations toward living this digital lifestyle.
Educate Yourself About the Industry
First things first; you need to become familiar—more than familiar—with the cannabis industry. Sure, the herb chills people out, but that's just the tip of the iceberg. You'll quickly become aware of just how competitive the cannabis space has become. As a relatively new and booming sector, huge, multi-million-dollar companies and individual influencers alike are vying for attention and profit. You need to discover where you fit in.
There are many different segments, such as growing, reviewing products, smoking in your bedroom (people have gained huge followings from this alone), breeding, educational content, cannabis science, and so on. Decide which areas align best with your skills, knowledge, and personality, and hone in on that.
Attend Social Events
Networking is the key to success in many industries. As the saying goes, "It's not what you know, but who you know". Attending events such as NCIA Business Conference, CannaCon Detroit, Spannabis, and NoCo Hemp Expo will expose you to some of the biggest figures in the cannabis space.
Start by attending events local to you, be friendly, and engage with everyone. Once you start to get established, put some money aside and invest in trips to bigger events filled with more prestigious businesses. Take free samples, ask questions, post about your trip online, and even review samples and label the brand. You never know, a word and a smile in the right direction might just change your course and rapidly accelerate your rise as a cannabis influencer.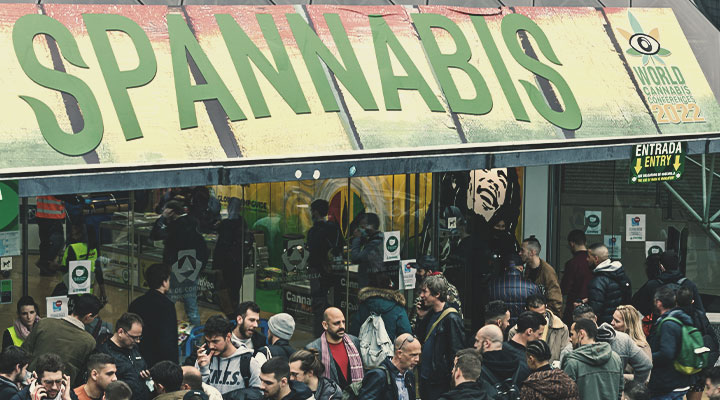 Find What Makes You Unique
Where do your skills lie? If you have the gift of gab, start a podcast. Maybe you've always had a penchant for the written word? If so, start a blog and publish well-written social media captions that draw attention and educate. Do you have a background in science? Then use your knowledge to learn everything about the cannabis plant and how it affects the human body. There are already a host of influencers covering these areas, but by infusing them with your unique skill set, personality, and creativity, you have the opportunity to offer something different.
Identify a Content Niche
Now you're familiar with all of the different sectors of the cannabis industry, and you've figured out how you can apply your skills. Next up, you need to vie for some space and attention. There are already hundreds of thousands of people puffing weed online, but there are not so many explaining to millions how cannabis affects their pets, for example. Likewise, there's a saturation of people dishing out growing tips, but you can take it upon yourself to find a different angle. There aren't as many influencers dedicating their feeds to developing living soil, how to make amendments for free, or growing in confined and stealthy places. Heck, you could even become the "purple weed guy", or focus entirely on strains with novel cannabinoids such as CBDV and THCV.
Plan Ahead
You need to stay organised. Posting when you feel like it won't cut it. Professional cannabis influencers have a solid calendar and know their tasks well ahead of each day. Create a calendar and dedicate periods to specific topics; followers like themes and consistency. You also need to make room in your schedule for seminars, in-person events, and expos well in advance. Book your tickets and let people know you're going to be there. Have blocks of content ready to launch weeks in advance, and slowly trickle in hints of what's to come in your feeds and stories.
Commit to Social Media
A cannabis influencer without social media is as good as a writer without a pen or an artist without a canvas. Influencers are essentially professional social media users. You need to go all in. Download Twitter, Facebook, Instagram, Pinterest, YouTube, and LinkedIn to your phone. These are your primary tools. Post across platforms, but keep in mind that each comes with a unique audience.
Facebook and Twitter are great for short, casual, and promotional posts. Many influencers find success in using Instagram for frequent engagement and simple posts as well as more in-depth educational content. When it comes to LinkedIn, you need to keep things professional, well-written, and impressive; a lot of big figures use this platform, and people often discover huge opportunities here.
Develop a Publishing Schedule
As alluded to, a publishing schedule will help you stay consistent and organised. Social media bombards users every day, but humans are excellent at recognising patterns. Create blocks in your schedule and stick to a topic over a week or two. Choose anything that will draw attention and spike interest. Perhaps spend a week covering the endocannabinoid system, then switch it up to cannabinoids, then dish out individual growing tips for ten consecutive days. Not only will you please your followers with a publishing schedule, but you'll make your life a lot easier.
Build an Online Presence
As you continue to learn about your niche and gain followers, you'll build an online presence. A combination of attractive infographics and concise but informative captions will help you generate authority in your space. Constant engagement with your followers (replying to and liking comments), frequent stories, and cross-platform posting will make people want to stick around, learn, and soak in the entertainment.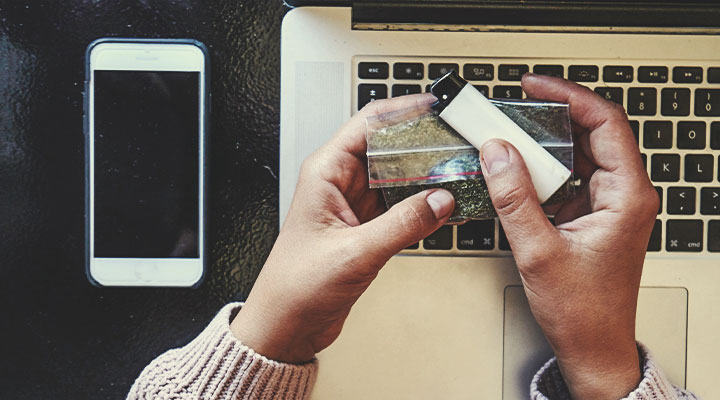 Remain Consistent
Consistency is key. The average person spends several hours each day scrolling through social media. You have a constant audience ready to receive what you have to say and promote. However, their feeds are full of attention-grabbing memes, photos, information, and posts from your competitors. If you leave large gaps between posts, your content will quickly become buried.
Write Meaningful Captions
To become valuable, you need to give value. Posting a picture of a bud with a leaf emoji underneath doesn't offer followers much in the way of content. However, you'll find your likes and engagement soar when you start to tell your story, educate people, and write several paragraphs about how to get rid of certain pests or how different terpenes influence the cannabis high.
Pump Out Stories
Social media "stories" deliver short snippets of information, entertainment, and promotional content. They are extremely captivating and designed to snag our attention and keep us engaged. Part of the reason stories pull us in is that human faces focus our attention. As well as posting relevant pictures and promotional content, you should start story vlogging from time to time. Capture your trip to an expo, show people the progress in your grow room, and invest in a tripod to guide people through quick recipes and growing tips.
Find a CBD or Cannabis Brand You Align With
Brands will start to reach out once you pass a certain follower threshold. You'll find business propositions coming your way even after surpassing 3,000 followers. It may be tempting to take up anything at first, and initially, this makes sense. But as more businesses reach out, you should opt for the CBD and cannabis brands that are aligned with your message. For example, if you enter the health and wellness niche, you'll want to work with brands that provide organic products and full-spectrum extracts—not edibles loaded with sugar and preservatives.
Label Brands
You don't always need to wait for brands to reach out to you. Invest in some products that you genuinely love. Get to know everything about them. Once you've experienced what they have to offer, write mini-reviews on social media and publish stories about them. Label the brands, and they might see huge potential in working together. Putting in the work will increase the odds of you working with companies you align with.
Stay Professional
Choose your niche and stay firmly within those borders. World events and personal circumstances can sometimes cause us to feel political, volatile, and emotional. While it helps to speak to people about these issues, you need to choose the right place and time. Posting divisive topics on your influencer outlets will quickly brew up a storm, and you'll lose followers much faster than you gained them. Don't ruin all of your hard work.
Build Community
Becoming an influencer involves building a community. The attention shouldn't be a one-way street. Hold giveaways, post polls, and conduct live AMAs ("ask me anything") on Instagram and elsewhere. Let your followers get to know you. Consider giving them an element of control over what you post. Ask them what they want to see next week, and do your best to cover the topic as thoroughly as possible while making it entertaining.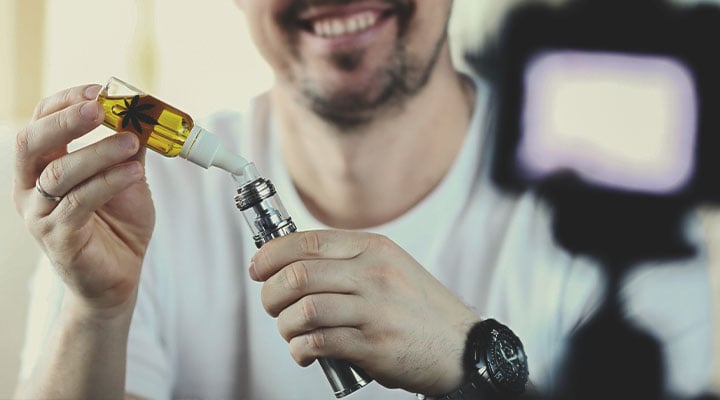 Key Cannabis Influencer Tips
Did you feel the shift? You now know almost everything that it takes to become a cannabis influencer. But we're not quite finished yet. Below, discover some quick-fire tips that will push you that much further in the right direction.
Optimise your bio and profile: Potential followers will come across your profile picture and bio first when they visit your page. Come up with attention-grabbing pictures—whether cannabis-themed or of your face—and make your bio concise, to the point, and tailored to your niche.
Attend networking events: Becoming an influencer involves spending plenty of time online, but you need to get out into the real world to make things work. Attend as many networking events as you can, get out of your comfort zone, and make connections.
Don't stress over your follower count: Followers matter, but you don't need to become a superstar. Even after reaching a few thousand followers within your niche, you can begin to develop authority and develop a strong relationship with relevant brands.
Be creative: Assess your competitors. What are they leaving out of their content? How can you develop an angle that covers any gaps? Use your creativity to develop something different that followers can't get elsewhere.
Embrace algorithms: Social media algorithms are based on what people want to see. Our feeds place in front of us what we interact with the most. Stay consistent within your niche, and make it clear what your page is about.
Inspiring Cannabis Influencers
What better way to close out this article than with some real-world examples of cannabis influencers? The four figures below built their platforms from the ground up, mastered their niche, and established themselves are key voices in the cannabis space.
You're Ready to Take the Canna-Influencer Plunge
You're set to take the next step! You've discovered everything it takes to become a cannabis influencer, but don't be fooled—you need to work hard. Most people that set out with this goal fail. It takes considerable work, plenty of upsets, and a lot of time and energy. However, if you master your niche, make it to networking events, and keep posts frequent, you might carve out a new and rewarding career for yourself. Best of luck!