Top 5 Most Energising Weed Strains
Late night? Slow start? No motivation? We all know what it feels like to have an off day. But it doesn't have to stay that way! Light up one of the strains featured in this list to blow the cobwebs away, rev the engine of the mind, and help you smash your goals for the day. A few tokes later, and you'll feel fresh, renewed, and ready for action!
By
---
---
Though the archetypal stoner is portrayed as uber-chill, perhaps even a bit slow, not every strain sends smokers to couch-lock land. On the contrary, the varieties below were bred to keep you wide-eyed and ready to tackle whatever comes your way. The phytochemical makeup of each strain caters to days spent pursuing creative projects or tackling chores and errands.
No matter what you need to get done, the energising cultivars below will help you secure a victory.
1. Mother Gorilla
Looking for an energy boost? Well, you just found one. Mother Gorilla descends directly from Gorilla Glue 4, an award-winning high-THC powerhouse hailing from the United States. Our breeders then crossed this renowned cultivar with Reina Madre, a sativa-leaning strain that offers reliably uplifting effects. The result? A sativa-dominant polyhybrid packing an impressive THC content and a complex terpene profile.
Are you an ardent wake-and-baker? Or perhaps you need a little something to give you an edge while studying? Anytime you're in need of a pick-me-up, Mother Gorilla can give you a helping hand. Her THC content of 23% will add a spring to your step, and her heady terpenes will ensure the high remains energising. These aromatic molecules also underpin Mother Gorilla's complex flavours of chocolate, earthiness, Skunk, and sourness.
Indoors, this compact variety grows to a height of 60–100cm and produces a rewarding yield of up to 500g/m² after a flowering time of 9–10 weeks. If you prefer growing outdoors, expect her to reach a height of 140–180cm and deliver up to 500–550g/plant during early October.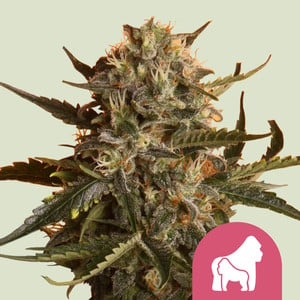 | | |
| --- | --- |
| | Gorilla Glue 4 x Reina Madre |
| | 450 - 500 gr/m2 |
| | 60 - 100 cm |
| | 9 - 10 weeks |
| | THC: 23% |
| | |
| --- | --- |
| | Sativa 70% Indica 30% |
| | 500 - 550 gr/plant |
| | 140 - 180 cm |
| | Early October |
| | Calming, Euphoric |
Buy Mother Gorilla (Formerly Royal Madre)
2. North Thunderfuck
Whether you have a deadline closing in or a house chore you keep putting off, North Thunderfuck will make the work seamless and even enjoyable. This energising hybrid descends from Matanuska Thunderfuck Bx3 and features a perfectly balanced genetic profile of 50% indica and 50% sativa. As a member of our USA Premium category, this variety puts the magnificence of American ancestry on full display.
But what makes North Thunderfuck such a stimulating strain? For one, her flowers are coated with a thick layer of glandular trichomes. These shimmering structures churn out a THC content of 22%, which quickly lights up cannabinoid receptors in the brain. Furthermore, a zesty terpene profile fronted by limonene works to secure a supercharged head high. Alongside this surging effect, users can expect moreish flavours of citrus, pine, and Skunk.
North Thunderfuck offers large yields that will keep you elevated for weeks to come. Indoor plants grow to 80–120cm and produce up to 500g/m² after a flowering time of 8–9 weeks. If growing under the sun, you'll watch plants peak at 190cm and produce up to 550g/plant.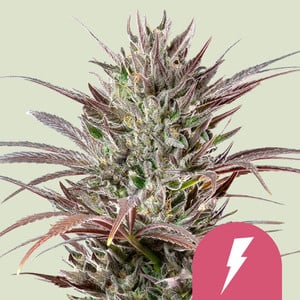 | | |
| --- | --- |
| | Matanuska Thunderfuck Bx3 |
| | 450 - 500 gr/m2 |
| | 80 - 120 cm |
| | 8 - 9 weeks |
| | THC: 22% |
| | |
| --- | --- |
| | Sativa 50% Indica 50% |
| | 500 - 550 gr/plant |
| | 160 - 190 cm |
| | Middle of October |
| | Euphoric |
3. Green Crack Punch
We all know someone who is dubious about whether cannabis has energising effects. Well, Green Crack Punch is the perfect strain to put those doubts to rest for good. Whether you love to wake and bake or need a midday boost to see you through the day, Green Crack Punch is perfect.
If you need to file an important report before 5 o'clock or give the house a much-needed spring clean, Green Crack Punch can help you achieve your "today list" with pride. It produces a satisfying mental buzz that's great for when you need a boost of energy and focus. After a few hours, this head buzz starts working its way down to your muscles, leaving you relaxed and grounded.
Green Crack Punch has a delicious fruity aroma that combines zesty citrus notes with sweet hints of berries and grapes. A cross between the infamous Green Crack and Purple Punch, this is a slightly sativa-dominant strain that produces beautiful buds with vibrant orange and pink hues, and roughly 18–20% THC.
Similar to the first strain on this list, Green Crack Punch performs its best outdoors. This is one of those plants that needs plenty of space, reaching between 180 and 220cm in the right conditions. Indoors, Green Crack Punch still does well, although space limitations will affect its ability to vigorously veg, and will likely result in smaller harvests. Nonetheless, its extreme resilience to pests, droughts, and poor weather make it a great strain for all kinds of growers, including beginners.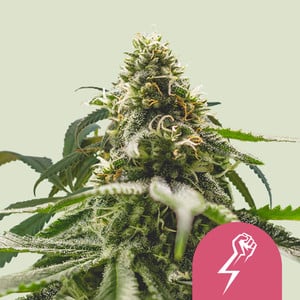 | | |
| --- | --- |
| | Green Crack x Purple Punch |
| | 450 - 500 gr/m2 |
| | 90 - 160 cm |
| | 8 - 9 weeks |
| | THC: 18% |
| | |
| --- | --- |
| | Sativa 60% Indica 40% |
| | 550 - 600 gr/plant |
| | 180 - 220 cm |
| | Late September |
| | Calming, Euphoric |
4. Royal Runtz
What gets you going in the morning? A refreshing shower? A strong cup of coffee? Whatever you use to rev your cognitive engine, you can now add Royal Runtz to your routine. In the garden, vibrant flowers displaying bright tones of green, yellow, purple, and orange hint at the dazzling way in which she lights up the brain. With a balanced genetic profile of 50% indica and 50% sativa, our expert breeders created this cultivar by harnessing legendary new-school parent strains Gelato and Zkittlez.
Royal Runtz stands out from the crowd in many ways, but nothing sets her apart more than a mind-rattling THC content of 27%. It only takes a single toke to feel a surge of energy course through the nervous system. Take a couple more, and you'll struggle to resist the urge to reach for musical instruments, paint brushes, and notepads. No matter what you have on the agenda today, Royal Runtz will help you charge through your tasks in the most enjoyable way possible. You'll feel unstoppable. Her delicious tastes of candy and fruit are a huge bonus.
This strain will certainly put your stash jars to good use. Indoor plants are compatible with small spaces and peak at 130cm, while still managing to deliver up to 500g/m² in a flowering time of 8–9 weeks. Outdoors, Royal Runtz grows to 160–180cm and produces up to 450g/plant, ready to harvest in mid-October.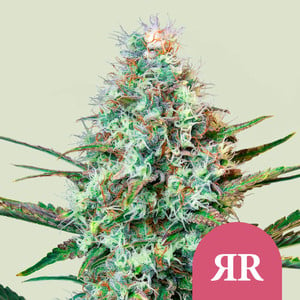 | | |
| --- | --- |
| | Gelato x Zkittlez |
| | 450 - 500 gr/m2 |
| | 90 - 130 cm |
| | 8 - 9 weeks |
| | THC: 27% |
| | |
| --- | --- |
| | Sativa 50% Indica 50% |
| | 400 - 450 gr/plant |
| | 160 - 180 cm |
| | Middle of October |
| | Euphoric, Uplifting |
5. Triple G
Smoking Triple G feels like splashing cold water on the face—but in the best way possible. This indica-dominant hybrid heightens the senses, blows away brain fog, and gets the creative juices flowing. With a very respectable THC content of 26% and an arsenal of sweet and fruity terpenes, Triple G catalyses a euphoric and clear-headed high perfect for when you have work to do, especially if that work involves problem-solving.
Alongside her motivating chemical profile, Triple G boasts some stunning aesthetics that make her the centrepiece of any grow room or garden. The core of her flowers features shades of bright green and orange. Meanwhile, her sugar leaves develop a striking shade of purple closer to the tips. This stunning expression becomes even more pronounced when temperatures drop slightly toward the end of the season.
In terms of productivity, Triple G scores high. Indoor plants adhere to a medium height, growing to 90–140cm, and produce up to 575g/m² after a flowering time of 8–9 weeks. Grown outdoors, she'll peak at a taller height of 180cm and churn out 600–650g/plant come mid-October.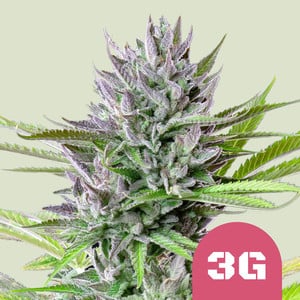 | | |
| --- | --- |
| | Gorilla Glue 4 x Gelato 33 |
| | 525 - 575 gr/m2 |
| | 90 – 140 cm |
| | 8 - 9 weeks |
| | THC: 26% |
| | |
| --- | --- |
| | Sativa 15% Indica 85% |
| | 600 - 650 gr/plant |
| | 140 - 180 cm |
| | Middle of October |
| | Clear, Euphoric, Fast Thinking, Motivating |