Splitting Stems: Should You Take A Knife To Your Cannabis Plant?
Taking a knife to your cannabis plants a few days before harvest seems pretty counterintuitive. However, many growers say stem splitting can produce bigger yields and more trichomes for tastier, more potent bud. Read on to learn more.
By
---
Stem splitting is a very aggressive grow technique that's generating a lot of discussion in the cannabis cultivation community. Those in favour of this technique argue that it stresses the plant in a beneficial way, forcing it to take up more nutrients and produce bigger, more potent buds. Could this be true? Keep reading to find out.
THE THEORY BEHIND STEM SPLITTING
Most grow techniques that involve stress work on the same principles; stressing a cannabis plant encourages it to take up more nutrients, which in turn results in more vegetative growth and heavier harvests.
The theory behind stem splitting is no different. However, it's a lot more controversial than other high-stress techniques such as topping, fimming, or super cropping. After all, taking a knife to the stems of your flowering cannabis plants is pretty hardcore.
Nonetheless, many growers suggest stem splitting can produce bigger, denser buds and a higher concentration of trichomes. Trichomes actually serve to protect the cannabis plant against pests, environmental factors, and disease. Growers believe that the stress induced by splitting your plants at the end of their flowering cycle pushes them to produce more trichomes just in time for harvest.
HOW TO SPLIT THE STEMS OF YOUR CANNABIS PLANT
To split the stems of your cannabis plant, you'll need:
A clean, sharp knife (a Stanley blade works great)
Measuring tape
Rope or tape to mark the cut you'll be making along the stem
A pencil, chopstick, or skewer to separate the stem after it's been split
1. First, start by measuring the part of your plant's stem that you'll be splitting. You'll want to make a cut of around 10–20cm right beneath the lowest branches of your plant. Use some tape or rope to mark out both the top and bottom of the cut.
2. Next, take your knife and cut through the stem, starting at the highest part of the cut. Be sure to make a clean cut right through the centre of the stem.
3. Use your knife to cut down to the lower mark you made earlier. Make sure your cut is as straight as possible. Once you reach the bottom of your cut, keep the knife stuck in the stem and use a pencil/chopstick/skewer to pry open the cut, then pull out your knife.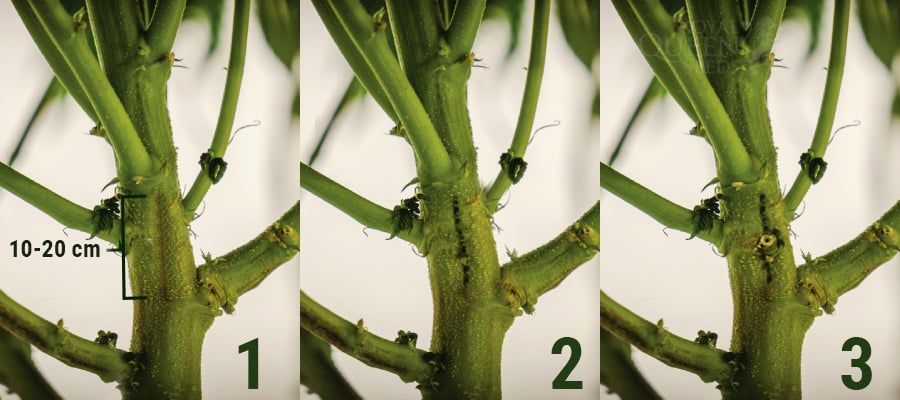 WHEN IS THE BEST TIME FOR STEM SPLITTING?
There are many different theories on the best time to put scalpel to stem, but most growers suggest doing so in the last week of flowering. While some growers recommend splitting in the last 3 days before harvest, we recommend slightly earlier (7–10 days before harvest).
WHAT ARE THE RISKS OF STEM SPLITTING?
Splitting is a really aggressive high-stress technique, and we only recommend it to experienced growers. Also, we do not recommend stem splitting on autoflowering strains, as it can be far too intense for them.
DOES STEM SPLITTING REALLY WORK?
There's a solid body of skilled growers who say that stem splitting can produce great results. Unfortunately, there's not a lot of qualitative data to prove that. However, stem splitting is believed to originate from Holland, where it has been used by expert Dutch growers since the 1970s.