Speedy Chile: Speed, Spice, And Everything Nice
Speedy Chile blooms a dense and productive canopy in what seems like no time at all! If you want to harvest as soon as possible, this is your specimen.
By
---
As a fast-flowering strain, Speedy Chile boasts most of the benefits of an autoflowering variety while maintaining its photoperiod vigour. It keeps a compact size and is easy to grow, but it certainly doesn't skimp when it comes to productivity or potency.
At Royal Queen Seeds, we understand that most growers value a short flowering time. However, a lot of cultivators avoid autoflowering strains for their often low THC values. That's precisely why we created Speedy Chile; it offers the best of both worlds, and you can keep it vegging for as long as you like!
SPEEDY CHILE: GENETIC ANALYSIS
RQS' breeders created Speedy Chile out of a desire for something new. Harnessing the THC value and yield of photoperiod strains alongside the swift bloom period of an autoflower takes a significant level of expertise and a boatload of patience. Luckily, the RQS team has both in spades.
They kicked off the ambitious experiment with parent strain Early Skunk—the progeny of Skunk #1 and Early Pearl. Of course, the word "early" hints at the strain's reliably speedy flowering time. Early Skunk delivers a large yield of skunky flowers after just 7 weeks in bloom.
Yet, breeders didn't just select Early Skunk for its brevity. Its mould resistance, moreish terpenes, and beginner-friendly genetics also won them over.
To match the well-rounded traits of Early Skunk, we needed to select a strain of equally exceptional calibre. Following careful consideration, Chile Indica fit the bill perfectly. As the name suggests, this cultivar stems from the South American nation of Chile.
Chile Indica produces massive colas loaded with spicy, earthy, sour, and piney terpenes. These buds deliver a high that triggers a euphoric, relaxed, and creative mood.
Eventually—following generations of crossing and backcrossing—breeders isolated the best traits from each parent into one speedy cultivar.
GROWING SPEEDY CHILE
Speedy Chile provides a rewarding harvest both indoors and out. Prep your drying equipment, because it'll be ready to harvest before you know it.
Somewhat of an anomaly, Speedy Chile will impress even the most experienced growers. It's not often that you see such a compact strain pump out such a good yield.
Its colas are dense, tall, and tapered, with each flower boasting a frosty coating of trichomes and few sugar leaves (meaning more room for bud biomass!).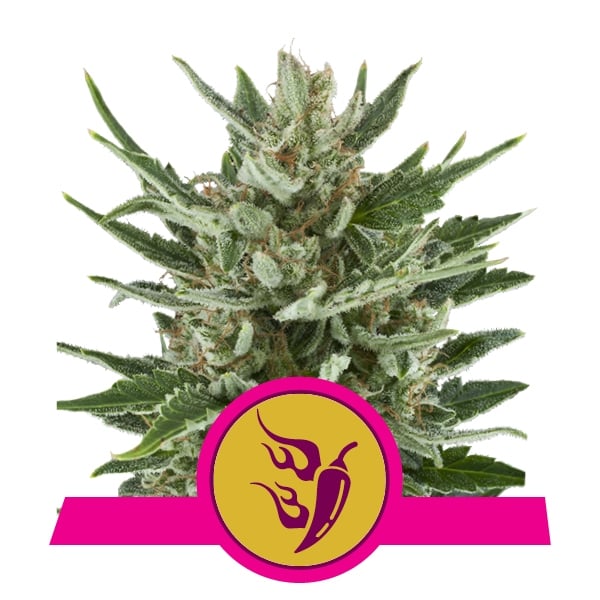 Speedy Chile
Early Skunk x Skunk x Chile Indica
475 - 525 gr/m2
60 - 100 cm
6 weeks
THC: 16% (aprox.) / CBD: Low
| | |
| --- | --- |
| | 30% Sativa, 70% Indica, 0% Ruderalis |
| | 450 - 500 g/per plant (dried) |
| | 100 - 170 cm |
| | Early September |
| | Relaxing and full of flavour |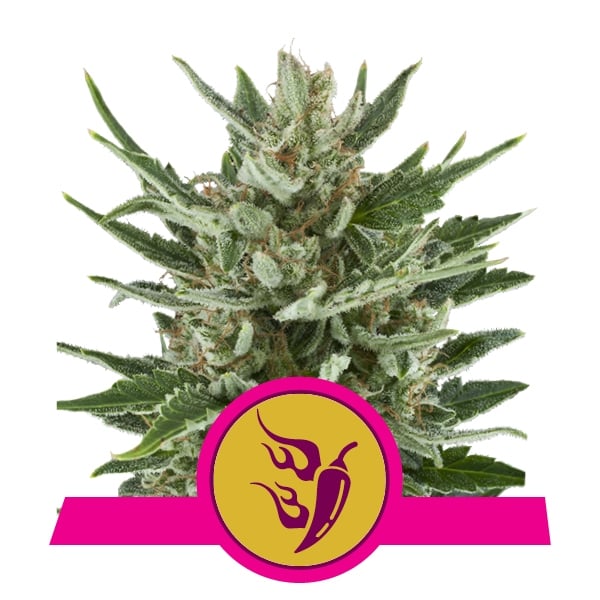 | | |
| --- | --- |
| | Early Skunk x Skunk x Chile Indica |
| | 475 - 525 gr/m2 |
| | 60 - 100 cm |
| | 6 weeks |
| | THC: 16% (aprox.) / CBD: Low |
| | |
| --- | --- |
| | 30% Sativa, 70% Indica, 0% Ruderalis |
| | 450 - 500 g/per plant (dried) |
| | 100 - 170 cm |
| | Early September |
| | Relaxing and full of flavour |
Speedy Chile thrives in a slightly warmer indoor environment. Here, it will climb to a maximum height of 1m.
Its small size makes it easy to grow, and stealthy growers will have fun cultivating Speedy Chile in closets or modified boxes. Expect a rewarding yield of 525g/m² after a short and sweet flowering period of 6–8 weeks.
Speedy Chile also fares well outdoors. Transplant it to your garden bed or a large container and watch it grow to a slightly taller height.
After a few weeks of basking in the sunshine, it'll provide an impressive yield of 500g/plant. Sharpen your trimmers for action in early September.
EFFECTS OF SPEEDY CHILE
Speedy Chile exerts a mostly stoning and relaxing effect. After a few tokes, the Chile Indica heritage becomes quite apparent. A warm and heavy feeling makes its way across the body, and blissfulness ensues.
As the body begins to loosen up and melt, cognitive activity actually increases. This is unusual for most indicas, but Early Skunk introduces a lightly stimulating effect into the equation. For this reason, you can enjoy Speedy Chile throughout the day without trouble.
Speedy Chile also carries some therapeutic effects. Its indica high can take the edge off chronic pain and send the appetite through the roof. Have some snacks nearby to help you deal with the inevitable munchies!
FLAVOUR AND AROMA
Speedy Chile gets straight to the point when it comes to flavour and aroma. This pungent specimen easily paints a room with its scent, and the flavour of the smoke never wanes, even after you're well into your second joint.
The strain inherited the majority of its terpene profile from its skunky parent. Early Skunk passed down tastes and smells of sour, earth, and—of course—skunk! However, the spicy remnants of Chile Indica are to be detected in the smoke as well.
Speedy Chile's terpene profile is dominated by myrcene, which contributes to the strain's stoning, relaxing effect.
SPEEDY CHILE: A SUPERB YIELD IN MINIMAL TIME
Breeders created Speedy Chile for an obvious reason, but the strain's characteristics are far from obvious. Those searching for speedy specimens no longer have to make compromises when it comes to yield and potency. This strain keeps impressing throughout every phase of growth, and beyond.
Enjoy its earthy tastes, stoning high, and watch Speedy Chile's flowers emerge in record time!