Sherbet Queen: Luscious Indica With Insane Potency
Sherbet Queen delivers the goods indoors and outdoors, even where space is an issue. What do we mean by goods? How about citrusy-sweet flavours and crazy-high THC levels to bring your nighttime smoke to new heights? Train this plant into the shape you desire, and enjoy her body-rocking indica high when harvest time swings around.
By
---
Sherbet Queen looks as good as she tastes. Her dark green buds are spattered with appetising light yellow pistils and dusted with a sugary coating of trichomes. Her pungent terpene profile and high THC load make her a thoroughly pleasant cultivar to blaze on a relaxing evening in solitude or while philosophising with your closest friends.
SHERBET QUEEN: GENETIC ANALYSIS
How did our breeders manage to create such a flavourful strain? Well, they had to start out with equally mouth-watering genetic material. They selected Sunset Sherbet for its enormous concentration of limonene, a terpene bearing tastes of citrus fruits. They crossed this delicious strain with Pink Panties, a deeply stoning indica cultivar that stems from prime Kush genetics.
Several generations and tasting sessions later, the team settled on a stable phenotype of Sherbet Queen with 85% indica genetics and only 15% sativa. This soothing strain boasts low genetic variability, producing a consistent taste and morphology. We also feminised this variety to ensure dank female flowers every single time.
GROWING SHERBET QUEEN
Sherbet Queen abides by a typical indica growth pattern. She produces a bushy, dense canopy bursting with flowers. Her medium size means growers can cultivate her indoors with limited space, or raise her in hidden areas of the garden away from prying eyes.
Indoors, plants grow to between 80–120cm. If you have space, let her run free and develop an impressive and productive canopy. If you need to tame her, top her early on and utilise LST to keep her shorter and easier to control. After you switch the light cycle to 12/12, you'll see her explode through the flowering stage in only 7–9 weeks. Prepare your drying space to handle around 450–525g/m².
Plants grown outdoors reach a taller height of 140–180cm. They prefer a warmer climate and will thrive in greenhouses and polytunnels. Just be sure to vent them during heat waves and periods of humidity to prevent heat stress and mould formation. Expect to harvest a respectable 450–500g/plant come October.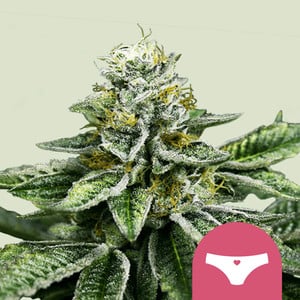 | | |
| --- | --- |
| | Pink Panties x Sunset Sherbet |
| | 450 - 525 gr/m2 |
| | 80 - 120 cm |
| | 8 - 10 weeks |
| | THC: 24% |
| | |
| --- | --- |
| | Sativa 15% Indica 85% |
| | 450 - 500 gr/plant |
| | 140 - 180 cm |
| | October |
| | Calming, Clear, Heavy, Sleepy |
EFFECTS, FLAVOUR, AND AROMA OF SHERBET QUEEN
Sherbet Queen's colourful flowers might look innocent, but don't let her cuteness fool you. Take things slow and inhale her THC content of 24% one hit at a time. Her indica dominance casts a heavy yet comforting blanket across the body that'll make you want to drop everything and chill like you've never chilled before. Keep some snacks close by, and a cool glass of juice to banish any cotton mouth.
She'll start to flood your grow room or garden with awesome aromas of spice, pepper, and lemon during peak flowering. Brace your taste buds for intense hits of sweetness and fruits when you get round to blazing these gorgeous flowers.
SHERBET QUEEN: AN INDICA WITH UNRIVALLED FLAVOUR
Sherbet Queen provides the quintessential indica experience: a body-slamming high that sinks you into the sofa and wraps your mind in the present moment. This strain never disappoints during those quiet evening smoking sessions with close friends. Enjoy the synergy of massive levels of THC in tandem with sweet and fruity terpenes that keep the mind from drifting entirely into slumber.