Pineapple Kush Feminised Cannabis Seeds
Although the initial breeder of the Pineapple Kush strain is unknown, we have a lot to thank him for. We do know, however, that it originated in California in the early 1990s. From there, it travelled around the world. Today, although it is still not terribly well known, it is beloved among enthusiast around the world.
By
---
Some cannabis strains are praised for their sheer potency. Others rise to fame because of their therapeutic potential. Then there are strains like Pineapple Kush, whose time in the limelight stems from their phenomenal, unforgettable flavours. That's not to say she's void of the former characteristics—on the contrary! Still, it's this tantalising taste that makes her stand out. Her refreshing terpene profile was passed down from a lineage of strains that also possessed some serious flavour of their own.
GENETICS OF PINEAPPLE KUSH
The original breeder behind Pineapple Kush is unknown, but they are missing out on some major credit. The cultivar first appear in the cannabis mecca of California during the early 1990s, born out of a breeding project involving parent strains Pineapple and O.G. Kush. This combination crafted a heavily indica-dominant strain that features 80% indica genetics and only 20% sativa.
Evidently, Pineapple Kush inherited her tropical taste from parent Pineapple, the progeny of Ed Rosenthal Super Bud. This famous hybrid is recognised for her happy, euphoric, and uplifting high, as well as her stress-busting and pain-relieving potential. Her explosion of tropical fruit flavours can be detected with every toke.
PK's second set of traits were passed down from O.G. Kush, the offspring of the legendary Hindu Kush. O.G. Kush is considered one of the best modern strains around, and for good reason. She boasts a fast flowering time, impressive yields, and a distinct earthy flavour, all of which are apparent when growing Pineapple Kush.
Both of her parent strains have made a large impact on the cannabis world, but Pineapple Kush has somewhat flown under the radar in comparison. Despite the lack of immense popularity, Pineapple Kush is a well-known variety among cannabis connoisseurs and those seeking more than just another run-of-the-mill high.
THE EFFECTS OF PINEAPPLE KUSH: MELLOW AND STEADY
Pineapple Kush's fruity flowers produce a THC content of 18%. This is by no means the highest level available from modern cannabis strains, but it definitely appeals to those who want to take a more mellow approach when blazing, or those who want to enjoy the flavour of a couple joints without burning out too fast. These benefits make her an ideal wake-and-bake smoke for chill weekend mornings or camping trips.
It's rare to feel overwhelmed when smoking Pineapple Kush, and users can "top up" their high as they go. The heavy indica dominance of this cultivar lends to a high that is primarily physical. Shortly after inhaling a toke from a joint or bong, a slightly sedating and very soothing sensation sweeps across the body from head to toe.
Pineapple Kush inherited some of the therapeutic qualities of her predecessors. Her body-oriented effects are highly effective at temporarily relieving aches and pains, and her relaxing effects induce a state of euphoria that can help ease symptoms of depression and anxiety.
One of the downsides of this strain is that she tends to cause dry eyes, especially after smoking a large quantity. Be sure to stay hydrated and consider using some eye drops.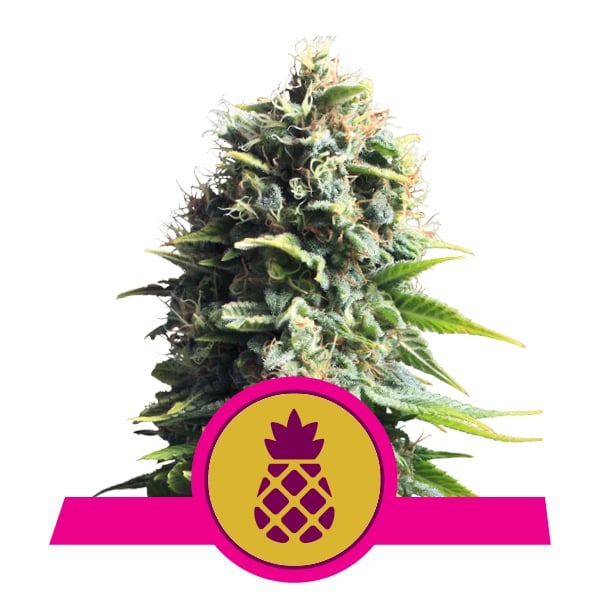 Pineapple Kush
Pineapple x O.G. Kush
500 - 550 gr/m2
70 - 120 cm
7 - 8 weeks
THC: 18% (aprox.) / CBD: Low
| | |
| --- | --- |
| | 20% Sativa, 80% Indica, 0% Ruderalis |
| | 500 - 550 g/per plant (dried) |
| | 120 - 180 |
| | Late September |
| | Relaxing and full of flavour |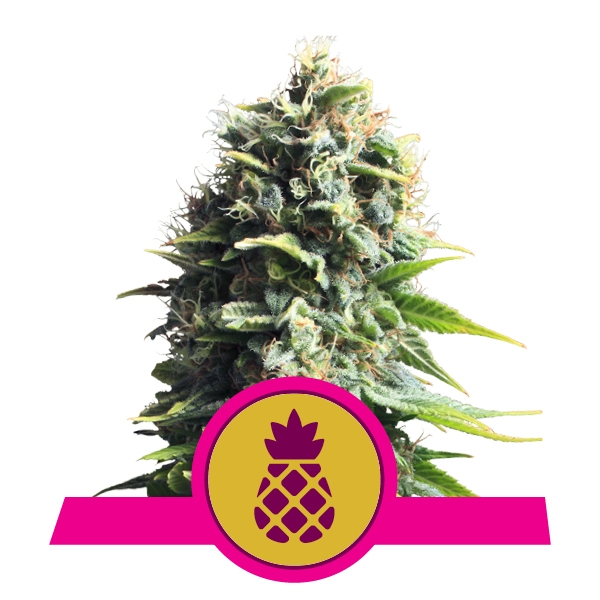 | | |
| --- | --- |
| | Pineapple x O.G. Kush |
| | 500 - 550 gr/m2 |
| | 70 - 120 cm |
| | 7 - 8 weeks |
| | THC: 18% (aprox.) / CBD: Low |
| | |
| --- | --- |
| | 20% Sativa, 80% Indica, 0% Ruderalis |
| | 500 - 550 g/per plant (dried) |
| | 120 - 180 cm |
| | Late September |
| | Relaxing and full of flavour |
THE FLAVOUR AND AROMA OF PINEAPPLE KUSH: FRUITY AND SWEET
The resinous buds of Pineapple Kush produce terpenes that contribute flavours of tropical fruit, sweetness, and earth. As her name suggests, a distinct taste and smell of pineapple dominates the complex mix.
High levels of the terpenes pinene and myrcene were passed down from parent strain Pineapple. These molecules contribute toward this fantastic sensory experience, and produce their own unique effects. Pinene is known for its anti-inflammatory effect, whereas myrcene lends to the stoning body high produced by Pineapple Kush.
GROWING TRAITS OF PINEAPPLE KUSH: FAST AND PRODUCTIVE
Pineapple Kush boasts a fast flowering time, completing bloom in as little as 7–8 weeks. This is a desirable trait for growers who want to smoke their bounty as soon as possible, and commercial growers looking to maximise turnover.
Indoor plants grow to varying heights of 70–120cm and produce significant yields of 500–550g/m². Plants cultivated outdoors ascend to a maximum height of 180cm and produce rewarding yields of 500–550g/plant. Outdoor plants favour a mild climate and will be ready to harvest in late September.
GO TROPICAL WITH PINEAPPLE KUSH
If a trip to some far-away beach is unattainable, the next best thing is Pineapple Kush. With a sensational flavour that you won't soon forget, a high that offers the best of all worlds, and yields that impress time and time again, Pineapple Kush is a cannabis candidate worth considering.