Lemon Shining Silver Haze: A Sativa That Never Sleeps
Lemon Shining Silver Haze ticks all the sativa boxes. She provides a motivating high, complex tastes, and great yields indoors and outdoors.
By
---
Lemon Shining Silver Haze is a favourite among sativa lovers, excelling in virtually every area. She produces an excellent yield, mouth-watering flavour, and a high that keeps the mind focused and engaged.
The breeders at RQS aimed to create a high-THC sativa devoid of almost any sedating effect. It was a big challenge to undertake, but they made it happen. Through strategic strain selection and a vigorous breeding programme, they created one of the tastiest and most potent sativas on the market. If you like to smoke throughout the day while remaining functional, you don't want to miss out on growing this strain. Let's find out more about Lemon Shining Silver Haze.
GENETICS OF LEMON SHINING SILVER HAZE
One prerequisite of a legendary strain is premium parentage. After all, the offspring inherits the strongest traits from the cultivars used to create it. The goal here was to create a sativa that would sit confidently among the greatest Haze and Skunk genetics on the planet. Therefore, strain selection was of the utmost importance.
Our breeders selected Lemon Skunk as the first parent strain. This award-winning variety made her mark on the cannabis world with first-place wins at Spannabis and the Highlife Cup. She features 60% sativa genetics and is known for her cerebral, creative, and social high. She was a perfect candidate for the project.
Next, our breeders needed a cultivar with a serious kick. Lemon Skunk's traits were desirable, but something needed to be done to increase the amount of sativa genetics. Shining Silver Haze was selected to get the job done. This sativa-dominant powerhouse descends from a trinity of legendary strains—Haze, Skunk and Northern Light. She boasts 75% sativa genetics, euphoric, hazy effects, and THC levels as high as 21%.
Our breeders hybridised these strains over several generations, selecting the best specimens of each generation. Eventually, they created a stable cultivar. Lemon Shining Silver Haze was born. We're so proud of our sativa beast. She features 75% sativa genetics, high levels of THC, and a euphoric effect that brings the mind to life.
EFFECTS OF LEMON SHINING SILVER HAZE
If we had to choose one word to sum up Lemon Shining Silver Haze, it'd be "vibrant". You'll feel her surging effect only seconds after hitting a joint or bong. A pulse of energy invigorates the nervous system; lights become brighter, music sounds glorious, and everything tastes fantastic. She switches the mind into overdrive and boosts cognitive performance. If you need some creative inspiration or a boost in focus, this is the strain for you. She's a superb wake-and-bake strain with a side of espresso. A few puffs later and you'll be out of bed, ready to tackle the day.
Her compact flowers boast a thick coating of glandular trichomes. These small structures churn out large quantities of resin containing approximately 21% THC. Her potency also serves up therapeutic properties. She's an excellent candidate for easing pain, low mood, and apathy.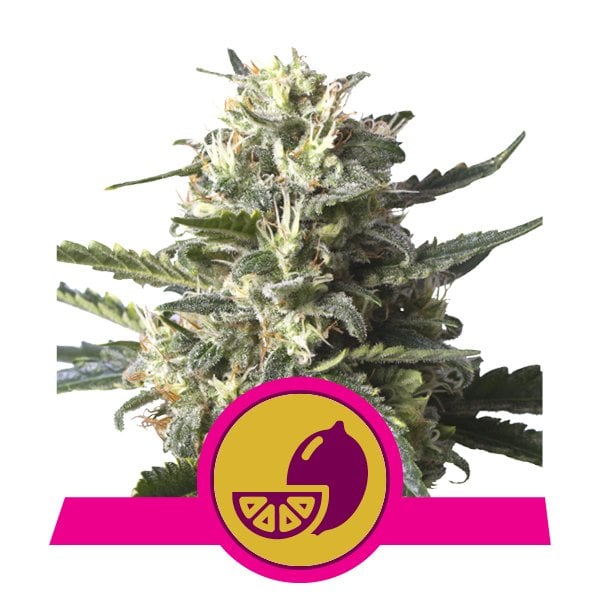 | | |
| --- | --- |
| | 75% Sativa, 25% Indica, 0% Ruderalis |
| | 450 - 500 g/per plant (dried) |
| | 130 - 170 cm |
| | Middle of October |
| | A combination of stoned + high |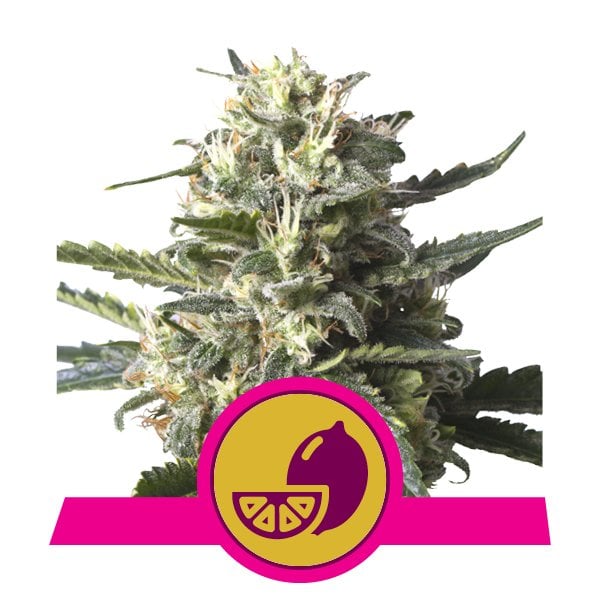 | | |
| --- | --- |
| | Lemon Skunk x Amnesia Haze |
| | 425 - 475 gr/m2 |
| | 80 - 140 cm |
| | 8 - 9 weeks |
| | THC: 21% (aprox.) / CBD: Low |
| | |
| --- | --- |
| | 75% Sativa, 25% Indica, 0% Ruderalis |
| | 450 - 500 g/per plant (dried) |
| | 130 - 170 cm |
| | Middle of October |
| | A combination of stoned + high |
FLAVOUR AND AROMA
Her abundant supply of trichomes doesn't only produce cannabinoids. During the flowering phase, they are busy pumping out aromatic terpenes too. Hints of sweetness and lemon occupy the fore, and undertones of fruit are also detectable.
Her flavour profile makes her moreish, so try not to overdo things! She's also a great strain for making edibles. Her tastes go down particularly well in brownies and muffins.
GROWING TRAITS
Lemon Shining Silver Haze has a medium growing difficulty. Indoor plants reach a height of 140cm and yield around 450g/m². She can be kept at a height of approximately 80cm by using training techniques such as LST. Outdoor plants grow to a taller height of 170cm and produce a significant harvest of 500g/plant. Lemon Shining Silver Haze has a flowering time of up to 9 weeks. Outdoor plants will be ready to harvest around the middle of October.
LEMON SHINING SILVER HAZE: A STRAIN FOR ENERGY AND INSPIRATION
Lemon Shining Silver Haze will help you get your day started off on the right foot. A high concentration of THC switches on the brain and motivates the spirit. Use this strain to inspire creative thought and motivation. She's a superb strain to enjoy when completing day-to-day tasks, and also goes down well at parties and social events.