G Pen Elite Vaporiser Review
Do you love vaping dank buds? Then you'll love the G Pen Elite. Ditch joints and blunts for the fresh flavours delivered by this sleek, portable device. Choose from a wide range of temperatures to target specific cannabinoids and terpenes, and fill up the large heating chamber for huge hits that instantly stone the body and ignite the mind.
By
---
---
Vaping has become an extremely popular way to enjoy cannabis. It offers a similar level of satisfaction to smoking, without exposing the body to harmful combustion. The sheer demand has led to a highly saturated market, meaning shoppers can easily become overwhelmed. But we're about to make things simple for you. Keep reading as we break down the G Pen Elite vaporiser, a trusty companion that combines excellent portability with sleek aesthetics.
What Is the G Pen Elite Vaporiser?
The G Pen Elite vaporiser offers a simple and easy way to vape dry herb. Chances are, you're looking for a device to suit an active lifestyle. Whereas some vapes are designed solely for home use, others are strictly made for inhaling on the go. However, the G Pen Elite fulfils both roles simultaneously. The simplicity of the device, its ergonomic design, and excellent vapor quality make it a joy to use at home on the couch or while hiking mountain trails.
The G Pen Elite vaporiser doesn't work with concentrates or liquids. Instead, it's designed to liberate cannabinoids and terpenes from cannabis flowers. If buds have a special place in your heart, this vape will help you enjoy them more than ever!
It takes a group of special minds to come up with such a well-rounded product. If you know anything about vapes, it should come as no surprise that the genius designers at Grenco Science are responsible for this model. The company aims to "integrate superior functionality with the convenience of transportability", and they certainly delivered on their promise when it comes to the G Pen Elite.
Some of the best features of this vaporiser include:
| | |
| --- | --- |
| Simple button controls | Temperature flexibility |
| Superb vapor quality | Amazing build quality |
| Impressive battery life | Convenient portability |
Simple button controls

Temperature flexibility
Superb vapor quality
Amazing build quality
Impressive battery life
Convenient portability
Inside the Box
The G Pen Elite arrives in a sleek black and white cylindrical box. As well as housing the vape itself, this beautifully designed packaging also includes:
1 G Pen tool
1 USB charging cable

1 cleaning brush
| | | |
| --- | --- | --- |
| 1 G Pen tool | 1 USB charging cable | 1 cleaning brush |
G Pen Elite Vaporiser Build Quality
Some vapes look amazing in pictures but feel disappointing when you finally get your hands on them. You can rest assured that the G Pen Elite feels as good as it looks. While the device features a plastic exterior, it is far from cheap.
The material feels firm and solid, and the ergonomic design and indented grip allow you to cradle it perfectly in your palm. The sleek black colour adds a touch of stealth, while the LED screen positioned toward the base of the device adds a futuristic look.
The G Pen Elite also features high-quality materials on the interior. A ceramic oven and vapor path provide excellent heat resistance.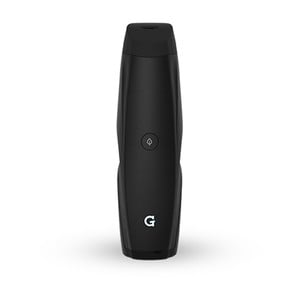 | | |
| --- | --- |
| | Convection |
| | 114 × 31 × 26 mm |
| | 88 gr |
| | 93 - 220ºC / 199 - 420ºF |
| | 30 sec |
| | |
| --- | --- |
| | 0,75 gr |
| | Digital |
| | Dry Herbs |
How To Use the G Pen Elite Vaporiser
It doesn't take a genius to figure out this device. The designers made it intentionally straightforward. Once you get your hands on one, use the simple steps below to whisk your mind away to a place of euphoria and relaxation:
Power her up! Plug your vape in using the USB cable provided and let her charge for at least three hours.
Prep your weed. Grind up your favourite strain of dry herb.
Pop the mouthpiece. Load the chamber with your prepared material. Fill it up without packing it down too tight.
Place the mouthpiece back on your vape.
Press the power button five times to fire her up.
Use the temperature selection buttons on the side to choose your desired setting.
Inhale, and enjoy the ride!
But how do you turn off the G Pen Elite? Well, the device simply shuts off after 40 seconds if you don't initiate heat-up. If you do, it'll shut off automatically after five minutes.
At just over 11cm tall, the G Pen Elite vaporiser fits easily into pockets, pouches, and bags. It makes a superb travel companion, especially if you're concerned about concealing your device while on the move. The sleek black look also adds an element of discretion, especially compared to models with bright, eye-catching colours.
While there are smaller and more portable models available, the designers decided to add on more size to facilitate one of the largest chambers on the portable vape market. With a total capacity of 1.8cm³, this slot holds a lot of dried herb.
You'll find the G Pen Elite super easy to maintain. To keep the exterior looking nice, just run a slightly wet cloth over it when it starts to look dusty or grimy. Cleaning the interior is also a piece of cake, as you'll find out below. Just make sure to put the cleaning brush to good use every few sessions to maximise its lifespan.
The G Pen Elite vaporiser boasts a 2200 mAh lithium-ion battery that charges in around 3 hours. Once fully charged, the battery will last for 6–12 sessions, giving you plenty of time to vape your favourite cultivars with friends! The lengthy battery life and portable nature of this device make it ideal for road tripping, camping, and any outdoor activities where you won't come across a power outlet for a while.
Unlike many vape models, the G Pen Elite keeps you updated on the exact power status of your device. The LED screen features a battery icon, and the number of bars indicates how much juice you have left.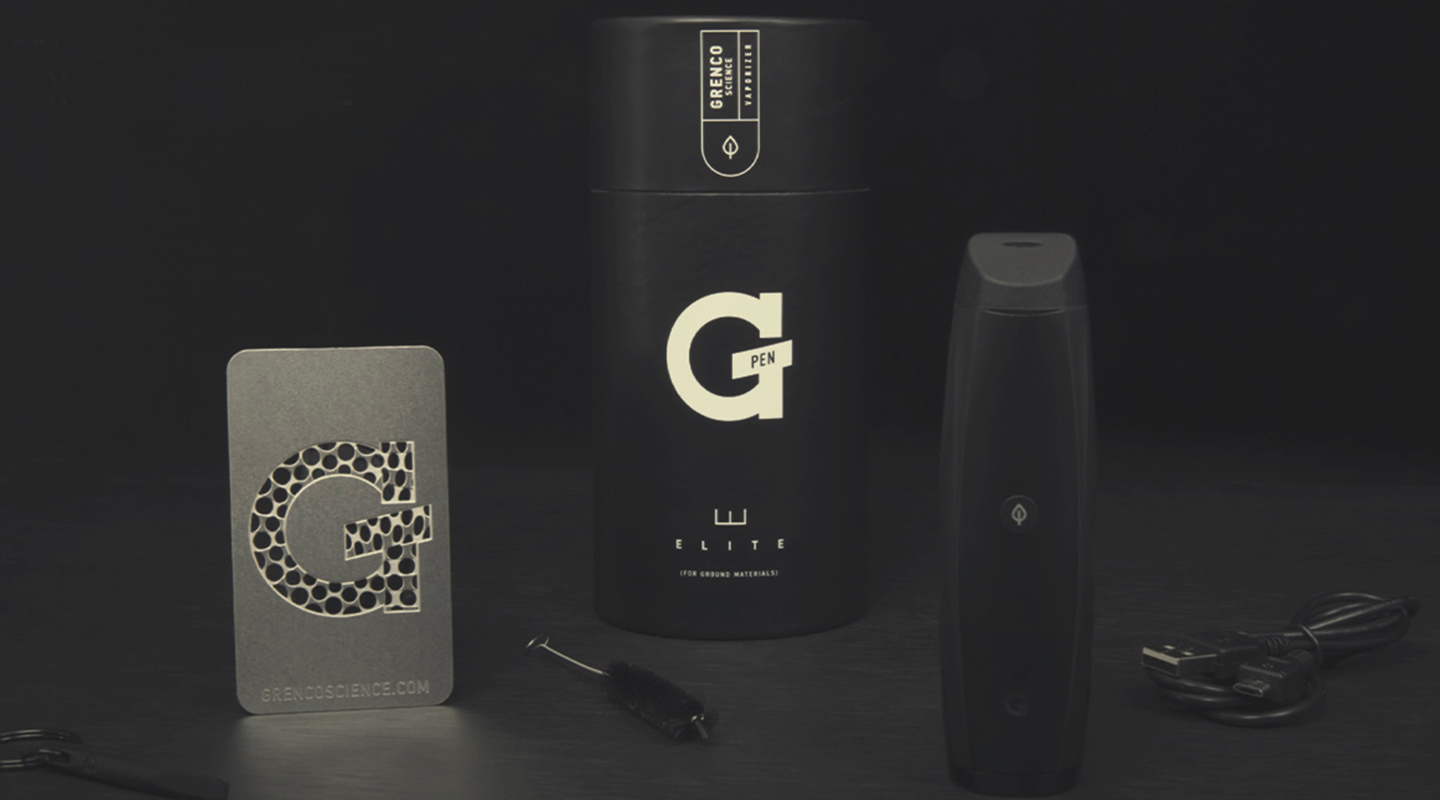 G Pen Elite Vaporiser Performance
The G Pen Elite performs extremely well and easily ranks among the best herb vaporisers on the market. A combination of portability, temperature flexibility, astounding vape quality, and impressive battery life makes her a great option for both beginner and experienced vape users.
How hot do you like to vape? The G Pen Elite gives you plenty of options! Use the selection buttons and LED screen to choose a temperature between 93–220°C. But why does heat matter? First, some vapers like a soft, gentle hit, whereas others prefer the satisfaction of a harsher inhalation.
Second, temperature greatly impacts what phytochemicals you end up vaporising. Some terpenes and cannabinoids evaporate at lower temps, whereas others require more heat. With this knowledge, you can play around with different settings, see how they affect you, and customise each hit.
After selecting your desired temperature, this model takes around 30 seconds to heat up fully.
Every hit tastes fantastic. The ceramic, coil-less 360° chamber heats evenly from all sides. This heating mechanism taps into the full potential of your dried herb and ensures you don't leave any targeted cannabinoids or terpenes behind! Enjoy a fresh and floral flavour with every inhalation.
How To Clean the G Pen Elite Vaporiser
Keeping your G Pen Elite clean will increase the lifespan of the device and keep every hit tasting fresh. Follow these simple directions to keep your piece squeaky clean:
Run the cleaning brush around the heating chamber. Remove any dislodged debris.
Dip a Q-tip in isopropyl alcohol and wipe down the inside of the heating chamber.
Turn on the device and heat it to the highest setting momentarily to evaporate any alcohol residue.
Remove the silicone cap and place the mouthpiece in soapy water for 30 minutes before rinsing and drying.
Who Should Buy the G Pen Elite Vaporiser?
Anyone who loves buds and travelling! The G Pen Elite serves as the perfect companion on the road. She's portable and sleek, and holds a lot of herb! Her quality materials and flexible heating make her attractive to any cannabis user that vapes regularly and likes the freedom to choose. Furthermore, her massive heating chamber makes her a fun option for group sessions.
Pros




The best aspects of the G Pen Elite vaporiser are:

Made from high-quality materials

Flexible heating options

Large heating chamber

Good battery life

Highly portable

Ergonomic design

30-second heat-up time

Cons




Some users may dislike the following about the G Pen Elite vaporiser:

Large heating chamber adds some bulk

Requires a good amount of herb to fill the chamber

Only compatible with dry herb
Pros




The best aspects of the G Pen Elite vaporiser are:

Made from high-quality materials

Flexible heating options

Large heating chamber

Good battery life

Highly portable

Ergonomic design

30-second heat-up time

Cons




Some users may dislike the following about the G Pen Elite vaporiser:

Large heating chamber adds some bulk

Requires a good amount of herb to fill the chamber

Only compatible with dry herb