Disjointed - The New Cannabis-Themed Netflix Series By Chuck Lorre
You've seen ads online and your friends have talked about it. Now it's your turn to see if "Disjointed" is really worth binging, or if you'll need an ounce of your favourite weed just to enjoy it.
By
---
The new Chuck Lorre sitcom "Disjointed" tells the story of cannabis dispensary owner Ruth Whitefeather Feldman. Portrayed by Academy Award-winning actress Kathy Bates, Ruth is a long-term cannabis activist living in today's legal California market. Turning her beliefs into actions, she opens her very own pot shop in Los Angeles. "Ruth's Alternative Caring" is the central setting where most of the show's events take place. Supporting characters are made up by dispensary staff and customers.
This multiple-camera sitcom brings together a current issue with an old-school setup. It looks like a very traditional sitcom that could've been filmed 30 years ago. This is a style that Netflix has adopted with other shows like "The Ranch" and "One Day at a Time." This format definitely stays true to the classic stoner stereotype and, whether you enjoy it or not, the series does not deviate much from classic pothead jokes about short-memory loss and the munchies.
THE CHARACTERS
At the onset of the show, Ruth's overachieving son Travis returns from business school to help his mother run the dispensary. There is a very interesting clash of opinions between these two characters. On the one hand, the proactive Travis is looking to implement innovative techniques to increase profit margins. Ruth, however, is a traditionalist stoner who is afraid that business growth means turning into "The Man."
The show then introduces another great contrast with the character of Carter. He plays a security guard suffering from PTSD after serving in Iraq. Although cannabis is commonly used to help people with PTSD, Carter has never smoked. We are also presented with three more characters; master grower Pete (who talks to his plants) is a loving character that adds a very needed hippie vibe. We also have Jenny, a Chinese girl who struggles with the idea of not telling her family she quit medical school to go work at Ruth's shop. The last staff member is Olivia who shares an interesting chemistry with Travis and has a pretty laid-back approach to life.
The show continues to usher in more characters that add to the story. There is the antagonist Tae Kwon Doug who owns a Taekwondo gym and hates sharing the strip mall with a dispensary. And then there are the customers. These include a mother who found excitement in life again with the help of cannabis, and two YouTubers who buy a lot of weed from Ruth. Dank and Dabby, the two internet sensations on the show, create an interesting subplot that a lot of viewers claim to be the best part of the show.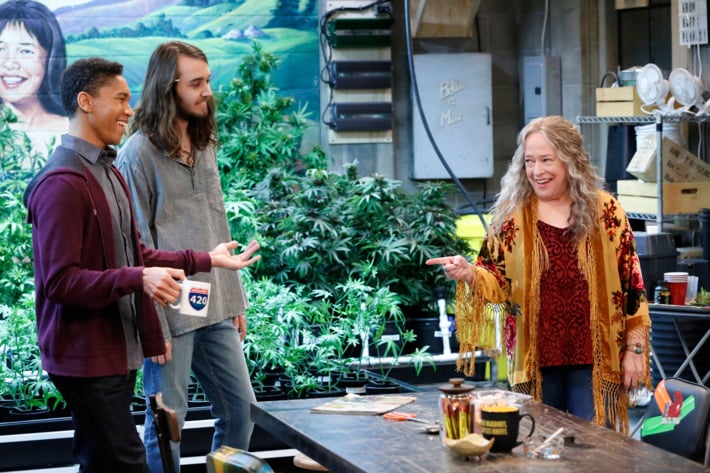 Disjointed. Photo: Robert Voets/Netflix
WHAT CRITICS AND THE PUBLIC HAVE TO SAY
In general, the reviews aren't all that positive. In fact, many are downright terrible. The general consensus is that the series fails to bring depth to the characters and the storyline to boot. The New York Times calls it "a mess of a comedy that doesn't feel as if it belongs anywhere." Although this might seem a bit harsh, Metacritic gave it a Metascore of 43 (out of 100) based on 22 critics.
Composed using a very simple pre-set, this show does not take too many risks. With a superficial plot, it fails to tackle deeper issues of cannabis consumption and industry. There are obvious issues that occur when running a cannabis dispensary; we would love to see the characters handle the volatile state of federal cannabis law in America. Instead, disjointed sticks to a more simple-minded humour.
But the public seems to have a slightly different opinion than critics. With a user score on Metacritic of 72 based on 79 ratings, people seem to have at least somewhat enjoyed the show. IMDb shows a score of 6.5, but that's with almost 4,000 reviews.
In general, we've found the show funny; not that we were rolling on the floor holding our stomachs in ecstatic pain. It did, however, provide some solid entertainment for a night of smoking. Although we might not take this first season for a second round, we'll probably watch the second.
HOW THE SHOW PORTRAYS CANNABIS
Even though this is a rather traditionally written show, it portrays cannabis in a very modern way. Indeed, the show even hired a cannabis consultant to help them be factually correct. The show does not, however, do the same justice for stoner culture. That's for sure.
Ruth's Alternative Caring sells cannabis flower, extracts, edibles, and all kinds of paraphernalia. This is extremely positive because it shows the viewer that cannabis is not just joints and bong rips. This series will help the novice understand that there are a ton of options out there. It will also reveal that vaping flower and/or extracts is a healthier option to try out. And with this, there are obvious advantages for the industry and disintegration of stigma.
With that said, the show fails to show the stoner as a functional and responsible adult. There are everyday people out there who simply choose to enhance his/her life with cannabis. This show is by no means a deep character study of the modern consumer. Even Travis (Ruth's son), who is supposed to be "the responsible character," still forgets his duties because he's smoking or too high. It's easy to see how this approach will probably be more profitable and lead to obvious responses from audiences. It just saddens us to see a show that could change so much doing so little. Hopefully, with the creation of new seasons, this will change. But for now, it's what we have.
WHAT THIS MEANS FOR THE INDUSTRY
Ultimately, the show fails to live up to its hype of being a groundbreaking representation of cannabis in the media. However, to say it is not impactful isn't completely true. It just isn't as good as it could have been. But it's impossible not to see how a cannabis-themed series by the creator of such mainstream shows like "Big Bang Theory," "Two and a Half Men," and "Mike & Molly" will affect the industry.
This is a great step toward making cannabis a friendlier, "mainstream" substance that doesn't encourage ire from opposed parties. Spreading information to the uninformed public is always good. And unfortunately, in today's society, television is one of the most effective ways of doing so.
Accepting the reality for what it is, Disjointed will help shine a light on the cannabis community and reduce the stoner stigma. Even if this show may not revolutionise the way viewers look at consumers, it will at least provide an updated perspective on cannabis and its many benefits and applications. All we can do as stoners is watch, share, and constructively criticise shows like this so that better content can be created in the future. We'll just have to wait and see what that brings.