The Motley Crew Of Countries That Use Most Cannabis
Who are the top cannabis users? How much cannabis is smoked in any single nation and across the world? Official data tell us, that a big amount of money is burned every day.
By
---
Even the most recent official picture of cannabis consume in any single nation and across the world is telling us that the repressive drug strategy has failed to prevent people from using and dealing with THC and other psychoactive substances. Who is consuming more cannabis? Which country has the largest percentage of smokers? And how much worth of cannabis flowers and extracts are burned these last years? A lot.
CANNABIS USE IS A WORLDWIDE NEED
Towards the end of any given year, local and international agencies release figures on drugs usage, petty crimes, unemployment rates, fake inflation data, and everything we need to know to be good and informed citizens. The use of any kind of legal or illegal psychotropic substance is in constant increase since decades in almost all countries. Cannabis use is booming both as a medicine, a spiritual aid, and a substitute for more dangerous substances. Funny enough, there is no strict relation between local laws and cannabis consume. People use cannabis all around the world, no matter the law.
The authoritative United Nation Office on Drugs and Crime just published some updated figures on cannabis usage across the world. A lot of caution should be exercised when reading these numbers, as they come from different research methodologies and local agencies. That's why we prefer to aggregate these indications to sketch a big picture instead of compiling a Top 10 playlist. The winner is Iceland, anyway. Not those potheads you were thinking about.
THE LEADERS
The whole World Drug Report 2016 is available at the UNODC website. Data from UNODC show Iceland is one of the countries with the highest rate of cannabis users. The reason is unclear, or it may be because beer was made legal 25 years ago and alcoholic drinks are very expensive. Figures suggest that 18,3% of Iceland's population aged 15-64 uses cannabis. Almost one smoker on five adult persons is not a bad result at all, yet a small African nation sports a higher percentage, with 21,5% of smokers, or 5.8 million people. Ghana is the sixth biggest consumer of tolerated cannabis in the world, and it ranks second in percentage on citizens. In Ghana cannabis is illegal almost as much as in France, where all governments always enforced harsh penalties for cannabis possession. Despite that, more than 11% of French people use cannabis, equivalent to 6 million pot smokers. These guys are some of the top consumers in Europe, and ranking seventh in the world as a number of individual contributors. Voilà.

Spain is instead one of the leading examples of drug policy reform, pursuing a model of decriminalization instead of punishment and imprisonment. In Spain it is not legal to grow cannabis for personal use, and also the cannabis clubs experiment is still living in a legal grey area. Despite the formal legal status, personal and associated cannabis use is much tolerated, and some patients had the authorities turning a blind eye on their medical cannabis cultivation. Official data indicates 10,6% of Spaniards using cannabis. Nobody believes that, and some put the figure as high as 25%, easily topping Ghana's results. Spain keeps following the normalization way: Another big city is regulating cannabis, and the whole country is about to draw a special law to enable cannabis clubs to operate legitimately.
Similar policies can lead to different aftermath, as Holland only ranks around the twentieth place in the world. In USA, medical cannabis is legal in more than 20 States for a wide array of conditions. Recreational use is legal in four states, and this number is increasing within the next months or years. The percentage of users might be 14% or 16%, lower than Zambia, which already reaches 17,7%. Americans came out with all their love for smoking, eating and spreading cannabis derivatives. That passion translates into almost 44 million users. Looking at the absolute figure, this is obviously the country with the largest number of stoners.
THE FOLLOWERS
Within the group of nations claiming that more or less than 15% of their citizens use cannabis we find Nigeria with 14.3% of users. Same percentage as Italy, which is Europe's largest consumer of cannabis. Possession of small quantities is decriminalized, and commerce is fully criminalized, resulting in 14.6% of Italians smoking cannabis, or 8.9 million people. Italy places fourth in the world as a number of consumers. New Zealand has around the same percentage of stoners as Italy, while Canada stops at just 12% users. Here the government issues licences for medical and industrial use, and recreational cannabis is much tolerated. Australia has 10,2% users, much more than Jamaica, with just 7,2% of the population, believe it or not.
THE PRODUCERS AND THE FINAL 2016 TOP LIST
Some producers don't consume their goods, some do. It seems that Pakistan only has 3,9% of consumers, not too many, yet equivalent to 7,6 million smokers, or #5 in the world. Also, only 6,2% of 88 million Egyptians are cannabis users, which means more than 5,4 million smokers, ranking #8 in the world. In these countries cannabis is illegal as much as in India, where it is openly consumed in many regions. Only 3,2% of Indians use cannabis, but this figure refers to more than 1,2 billion people, equating to 38,5 million users. Albania is not even in the Top 30 list of smoking nations, yet the country is a theatre of a bloody war on cannabis.
Let's finally recap with one of the many possible Top 30 smoking nations list, according to the official UNODC data on the percentage of the total adult population.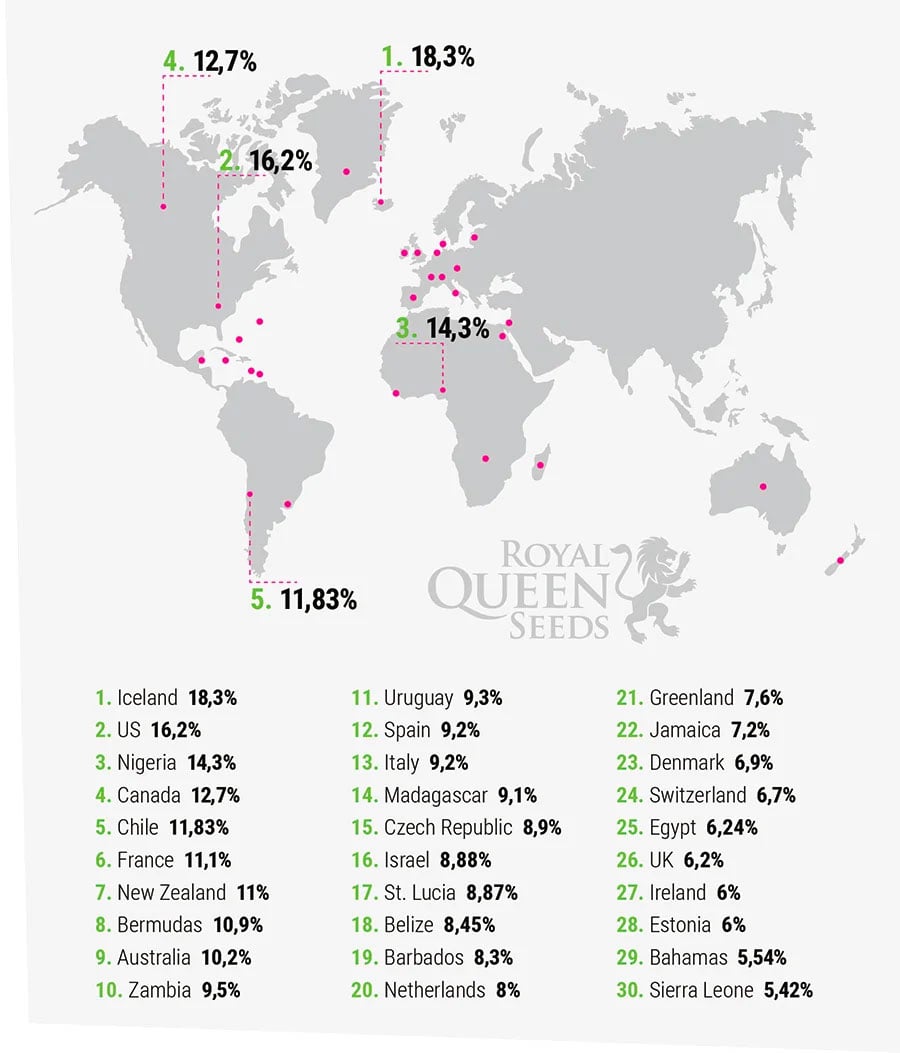 THE MEANING
In these reports about cannabis use we see a funny crew of cross-national, cross-cultural people joined together by some common pharmacological need. Looking at these figures we can easily guess that 10% of world population consumes cannabis, or is willing to consume it, was the herb more easily available. This number of patients is constantly increasing, and it could mean 500 millions of individuals who consume 1 gram of cannabis a day at an average price of 10 Euro a gram. This could mean 50 billions of Euros burned every day, or more than 18.000 billions of euro each year, if you prefer. That amount of money is equivalent to the Gross Domestic Production of the whole European Union. This is what these worldwide figures ultimately mean if cannabis growing for personal or associated use won't be fully legalized.