Pineapple Express Strain: A Scrumptious, Energising Sativa
Created by crossing Trainwreck and Hawaiian, Pineapple Express inherited plenty of loveable traits. Known to every cannabis aficionado because of the stoner action comedy of the same title, it's been popular ever since the movie was released, and is still going strong. Full of dynamic aromas and flavours, it's perfect for daytime toking.
---
Every toker the world over has heard of Pineapple Express, due to the 2008 comedy film of the same name. The strain rose to fame with the movie, but it remained popular because it has a lot to offer to both cannabis aficionados and growers. Sounding and tasting delicious, this plant is all about happy vibes. Discover its genetics, growing traits, and much more.
---
The Origins of Pineapple Express
Pineapple Express is a sativa-dominant hybrid derived from Trainwreck and Hawaiian. Trainwreck boasts genes from Mexico, Thailand, and Afghanistan, while Hawaiian is a tropical beauty that was used to create the mighty Amnesia Haze. Together, these varieties created a well-rounded plant that ticks many boxes.
Surprisingly, the name Pineapple Express stems from a meteorological phenomenon observed along the Pacific coast of North America. It's an atmospheric river that transports vapor and causes heavy rains or snowfall. However, when you hear the name of this cannabis strain, you are sure to think of the action comedy starring Seth Rogen and James Franco. Which came first, the strain or the movie? Seth Rogen, who also co-wrote the script of Pineapple Express, claims that "There was no Pineapple Express weed before the movie". And while this may or may not be true, the film definitely helped the cannabis variety climb to the top.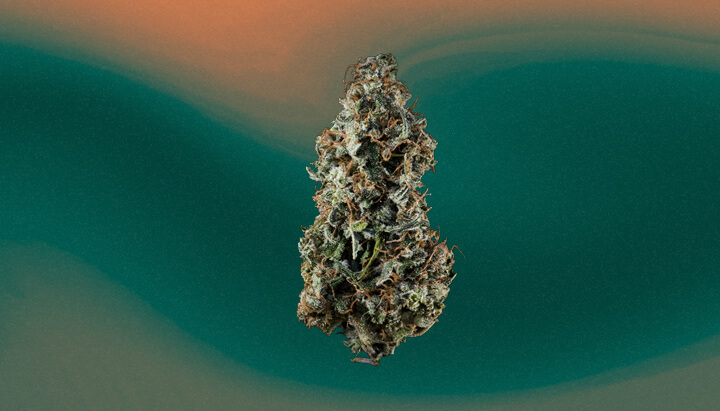 Why Is the Pineapple Express Strain So Popular?
There are a number of factors that contribute to the popularity of Pineapple Express. First of all, few cannabis strains have received as much attention and screen time as this one. What's more, Pineapple Express also boasts many desirable traits that allow it to stand on its own two feet, apart from its celebrity origins.
A highly fragrant variety, many users enjoy the unusual flavours and aromas of this specimen, as well as its happy effects. Growers also appreciate the satisfying yields and uncomplicated nature of the plant.
How Does Pineapple Express Make You Feel?
Cannabis users love Pineapple Express because of the physical and cerebral buzz it produces. At 18–21% THC, effects are pronounced and fast-hitting. This variety is sure to lift you up, and is the perfect choice for any time of the day, really. A couple of tokes and you will feel alert and creative, ready to take on any task at hand. If you need some inspiration for artistic projects or an extra kick of energy and focus to finish a piece of work, Pineapple Express will have your back. Users report feeling at ease and free of tension and worry.
On the other hand, Pineapple Express is a great strain for sharing with friends and like-minded herb enthusiasts. As it will make you happy and sociable, you may feel compelled to engage in some interesting conversations or just joke around and have fun. Perhaps you'll even make some new friends.
Terpenes in Pineapple Express
Extremely aromatic, Pineapple Express contains an array of terpenes that are responsible for its fragrance, flavour, and—to some degree—effects. The most prominent terps are:
Myrcene: As the most abundant terpene in most cannabis strains, high concentrations of myrcene are indeed found in Pineapple Express. Besides your favourite herb, myrcene can also be found in hops, giving beer its peppery, spicy notes. It gives marijuana an herbal, earthy, and clove-like aroma.
Caryophyllene: With a spicy flavour and aroma, this terpene is found in black pepper and various herbs. It differs from other terpenes in that it binds directly to the CB2 receptor.
Pinene: This terpene is largely responsible for the fragrance of pine trees, and for the complex aroma of Pineapple Express. It's also present in rosemary, sage, and Skunk cannabis strains, among other plants.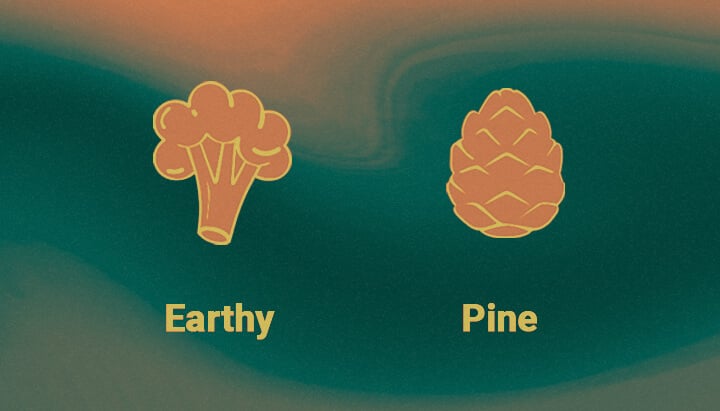 Aromas and Flavours of Pineapple Express
Now that we know which terpenes are most abundant in Pineapple Express, we can have a look at its aromas and flavours. The complex blend contains woody, spicy notes accompanied by pine and a distinct pineapple flavour on the exhale. Despite the presence of the pineapple, smoking this strain is not a very sweet experience, but rather citrusy and earthy, with a tropical twist.
This flavour profile can work very well in edibles, complementing sweet treats like cookies or brownies. Infuse flowers into oil or butter, and you are ready to experiment in the kitchen.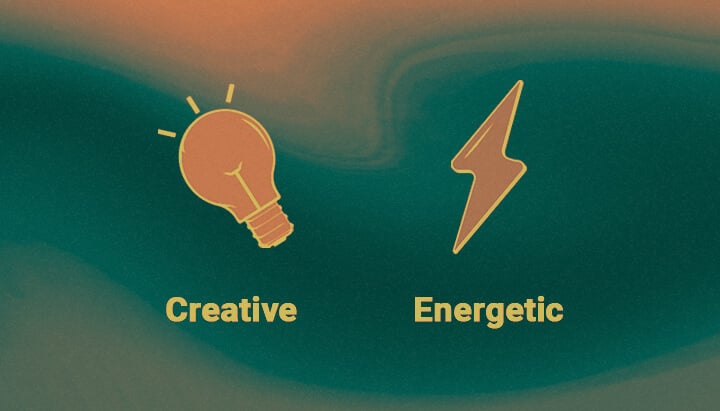 Growing Pineapple Express
Growers will be happy to learn that this plant is not particularly difficult to look after, and it can be successfully grown both indoors and outdoors, even in hot climates. When cultivating out in the elements, protect your plants from heavy winds, and you will be able to achieve good results. Inside, make sure you use lights that are at least 600W.
Pineapple Express produces rather tall specimens and good returns, particularly if growers choose to employ super cropping. This helps the plants to produce a dense, light green canopy. Purple hues have been observed in some plants, so you can expect some fun colouring toward the end of flowering. Flowering takes 7–9 weeks, so your patience won't be tested too much.
RQS Cannabis Varieties Related to Pineapple Express
A true sign that a strain is special is when breeders use its genetics to produce other varieties. Pineapple Express has influenced a wide variety of strains, including Pineapple Kush.
This 80% indica variety combines Pineapple genetics with OG Kush to create a potent, heavy-yielding specimen with citrusy and diesel-like flavours. Drawing upon these influences, Pineapple Kush delivers an uber-relaxing, but also creatively stimulating, effect.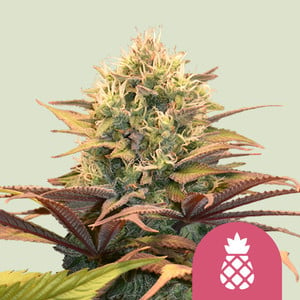 | | |
| --- | --- |
| | Pineapple x O.G. Kush |
| | 500 - 550 gr/m2 |
| | 70 - 120 cm |
| | 8 - 9 weeks |
| | THC: 18% |
| | |
| --- | --- |
| | Sativa 20% Indica 80% |
| | 500 - 550 gr/plant |
| | 120 - 180 cm |
| | Late September |
| | Calming, Laughter |
Pineapple Express: A Strain That Needs No Introduction
Given its celebrity status, Pineapple Express has a lot to live up to—and thankfully, it does! High THC levels, moreish terps, and upbeat, clear-headed effects are always in demand, and so are ease of growth and good yields. Pineapple Express delivers all that and more, so there's little wonder why it has long outlasted its 15 minutes of fame!