How To Grow Cannabis Outdoors In Germany, Month By Month
Cannabis has been illegal in Germany for a while, but things are changing. The government has started growing and providing medical marijuana, and the system they have in place is a shining example for other medical programmes. If you want to grow within this region, though, you'll need to learn how to work with the German climate.
By
---
Everything you need to know about growing cannabis in Germany, month by month, this 2022.
Contents:
Unless you've lived under several rocks, you likely know that the cannabis market in Europe has reached new heights in recent years.
As with growing in any region, though, there are different legal issues, weather patterns, and other factors to consider before you can start.
In this blog, we'll be discussing how you can successfully grow your crop in Germany.
GROWING CANNABIS IN GERMANY IN 2022
Like anywhere else in Europe, you'll find a diverse range of mild and challenging climates in Germany. Whether you're way up on the coast in Schleswig-Holstein or in the heart of Bavaria, you'll still be able to grow a successful crop.
However, there's a lot more to consider than the weather when you want to grow cannabis in Germany.
IS WEED LEGAL IN GERMANY?
Before we can start talking about how to grow cannabis in Germany, we have to discuss whether it's legal. So... is it? Well, yes and no. Speaking recreationally, cannabis is still illegal, but it's classified as an Anlage III substance.
This classification just means it's not too dangerous to prescribe. Drugs like cocaine, however, are Anlage II, restricting prescription, and heroin autumns under Anlage I, restricting all distribution.
However, there's a certain loophole in the law thanks to three simple words: "a small amount". What are we on about, you wonder? Turns out, according to the 1992 reform of the Narcotic Drugs Act, someone possessing only a small amount of cannabis can avoid prosecution.
Getting more specific, this applies to anyone who only grows, produces, transports, imports/exports, or otherwise obtains enough for personal use. This wording, thankfully, has helped slowly ease Germany towards legalization.
The biggest sign of this is the fact that medical cannabis has been legal in Germany since 2017. Things started slow, with only 1,000 specially permitted patients before the law.
Even with hurdles in the way, there were 142,000 prescriptions written in 2018 alone, and demand is only going up. By 2023, the International Cannabis Business Conference estimates that Germany will become the biggest medical cannabis market in Europe.
This is exciting, of course, but we have to consider that there have already been issues with shortages. More international companies are being permitted to import into Germany, but their product is more expensive and relies on extensive trade.
A GUIDE ON GROWING CANNABIS OUTDOORS IN GERMANY
While Germany has many environments within its borders, we'll be focusing on the coast, the north-east, the west, and the south today.
There are unique advantages and disadvantages to growing in each region, whether it's the weather patterns, sunlight, or pests in the area.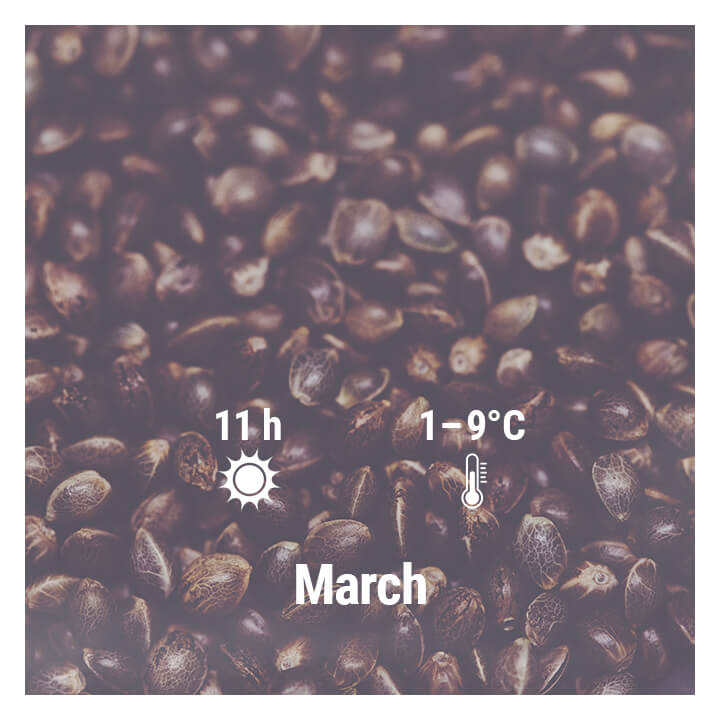 MARCH
Daylength March 1st: 10 hours, 54 minutes
AVG. temperature: 1–9°C
As spring creeps in, preparations can begin for the growing season.
Whichever region you're in, you should start germinating your seeds by the beginning of the month. Feel free to begin preparing your outdoor grow area if it's warm enough, especially if you're in the west or warmer parts of the north-east.
Those near the coast or Bavaria, however, should keep an eye out for inclement weather. Regardless, you don't have to worry about getting plants outside immediately. Instead, you can take advantage of the longer days and slightly warmer temperatures by doing some windowsill growing.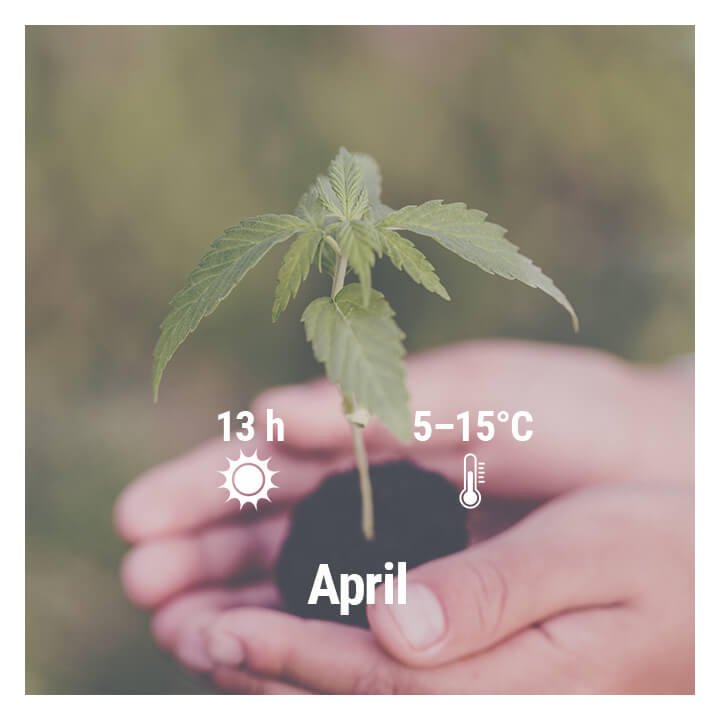 APRIL
Daylength April 1st: 13 hours, 1 minute
AVG. temperature: 5–15°C
With the sun coming out longer and heating things up, the growing season officially begins.
If you're in a warmer area like Frankfurt on the Main or Dusseldorf in the north-east, you may have the chance to plant directly in the ground outside (assuming you've fertilised and dug out a bed).
You also have the option of planting them in large pots, which will give you the ability to move them inside in case of poor weather.
Otherwise, if you want to play it safe, you can erect a greenhouse and set your plants up in there. Although it'll limit your space, you'll be able to maintain a constant temperature and humidity level, while also protecting your plants from the elements.
Besides that, those in places with less sunlight, like Hamburg, may also choose a greenhouse with artificial lights to make sure plants get as much as they need.
Besides that, make sure you're regularly weeding your garden beds (if applicable) and keeping an eye out for any pests. A helpful tip: Grow some floriferous plants in the surrounding area to attract bugs that eat cannabis pests.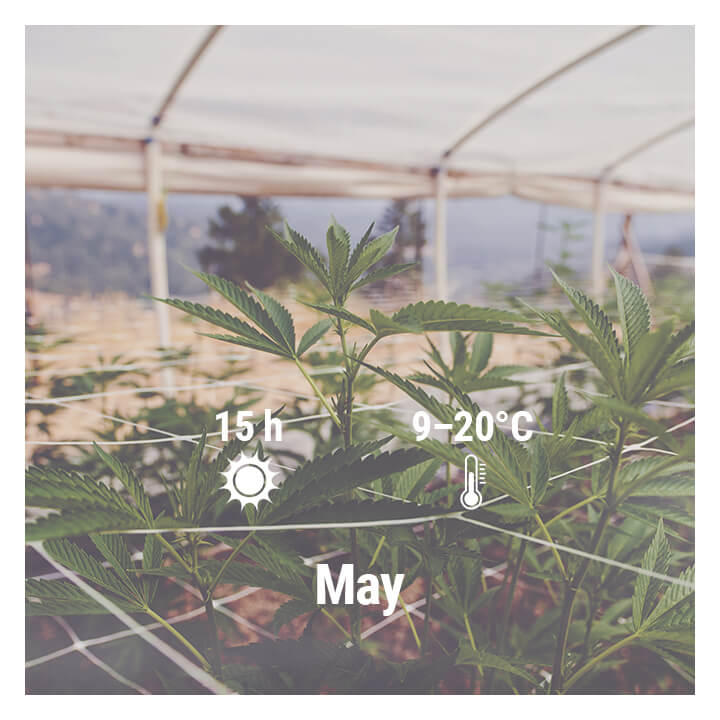 MAY
Daylength May 1st: 14 hours, 59 minutes
AVG. temperature: 9–20°C
As the temperature begins to kick up, your goal is to make sure your plants are happily settled. Keep them consistently watered, noting that plants grown in rainy conditions in Lower Saxony and nearby areas won't need as much.
Those using greenhouses in the sunnier western and north-east regions will have a different factor to monitor—heat. Since outdoor temperatures of 17ºC (63ºF) and above can make greenhouses extra warm, opening windows and vents is highly recommended.
Besides monitoring weather conditions, damage prevention is the name of the game. Keep pulling out weeds that soak up the soil's nutrients, keep an eye out for pests, and start looking out for wildlife if you're in a rural area. Even a simple fence around the grow area can prevent an unwitting red fox or wild boar from ruining your plants.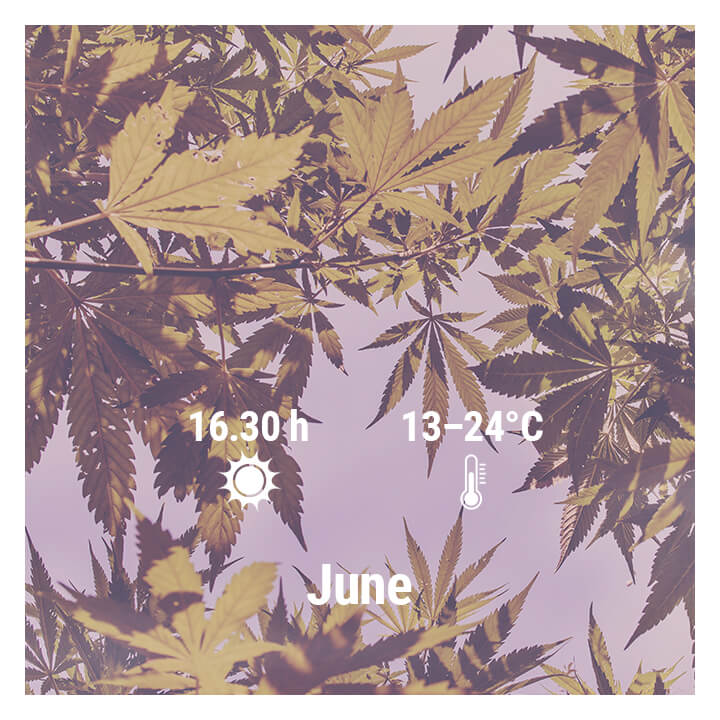 JUNE
Daylength June 1st: 16 hours, 31 minutes
AVG. temperature: 13–24°C
Summertime! You know what that means: Beach days, music festivals—no we're just kidding, it means you get to watch your plants grow faster! This is thanks to the increased daylight (summer solstice is the 21st) and warmer weather, along with your caring hand.
You should also make sure you have a support system in place for larger plants.
If you're trying to be discreet, however, or have limited space, you've got some work to do here as well. Specifically, you should start low-stress training to keep your plants close to the ground.
Also note that rainfall increases throughout Germany during the summer, so make sure you strike a healthy balance between that and the heat.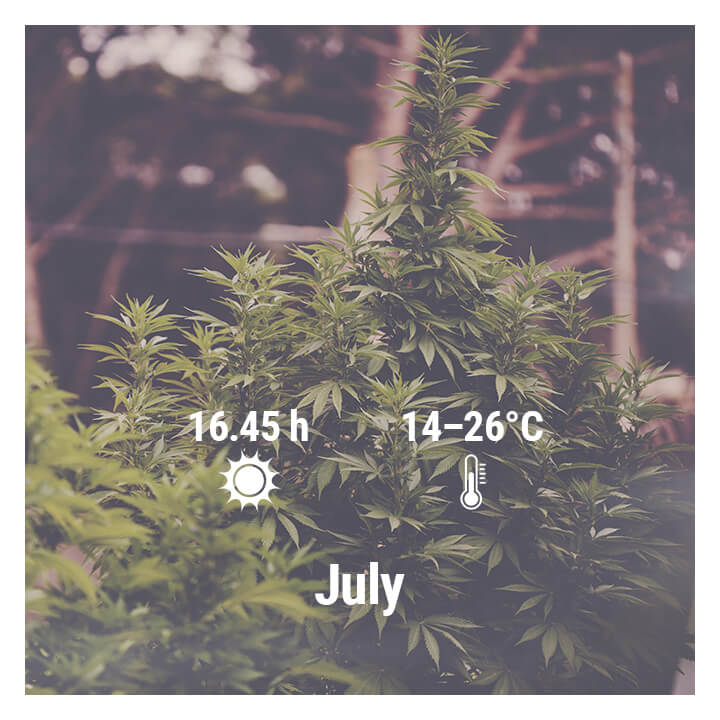 JULY
Daylength July 1st: 16 hours, 44 minutes
AVG. temperature: 14–26°C
In the paraphrased words of the American poet Nelly, "It's gettin' hot out here". In fact, no matter where you are, it's the hottest month of the year, with temperatures ranging from 22ºC (72ºF) in Hamburg to a toasty 26°C (79°F) in Frankfurt on the Main.
With that, and the still-long days, your main concern will be making sure the soil stays hydrated. Even with rainfall still being high, actually peaking in Frankfurt with 44mm on average, things can get dry in the matter of a day.
If you haven't already, instal an irrigation system to take a lot of the work off your hands. That way, your only job is to maintain the irrigation system itself.
At this stage, your other main concern is sexing, if you're growing regular seeds. Look for signs of pollen sacs starting to form around the nodes.
If you don't know already, removing the males on sight is vital to keeping the yield and potency of the females high. If left where they are, they'll pollinate the females later on and cause them to produce seeds. Unless you're looking to get seeds, this is far from ideal.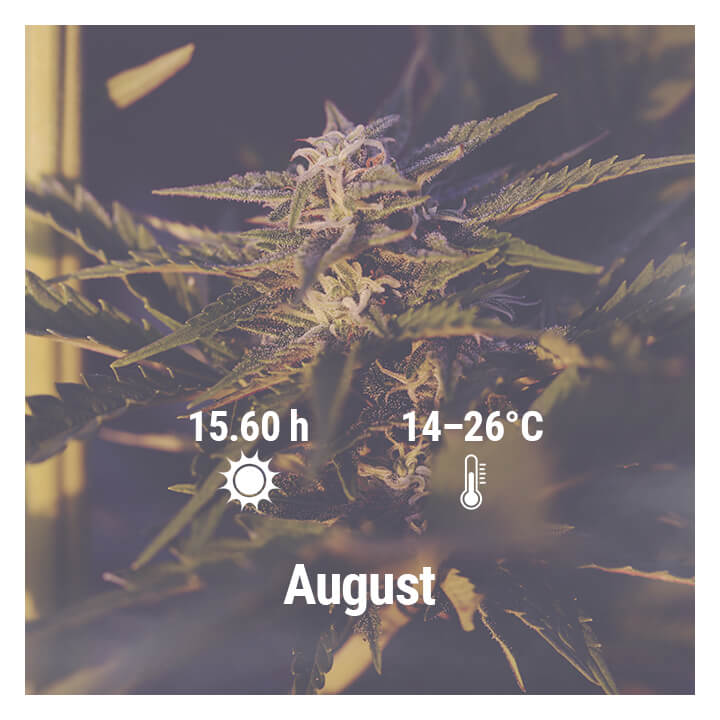 AUGUST
Daylength August 1st: 15 hours, 31 minutes
AVG. temperature: 14–26°C
Going into August, plants register the decrease in daylight hours, and growers raising photoperiod strains get to see something beautiful. This, of course, is the flowering phase.
Since your plants will be fully stretching out in the first couple of weeks, now is the time to defoliate and prune them—if you haven't already. Rather than discretion, though, the point of this maintenance is to make sure all the buds get some decent sunlight.
Keep up a regular watering routine as well, since heatwaves around this time aren't unheard of. Again, an irrigation system could save you a lot of hassle during this time of year.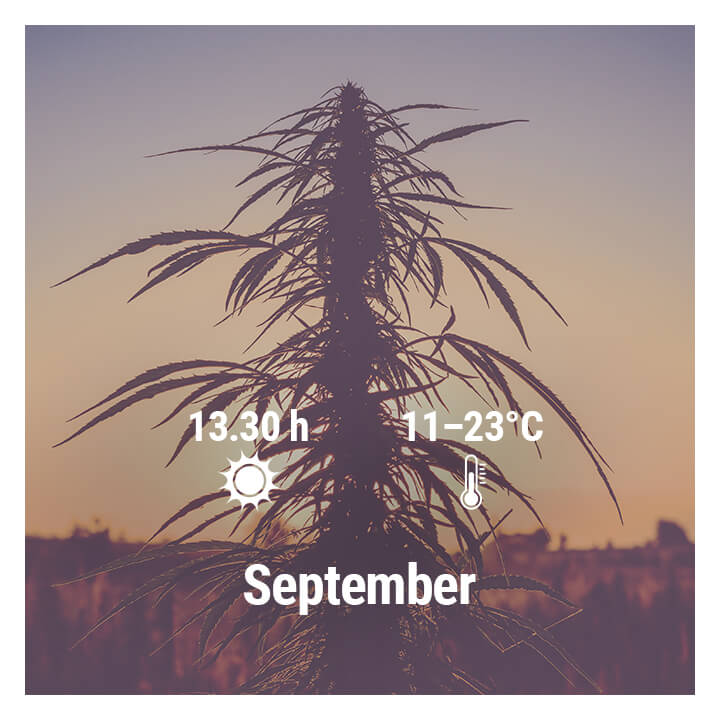 SEPTEMBER
Daylength September 1st: 13 hours, 36 minutes
AVG. temperature: 11–23°C
As summer begins to transition into autumn, the flowers of your plants will get larger and larger thanks to increased production of pistils and trichomes.
With bigger flowers, of course, come pungent smells, and the fragrance of your plants will start to fill the air.
Don't get too distracted by the smell, however, as you'll need to make sure your plants have shelter when the rain comes. Rainfall won't be as severe as it was during the summer, but make sure your plants are in a greenhouse or under a tarpaulin when it comes.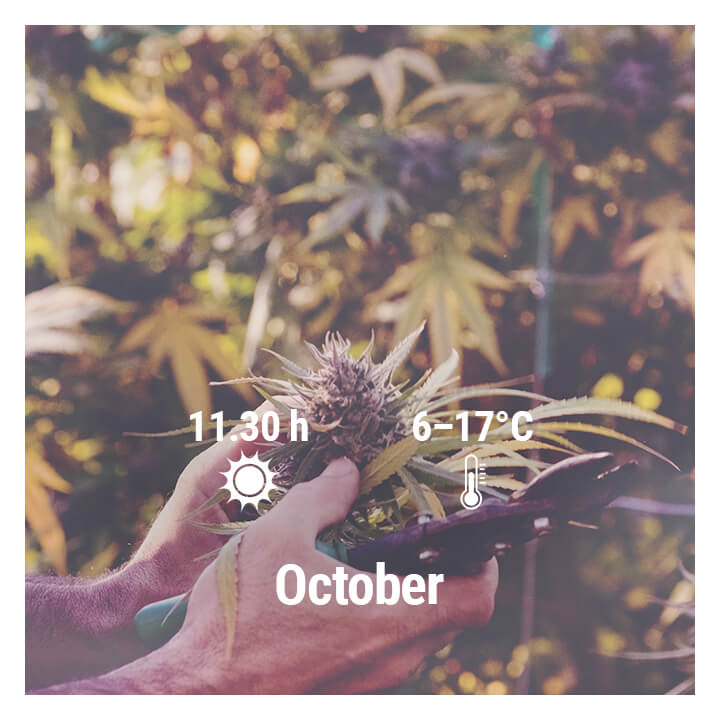 OCTOBER
Daylength October 1st: 11 hours, 35 minutes
AVG. temperature: 6–17°C
Autumn has officially arrived, and you'll soon see the finish line after months of hard work.
Rainfall becomes even less frequent around this time, but root rot and overwatering can still be an issue. If you've still got some sunlight and warmth where you are, feel free to let your plants grow a bit longer to max out your yield.
If rainfall is more frequent in your area, though, choose a strain that will flower soon and go ahead harvesting, drying, and curing your crop.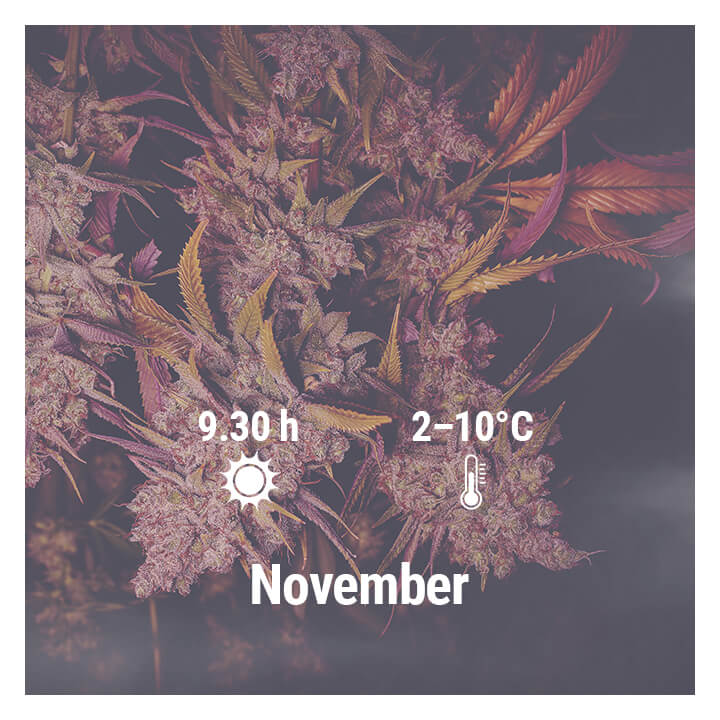 NOVEMBER
Daylength November 1st: 9 hours, 33 minutes
AVG. temperature: 2–10°C
The growing season comes to a close in November, and anyone who hasn't already should begin harvesting.
Since no more growing can be done, your only responsibilities in the garden are clearing leaves, preemptive pest control, and burning any debris that can't be used as compost. After you've dried and cured your cannabis, you can finally enjoy the product of your labour.
PROS AND CONS OF GROWING CANNABIS IN GERMANY
Boiling it down, Germany has a lot going for it as far as a cannabis-growing country. For one, the temperatures are manageable, if not perfectly mild, in most regions.
Going along with that, the fact that rainfall decreases as autumn approaches removes a lot of stress from the process. However, the colder early spring makes the beginning a challenge, and the fact that rainfall peaks during the summer is a notable issue.
Besides the weather, legality is still a big question mark, and it's unclear when the government will start allowing for mass domestic cultivation.
Still, undoubtedly one of the advantages of growing weed in Germany—as opposed to other countries in Europe—is that there is already a medical cannabis programme in place.
Moreover, developments in one major EU nation are bound to trigger others to follow suit. Only time will tell.
TOP 3 RQS STRAINS RECOMMENDED FOR OUTDOOR GROWING IN GERMANY
In general, it's wise to pick robust hybrids when growing outdoors in Germany—either photoperiod or autoflowering. There simply isn't enough time to crop towering sativas in this region.
In fact, those growing further up north should select indica-dominant strains in order to harvest before the cold and rain of autumn set in.
To cap things off, we wanted to recommend some strains that are built to handle climates like Germany's.
While you might already know Northern Light is a classic strain, you might not have known that it's especially mould-resistant.
Given the heavy rainfall during German summers, this is an essential trait. On top of that, this indica boasts 18% THC, a fruity taste, and a relaxing, euphoric high. It will grow to 180–220cm outdoors and produce around 625g/plant.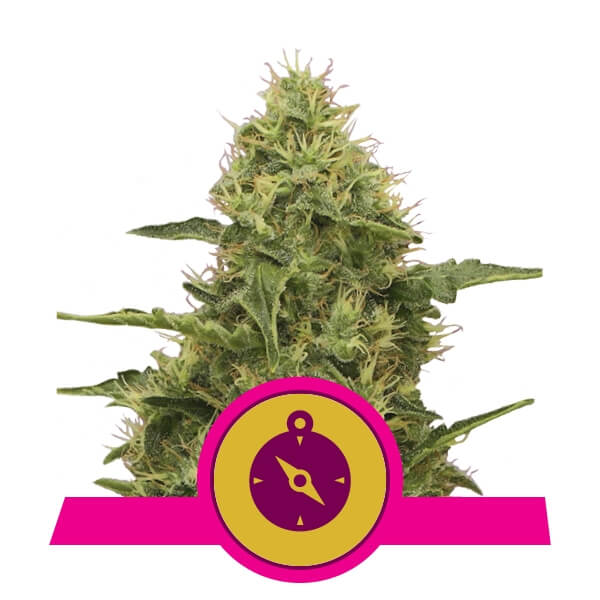 Northern Light
Northern Light S1
500 - 550 gr/m2
100 - 160 cm
7 - 8 weeks
THC: 18% (aprox.) / CBD: Medium
| | |
| --- | --- |
| | 0% Sativa, 100% Indica, 0% Ruderalis |
| | 575 - 625 g/per plant (dried) |
| | 180 - 220 cm |
| | Late September |
| | A combination of stoned + high |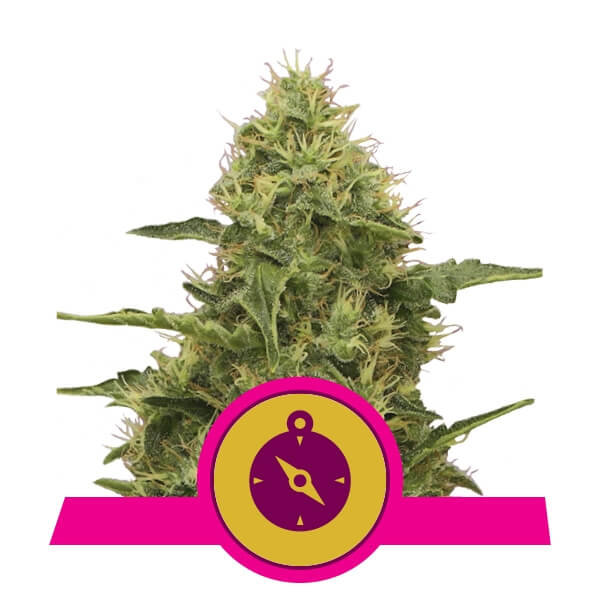 | | |
| --- | --- |
| | Northern Light S1 |
| | 500 - 550 gr/m2 |
| | 100 - 160 cm |
| | 7 - 8 weeks |
| | THC: 18% (aprox.) / CBD: Medium |
| | |
| --- | --- |
| | 0% Sativa, 100% Indica, 0% Ruderalis |
| | 575 - 625 g/per plant (dried) |
| | 180 - 220 cm |
| | Late September |
| | A combination of stoned + high |
If you're in a colder part of the country, you can count on White Widow to treat you right.
This perfectly balanced hybrid is comfortable in the north, and a warm, happy high will greet you once you spark up these 19% THC nugs. Expect it to reach up to 190cm by harvest time, leaving you with up to 600g/plant.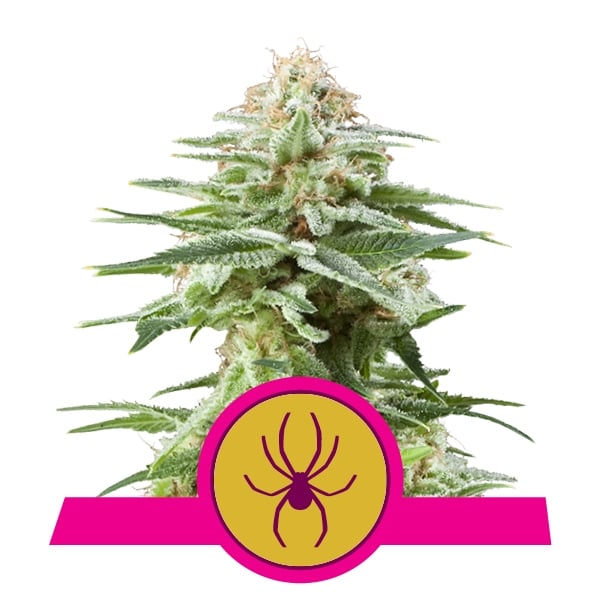 White Widow
White Widow S1
450 - 500 gr/m2
60 - 100 cm
8 - 9 weeks
THC: 19% (aprox.) / CBD: Medium
| | |
| --- | --- |
| | 50% Sativa, 50% Indica, 0% Ruderalis |
| | 550 - 600 g/per plant (dried) |
| | 150 - 190 cm |
| | Late October |
| | Extremely stoned |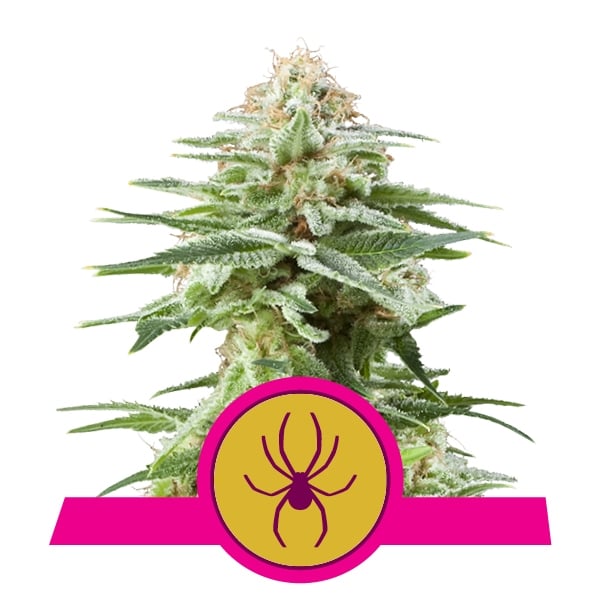 | | |
| --- | --- |
| | White Widow S1 |
| | 450 - 500 gr/m2 |
| | 60 - 100 cm |
| | 8 - 9 weeks |
| | THC: 19% (aprox.) / CBD: Low |
| | |
| --- | --- |
| | 50% Sativa, 50% Indica, 0% Ruderalis |
| | 550 - 600 g/per plant (dried) |
| | 150 - 190 cm |
| | Late October |
| | Extremely stoned |
Lastly, we'd like to acknowledge one of White Widow's descendants, Royal Moby. A combination of White Widow and Haze, Royal Moby does her parents proud by staying potent and kicking mould to the curb.
Royal Moby gives you the regal treatment with 21% THC, and its sativa-heavy genetic makeup means you'll be extra cheery and alert.
And in case you were wondering, this strain is named after the fictional whale, created by the author Herman Melville. Why? Well, it towers over virtually any other strain, clocking in at 3.5m and gifting its grower 700g/plant.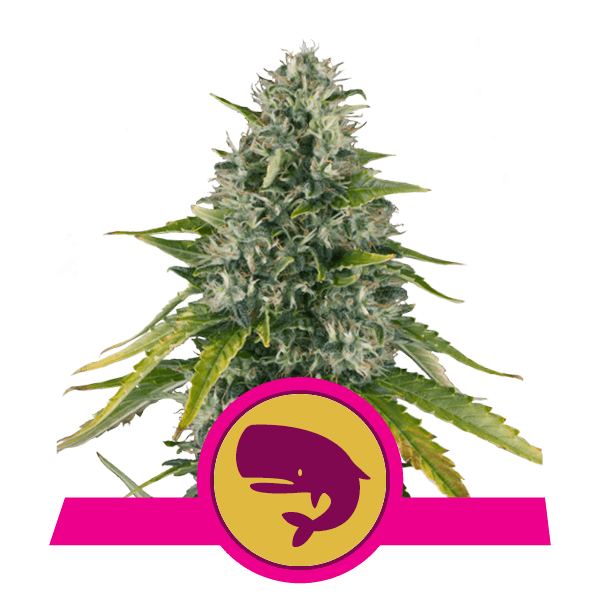 Royal Moby
Haze x White Widow
550 - 600 g/m2
80 - 140 cm
9 - 10 weeks
THC: 21% (aprox.) / CBD: Low
| | |
| --- | --- |
| | 65% Sativa, 35% Indica |
| | 650 - 700 g/per plant (dried) |
| | 200 - 300 cm |
| | Late October |
| | A combination of stoned + high |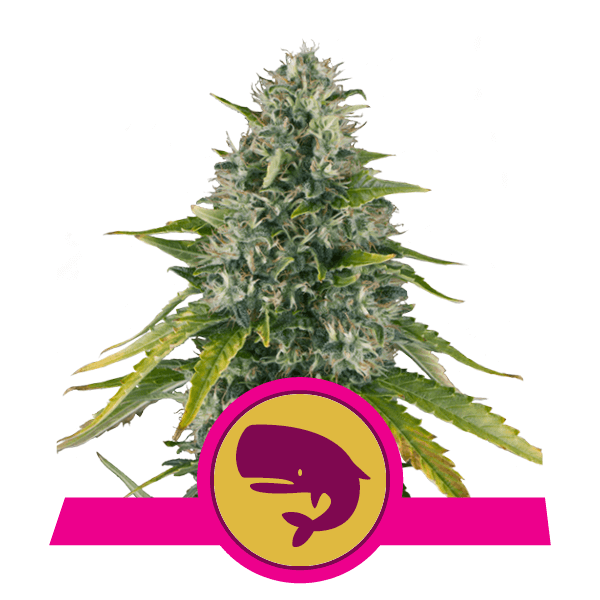 | | |
| --- | --- |
| | Haze x White Widow |
| | 500 - 550 g/m2 |
| | 80 - 140 cm |
| | 9 - 10 weeks |
| | THC: 21% (aprox.) / CBD: Low |
| | |
| --- | --- |
| | 65% Sativa, 35% Indica |
| | 500 - 550 g/per plant (dried) |
| | 200 - 300 cm |
| | Late October |
| | A combination of stoned + high |
IN CONCLUSION
The fate of cannabis in Germany is unclear in some aspects, but it's not all a mystery. We know it's become more popular, and we know it will continue to do so.
We also know that this means more cannabis will need to be grown, which means international suppliers aren't going to cut it much longer (many would argue they already don't).
All things considered, we'll likely see a rise in German growers soon enough.
There's only one more question from there: Will you be one of them?