How To Get A Medical Marijuana Card In The United States
As of 2019, 33 US States have legalized some form of medical marijuana. Each individual state has a different legal framework governing medical marijuana. As such, it is important to be aware of all local marijuana rules, regulations, and requirements before you can obtain a card and purchase medical marijuana.
By
---
Despite the fact that it remains illegal at the federal level, medical marijuana is now legal in 33 US states, and Washington D.C. Each state has developed its own legal framework to govern their medical marijuana system. And, while there are similarities between the legal frameworks applied in each state, there are also important differences. Making sure that you understand your state's rules and regulations is incredibly important.
Having a medical marijuana card will exempt you from most marijuana possession and consumption laws at the state level. However, qualifying conditions for obtaining a card, and the process for obtaining one, will differ from state to state. If your state does not recognise your specific condition, buying from out-of-state is not an option.
IN WHAT US STATES IS MEDICAL MARIJUANA LEGAL?
The following states have legalized medical marijuana: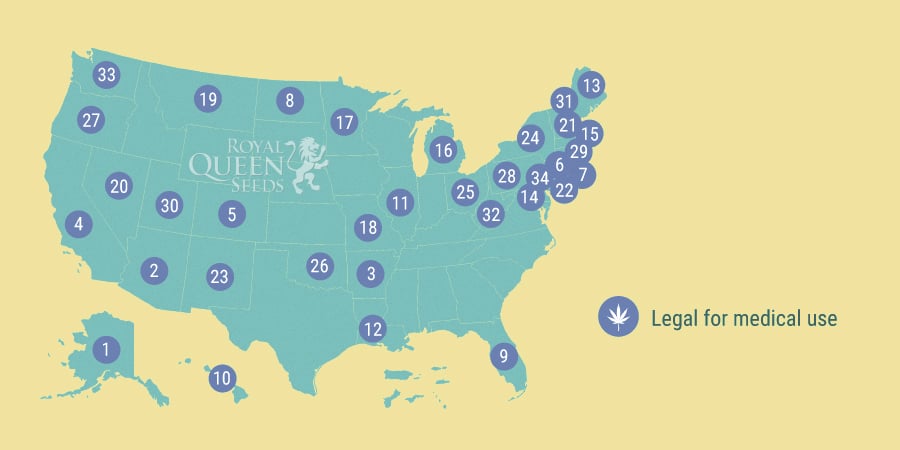 Alaska (1) - Arizona (2) - Arkansas (3) - California (4) - Colorado (5) - Connecticut (6) - Delaware (7) - Florida (8) - Hawaii (9) - Illinois (10) - Louisiana (11) - Maine (12) - Maryland (13) - Massachusetts (14) - Michigan (15) - Minnesota (16) - Missouri (17) - Montana (18) - Nevada (19) - New Hampshire (20) - New Jersey (21) - New Mexico (22) - New York (23) - North Dakota (24) - Ohio (25) - Oklahoma (26) - Oregon (27) - Pennsylvania (28) - Rhode Island (29) - Utah (30) - Vermont (31) - Washington (32) - West Virginia (33) - Washington D.C (34).
WHAT DO YOU NEED TO GET A MEDICAL MARIJUANA CARD?
The answer to this question will largely depend on the state you live in. However, there are some things that will be required of you in every state. Knowing your state's requirements, preparing the correct documentation, and obtaining a legal prescription will be required no matter which state you are in.
RESEARCH YOUR STATE'S REGULATIONS AND RESTRICTIONS
Make sure you have a thorough understanding of your state's regulations, requirements and restrictions on medical marijuana. Having this information ahead of time can help you avoid potential obstacles or surprises down the line. It will also allow you to navigate the application process faster and in a more smooth manner.
In order to obtain a medical marijuana card, you must have a qualifying medical condition. The required conditions for a medical card can vary wildly from state to state. Your state's health services office will most likely be able to provide you with an updated list of accepted conditions.
GATHER REQUIRED DOCUMENTATION
You will need to provide proper medical and legal documentation. Any prior medical paperwork documenting your condition may be useful, or even required, during the process. Your physician, or a representative from your state's department of health, may be able to tell you exactly what paperwork will be required in your jurisdiction.
You will also require proper legal identification like a driver's licence or a passport. In addition, you will need to provide proof of residency.
OBTAIN A PRESCRIPTION FROM YOUR DOCTOR
You must be approved by a registered physician, which may not always be an easy task to accomplish, as many physicians are still reluctant to prescribe medical marijuana. In these situations, you may be able to find a clinic or a doctor that specialises in medical marijuana prescriptions. Having prior medical documentation to support your claim of a condition can be helpful in obtaining a prescription.
In most states, medical marijuana cards are only valid for a specific period of time. Remember your card's expiration date, and take some time to research your state's renewal process. Doing this ahead of time can prevent ending up without a valid card for any period of time.

WHAT MEDICAL CONDITIONS QUALIFY YOU FOR MEDICAL MARIJUANA?
The qualifying medical conditions required to obtain a medical marijuana card will differ from state to state. Here are some of the most common conditions that medical marijuana is prescribed for in the United States:
ANXIETY
ANOREXIA & EATING DISORDERS
AIDS/HIV
ARTHRITIS
CHRONIC PAIN
CANCER
EPILEPSY & SEIZURES DISORDERS
GLAUCOMA
MULTIPLE SCLEROSIS
NAUSEA
NEURODEGENERATIVE DISEASES
PTSD
ANXIETY
ANOREXIA & EATING DISORDERS
ARTHRITIS
AIDS/HIV
CHRONIC PAIN
CANCER
EPILEPSY & SEIZURE DISORDERS
GLAUCOMA
MULTIPLE SCLEROSIS
NAUSEA
NEURODEGENERATIVE DISEASES
PTSD
HOW CAN YOU GET A MEDICAL MARIJUANA CARD ONLINE?
In some states, like California and Florida, you may be able to get a medical marijuana card online. This process will save you time by directly connecting you to a doctor that specialises in medical marijuana. Moreover, it will allow you to obtain a card from the comfort of your own home. Some online clinics can even get you an immediate recommendation, allowing you to buy legal marijuana that very same day. If you are looking to go through the process as quickly and conveniently as possible, an online clinic may be your best choice.
In most cases, the process is very quick and straightforward. After you provide identification, medical information, and proof of residency, you will undergo a personal online evaluation. These evaluations typically last from 5 to 15 minutes and will involve a series of questions. The main purpose of these evaluations is to clearly establish your medical situation, and why marijuana may improve it.
After a successful application, you may expect your card to arrive in the mail within a few days. However, in some states, you will be able to legally purchase medical marijuana immediately after receiving an email confirmation. Oftentimes this means being able to purchase marijuana on the same day as your evaluation. Talk to your local doctor and dispensaries to find out exactly what their policy on email recommendations is.
CAN TOURISTS QUALIFY FOR A MEDICAL MARIJUANA CARD?
No. US states require proof of residency when issuing medical marijuana licences. As such, out-of-state tourists will not be able to successfully obtain medical marijuana licences.
However, in certain states, out-of-state tourists with valid medical marijuana cards and identification may legally purchase marijuana. States like California, Arizona, and Washington will all sell recreational or medical marijuana to tourists of legal age. However, traveling state-to-state with legally purchased marijuana is still not recommended.
In September of 2018, the Arizona Appeals Court ruled that out-of-state medical marijuana licences would be recognised in the state. If you are travelling to a state with recreational marijuana, your medical status will not matter. However, if you intend to purchase medical marijuana, check local laws and regulations to make sure that your medical licence will be accepted in the state you are visiting.