Boundless CFC 2.0 Vaporiser Review
What are you looking for in a vape? If you're willing to sacrifice some of the more advanced bells and whistles, the Boundless CFC 2.0 vaporiser offers everything you need to vape dry herb on the go. It features rapid heating, great battery life, a large chamber, and precise temperature selection. It's the perfect device for the road!
By
---
---
With hundreds of vapes on the market, shopping for your perfect companion can quickly become overwhelming. It takes something special to really grab your attention.
The Boundless CFC 2.0 vaporiser boasts a long list of traits that help it stand out in a crowd. This device harnesses an efficient heating system, supreme portability, and an excellent build to provide potent, flavourful hits with each pull.
Whether you prefer to vape on the go while hiking or camping, or favour hitting your device while chilling at home, the Boundless CFC 2.0 has you covered. This versatile model charges quickly, and the battery will carry you through plenty of sessions. Plus, the high-quality materials mean you'll have this trusty piece by your side for many years to come.
Below, find out everything you need to know about the Boundless CFC 2.0 vaporiser, including key features, how to clean it, and how it compares to its predecessor.
Discover the Boundless CFC 2.0 Vaporiser
The Boundless CFC 2.0 vape is a particularly attractive choice for cannabis lovers with a penchant for travel. Its pocket-sized stature and impressive battery life mean you can carry it anywhere and rely on it to provide smooth vapor all day long.
But the designers of this vape went above and beyond mere portability. Complete temperature control, rapid heating, and improved airflow make every hit more pleasant than the last.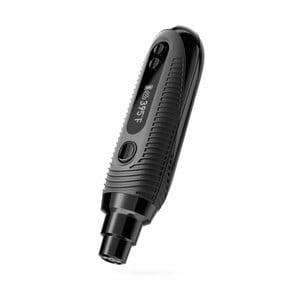 | | |
| --- | --- |
| | Conduction |
| | 130 × 33 × 30 mm |
| | 22.6 gr |
| | 60 - 230ºC /140 - 446ºF |
| | 25 sec |
Inside the Box
When you purchase the Boundless CFC 2.0, you'll receive much more than the vape itself. Upon opening the box, you'll also find:
| | |
| --- | --- |
| Water pipe adapter | USB charging cable |
| 2 additional mouthpiece screens | 3 oven screens |
| Cleaning brush | Stir tool |
| Manual | |
Water pipe adapter
USB charging cable
2 additional mouthpiece screens
3 oven screens
Cleaning brush
Stir tool
Manual
Boundless CFC 2.0 vs Boundless CFC 1.0
The Boundless CFC 2.0 emerged on the market as a new and improved version of its predecessor: the Boundless CFC 1.0. Although both models offer an effective way to vape on the go, the newer version boasts some distinct improvements. First off, many users reported a tendency for the CFC 1.0 mouthpiece to crack and overheat. The CFC 2.0 side-steps these issues with a sturdier outer shell and improved shape.
As well as boasting a better resistance to wear and tear, the CFC 2.0 also features a bigger oven, meaning you'll have more room to load in herb. Enjoy bigger hits and thicker clouds. The CFC 2.0 also features improvements in the display. The OLED screen provides more information, and simply looks sleeker and better positioned.
Boundless CFC 2.0 Vaporiser Build Quality
It doesn't matter how attractive a vape looks if it doesn't feel high-quality in the hand. Luckily, the Boundless CFC 2.0 vaporiser ticks both of these boxes. As well as looking sleek and futuristic, the device also feels superb. How did the designers achieve this? They crafted it using medical and food-grade materials. Along with making it safer, it gives the device a high-quality and robust feel.
Boundless put these materials to good use to make the user experience as pleasant as possible. The rugged design with textured grooves offers enhanced grip, while the in-built ridges improve hand comfortability by dissipating heat.
How To Use the Boundless CFC 2.0
You'll find this device easy to pick up and super simple to use. When you receive your device, use the steps below to start enjoying it:
Expose the chamber by removing the mouthpiece, and pack it with your favourite strain.
Place the mouthpiece back into position, and tap the power button five times to turn the device on.
Select your desired temperature using the buttons next to the OLED screen.
Allow the device to finish heating, take a hit, and enjoy!
You can also use the Boundless CFC 2.0 alongside your favourite glassware. The water pipe adapter included in the box makes the device compatible with your prized piece. Directing vapor through the water filtration of a bong makes hits that much smoother.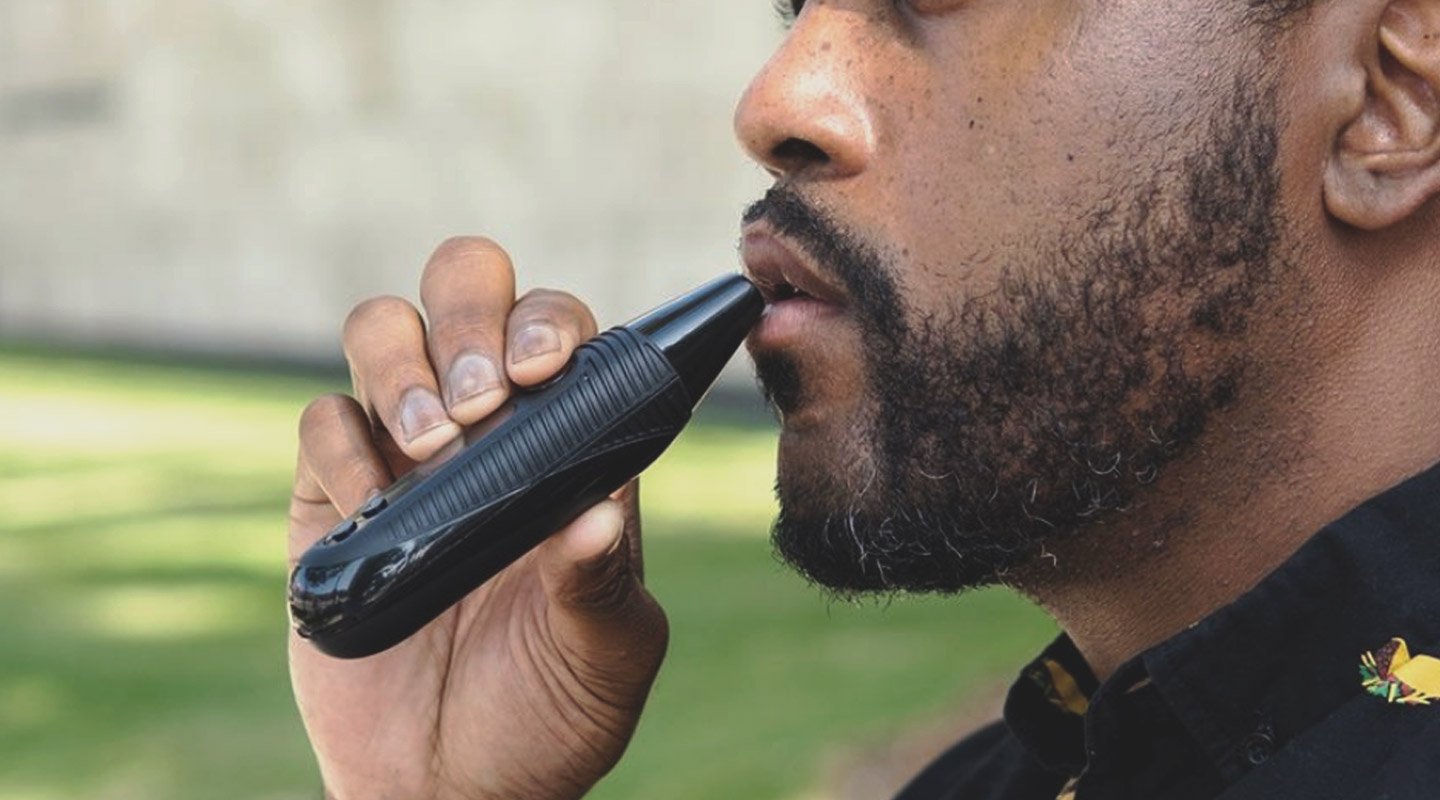 With a length of just 130mm, the Boundless CFC 2.0 fits perfectly in the palm of the hand. You can take this trusty vape anywhere while keeping it concealed. It'll fit into pockets, pouches, small bags, and purses. Whether you're on a camping trip or simply need something stealthy to vape on your lunch break, this device will step up to the task.
The Boundless CFC 2.0 requires minimal upkeep. You won't have to spend time unclogging it and scrubbing it down after every session. Its small and compact size means you only need to give it a light clean every now and then. The only components that require attention are the screen, mouthpiece, and inner oven.
Battery Life: Vape While Charging
The Boundless CFC 2.0 vape features an internal 1200 mAH battery. This piece of kit keeps the device operating continuously for 45 minutes at 198°C and 204°C. This equates to around seven full sessions within this temperature range. It takes around three hours to reach full charge. After plugging your device in for this amount of time, you can take it out on the road, secure in the knowledge that it'll get you stoned multiple times over.
If you're in a rush for a hit, you can also use the vape while it's charging. The pass-through charging feature means you can get some cannabinoids in your system while the Boundless CFC 2.0 remains plugged in. The conveniently placed wire, which attaches at the bottom of the device, won't get in your way.
Boundless CFC 2.0 Vaporiser Performance
This affordable dry-herb vape delivers exceptional performance for the price. It features a large ceramic heating chamber that can handle up to 0.5g of ground flower at a time. The conduction heating system does a great job of liberating cannabinoids and terpenes from plant material.
To make the most of your bud, we recommend leaving a little extra space in the chamber. This way, you can move the material around after each hit to make sure you vaporise all of the available phytochemicals. The vape also offers rapid heating. It takes around 25 seconds to reach 198°C, and 45 seconds to hit 230°C.
The Boundless CFC 2.0 allows users to select temperatures between 60°C–230°C in one-degree increments. Using the button close to the OLED screen, you have complete control over the harshness of each hit. Some users prefer lower temps and a smoother vape, whereas others prefer the satisfaction of a heartier hit. Such precise control over temperature also allows users to target specific phytochemicals. Terpenes and cannabinoids have specific boiling points, meaning you can customise your hits by aiming for certain thresholds.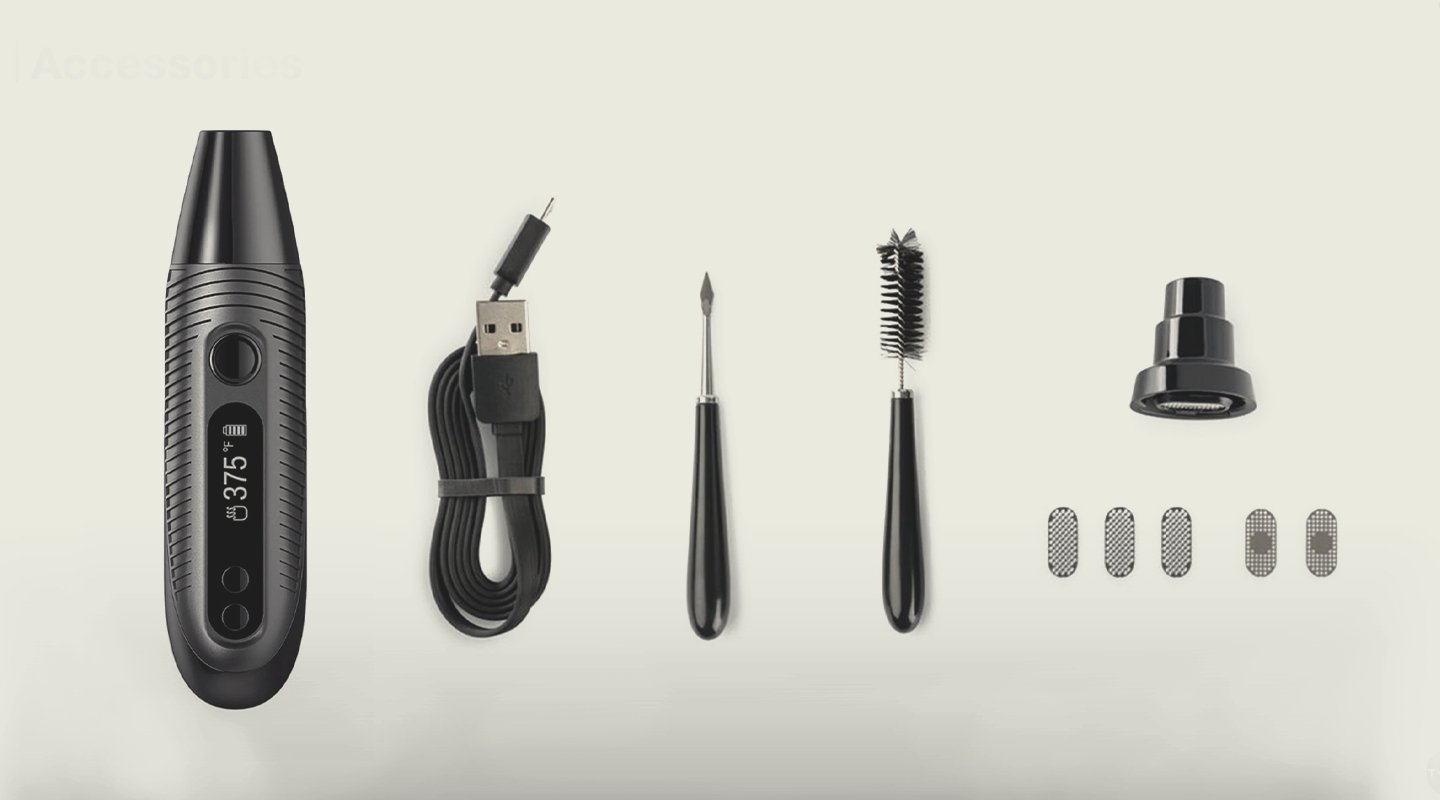 The Boundless CFC 2.0 provides satisfying hits and flavourful vapor. Hitting it at lower temperatures will provide more taste alongside wispy and thin vapor. Cranking up the heat will impact the flavour, but you'll enjoy large and satisfying clouds.
How To Clean the Boundless CFC 2.0 Vaporiser
You'll find it super easy to clean the Boundless CFC 2.0 vaporiser. Check out what you need below, and how to get it done.
Equipment:
Small glass of isopropyl alcohol
Glass of warm, soapy water
Cotton swab
Paper towel
Cleaning brush
| | | |
| --- | --- | --- |
| Small glass of isopropyl alcohol | Glass of warm, soapy water | Cotton swab |
| Paper towel | Cleaning brush | |
Directions:
Remove the mouthpiece.
Use the cleaning brush to remove any debris from the heating chamber.
Soak the screen in isopropyl alcohol.
Use the swab to wipe down the mouthpiece and silicone gasket with isopropyl, before soaking them in the soapy water.
Use the swab to wipe away debris from the deepest part of the mouthpiece.
Rinse all components with warm water.
Place them on a sheet of paper towel to dry before reassembling.
Who Should Buy the Boundless CFC 2.0 Vaporiser?
Anyone looking for an affordable and portable dry-herb vape should purchase the Boundless CFC 2.0 vaporiser. First and foremost, this device boasts simplicity. Its small size and large heating chamber make for big hits of dry herb on the go.
Moreover, key design features make the device easy to use and offer a flexible experience. A wide range of temperatures, easy cleaning, and low maintenance requirements make this vape a great choice for frequent users.
Pros




Highly portable

Sleek aesthetic

Improved OLED display

Large heating chamber

Vape while charging

Affordable

Water pipe adapter

Cons




Dry herb only

Doesn't come with flashy features or apps
Pros




Highly portable

Sleek aesthetic

Improved OLED display

Large heating chamber

Vape while charging

Affordable

Water pipe adapter

Cons




Dry herb only

Doesn't come with flashy features or apps